Jul 3, 2023
https://bbvproductions.co.uk/products/Faction-Paradox-The-Confession-of-Brother-Signet-AUDIO-DOWNLOAD-p389922366
The 60th Anniversary Edition! Saturday 2nd September 2023 FROM 10:00-17:30 at Quad!
So, Whooverville 14 – celebrating Doctor Who's 60th Anniversary with FOUR DOCTORS – Sylvester McCoy, Paul McGann, Michael Jayston and Michael Troughton. (Four Doctors and counting!)
We are delighted to announce that MICHAEL TROUGHTON has agreed to join us for Whooverville 14 at Derby QUAD on Saturday 2nd September. Michael Troughton, of course, is the son of the second Doctor, Patrick Troughton; and wrote an acclaimed and very much recommended biography of his father.
He made his own Doctor Who television début in the 2014 Christmas Special, Last Christmas, playing Professor Albert.
In 2022 he took on the role of Patrick's Doctor in a new range of full cast audio productions from Big Finish. We look forward very much to welcoming Michael back to Whooverville in September.
Tickets are now on sale via the QUAD website. They are – Adults: £55, Concessions: £38, Children: £10. Terms and conditions are also available via the website.
Whooverville 14 - A Special Bonus Announcement
We are delighted to announce a special bonus for attendees at Whooverville 14 at Derby QUAD on Saturday September 2nd. Each ticket holder will be offered a free copy of a special DVD release from Reeltime Pictures.
THE DOCTORS: THE SYLVESTER McCOY YEARS
This is the definitive set of interviews with the team who brought the SYLVESTER McCOY era of DOCTOR WHO to life! These six documentaries are the best in-depth interviews with SYLVESTER McCOY (the Seventh Doctor), SOPHIE ALDRED (Ace), ANGELA BRUCE (Brigadier Bambera), JESSICA MARTIN (Mags), LISA BOWERMAN (Bernice Summerfield) and Script Editor ANDREW CARTMEL ever undertaken!
Presented by ROBERT DICK, "voice of the Daleks" NICHOLAS BRIGGS and "Ace" SOPHIE ALDRED. For all DOCTOR Who fans, this 2 DISC special collector's edition is 5 hours of pure nostalgia, which will give you a whole new insight into the making of your favourite science fiction series! SPECIAL FEATURE: Introduction by SOPHIE ALDRED and Producer KEITH BARNFATHER
Our thanks go to our friend Keith Barnfather for this extraordinarily generous gesture and for his support of Whooverville. Reeltime Pictures will be launching their latest DVD release at Whooverville,
DOCTOR ON DISPLAY: BLACKPOOL 2004-2009
And don't forget that, at no extra cost, as part of our programme during the day, we will be presenting MYTH MAKERS 3, your chance to watch two future Myth Makers releases being filmed, during which Sylvester McCoy will be interviewed by Sophie Aldred and Sophie will be interviewed by Sylvester.
Tickets for Whooverville 14 are still available (but selling fast) from QUAD Get them while you can.
Simon Fisher-Becker
We are delighted that our friend SIMON FISHER-BECKER is once again returning to Whooverville as a sponsored guest.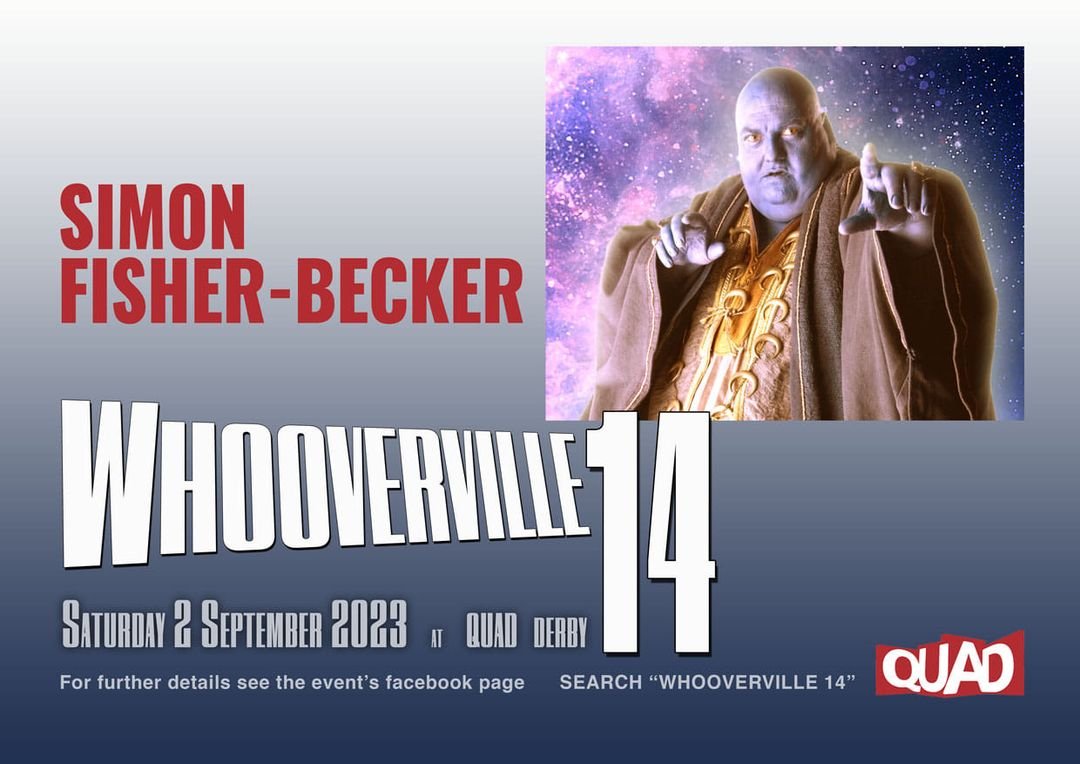 Simon played Dorium Maldovar in the Doctor Who stories The Pandorica Opens, A Good Man Goes to War, The Wedding of River Song, and for Big Finish in the Eleventh Doctor Chronicles story The Light Keepers. Also for Big Finish he played the Time Lord Science Minister Kavil in series 5 of Gallifrey; and voiced Lift in the Iris Wildthyme story A Lift in Time.
Beyond Doctor Who, he is known for appearing in the popular Harry Potter film franchise as The Fat Friar, and for playing the Fat Controller from Thomas the Tank Engine for ten years. We look forward to welcoming Simon to Whooverville 14 at Derby QUAD on Saturday 2nd September.
Simon will be at his table in our dealers' and traders' room selling copies of his books. Please remember that as a sponsored guest, Simon will charge for all autographs.
Doctor on Display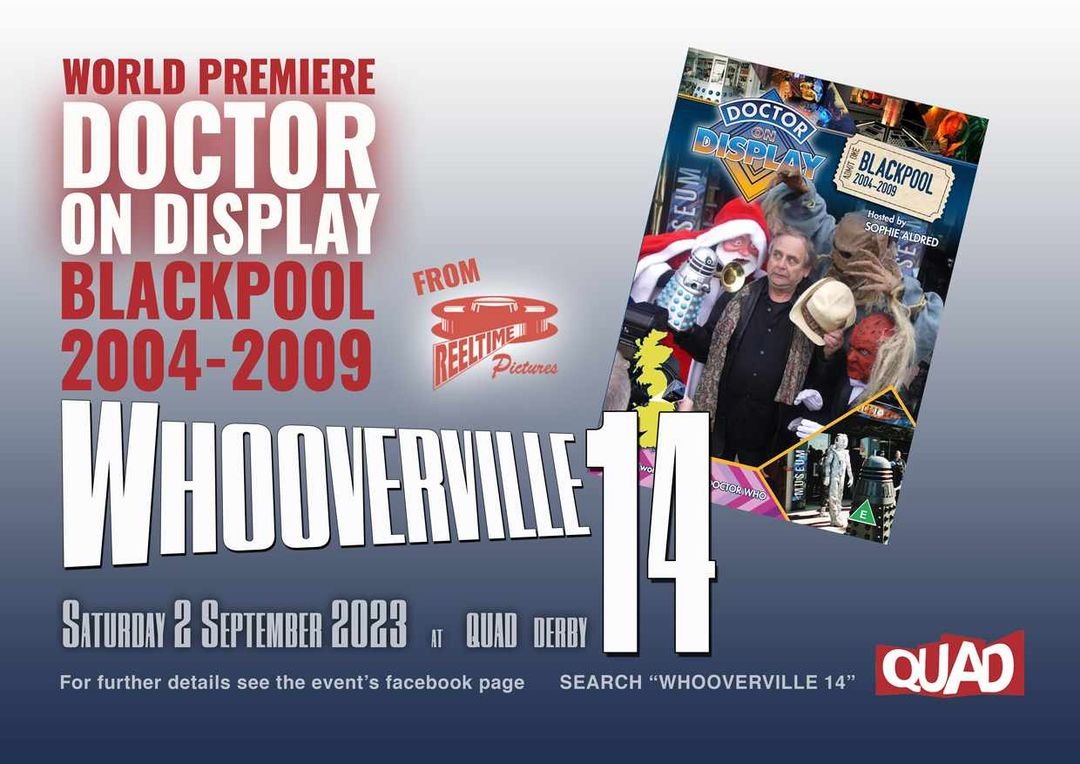 We are delighted to be able to announce that Whooverville 14 at Derby QUAD on Saturday 2nd September will feature an exclusive World Premiere screening of a new release from Reeltime Pictures.
The Doctor on Display: Blackpool 2004-2009 tells you everything you need to know about the second Blackpool Doctor Who Exhibition and features previously unseen footage of the fondly-remembered attraction and its owner David Boyle, together with reminiscences by those who were behind the exhibition and the fans who visited.
Our premiere presentation will be introduced by the man behind Reeltime Pictures Keith Barnfather and the DVD will be available to buy throughout the day at a special price, from the Reeltime stall.