Sat, 11 April 2020
THE DR. VIBE SHOW - CLIF KNIGHT - APRIL 10 - 2020
Clif Knight is a Guyanese born comedian based in Toronto.
On stage as a musician from the age of 11, Clif found the transition to comedy very agreeable and has been making people laugh since 2016.
Making appearances at The Nubian Show with Kenny Robinson and The Edinburgh Fringe Festival with his one man show, Clif brings a Caribbean twist to everyday humour and shines a light on the funny side of being a visible minority in Canada.
Recently, Clif was on our show.
During our conversation, Clif talked about:
– Growing up in Guyana until he was twenty-one years old, dealing with daily blackouts and why he came to Canada
– Being involved in entertainment from a young age
– His first comedy gig and some of his comedy journey
– Some comedians not understanding the business side of comedy
– His comedy style
– Handling not being able to tour at this time
– Having a relationship and being a comedian
– His experience doing online comedy shows
– Toronto being one of the best cities for comedy in the world
– Some of his favorite comics past and present
– His parents thoughts about his comedy career
– Some great memories during his comedy career and how has the comedy business changed during his journey
– What is he excited about for this Sunday's online comedy event
– His advice for people who want to do comedy
– His love for giving back
– Managing his career on his own
– The importance of donating to artists
You can find more about Clif at:
Website
Instagram
Twitter
Facebook
YouTube
Patreon
Clif will be one of the comedians during the April Fool's Bun And Cheese Online Comedy Edition on Sunday, April 12, 2020 at 5:30 p.m. Dr. Vibe will be hosting the event.
Please click on the image below to get tickets for this free event.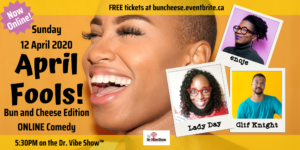 April Fool's Bun And Cheese Online Comedy Edition – April 12, 2020 at 5:30 p.m. Eastern
The following companies are sponsoring April Fool's Bun And Cheese Online Comedy Edition event: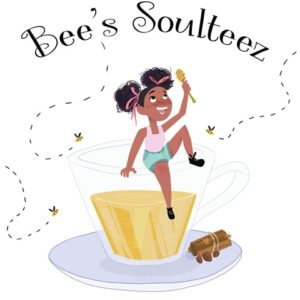 Bee's Soulteez is a mail-order supplier of organic loose leaf teas.

SOS Custom Clothing lets you create your own designs, order online, and ships right to your door.
Visit The Dr. Vibe Show™ at https://www.thedrvibeshow.com/
Please feel free to email The Dr. Vibe Show™ at dr.vibe@thedrvibeshow.com
Please feel free to "Like" the "The Dr. Vibe Show" Facebook fan page here
God bless, peace, be well and keep the faith,
Dr. Vibe
dr.vibe@thedrvibeshow.com
Producer of Google+ Hangouts – The Good Men Project
The Dr. Vibe Show™ At "The Good Men Project"
One of the first Brand Ambassador's – Cuisine Noir Magazine
The Dr. Vibe Show™ Channel
Dr. Vibe – Producer And Co-host of Black Men Talking On WJMS Radio
Dr. Vibe on HuffPost Live – August 2, 2013
2013 Black Weblog Awards Finalist (Best Podcast)
2012 Black Weblog Awards Winner (Best International Blog)
2012 Black Weblog Awards Finalist (Best Podcast)
2011 Black Weblog Awards Finalist (Best International Blog and Best Podcast Series)
Black Blog Of The Day – Black Bloggers Network – June 23, 2011
Twitter
Twitter hashtag: #DrVibe
The Dr. Vibe Show™ – iTunes
Dr. Vibe Media – You Tube
The Dr. Vibe Show™ – Stitcher Radio
The Dr. Vibe Show™ – TuneIn Radio
The Dr. Vibe Show™ – Google Play Music
The Dr. Vibe Show™ – iHeartRadio
Linkedin – The Dr. Vibe Show™
Instagram
The Dr. Vibe Show Facebook Fan Page
---