Sat, 30 March 2019
THE DR. VIBE SHOW - SERENA WILLS - TAKING CARE OF OUR ELDERS - MARCH 7 - 2019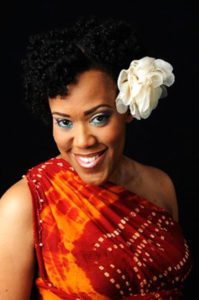 Serena Wills
Serena Wills is a native New Yorker and currently resides in the Washington, DC area. She holds a BA in Policy Studies from Syracuse University an MPA from Virginia Tech and studying for her MA in Health and Wellness Coaching. She's a nonprofit guru, a published author and spoken word artist. Her previous publications include her first poetry book titled, Reconstruction, Pieces of Life, Volume 1 was released in 2014 and is available on her website, Amazon and Barnes and Noble. She's also published in numerous anthologies and is a contributing writer/health and wellness blogger for online magazines and websites.
Serena is a mother to her beautiful son and is an advocate for Ovarian Cancer, GYN Cancers, HIV/AIDS, Lymphoma and Lyme Disease research and is a member of Delta Sigma Theta Sorority, Inc..
Recently, Ms. Wills was on our show talking about Taking Care of Our Elders.
During our conversation, Ms. Wills talked about:
– Why did she want to chat about this subject
– Some of her mother shares mother's battle with ovarian cancer, how it impacted her and how she became a care giver for her mother
– The need for balance when you are a caregiver
– The support she received and the support she did not receive while her mother was sick
– The importance of elders having life insurance
– Self care is a must if you are a care giver
You can contact Ms. Wills via:
Website
Facebook
Twitter
Email
Visit The Dr. Vibe Show™ at https://www.thedrvibeshow.com/
Please feel free to email The Dr. Vibe Show™ at dr.vibe@thedrvibeshow.com
Please feel free to "Like" the "The Dr. Vibe Show" Facebook fan page here
God bless, peace, be well and keep the faith,
Dr. Vibe
---