Sun, 23 June 2019
256: 72 Hours in San Francisco - Where to Eat, Sleep, and How Get About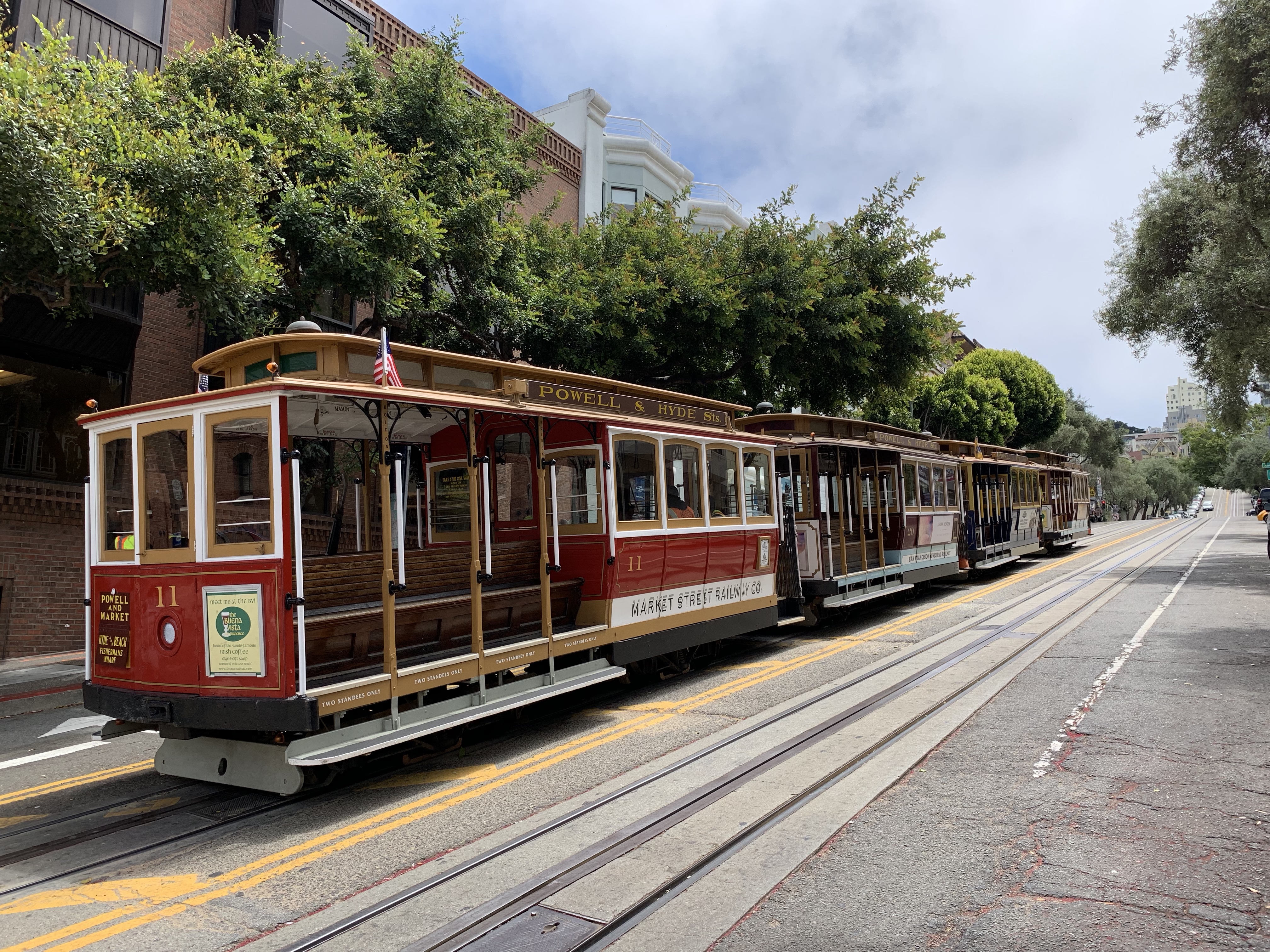 "San Francisco is one of the great cultural plateaus of the world — one of the really urbane communities in the United States — one of the truly cosmopolitan places and for many, many years, it always has had a warm welcome for human beings from all over the world."—Duke Ellington
In 2002 I began my career in teaching - my first job was teaching 9th grade English in a small town at the bottom of South Lake Tahoe in northern Nevada. And on occasion, maybe two or three, I believe it was two, times I made the four hour drive to San Francisco for long weekends. I found a small boutique hotel near Union Square, walked and drove the hills (becoming more proficient with a clutch than ever before) giving my calves an exquisite workout, enjoyed a delicious brunch at the Empress Hotel with my mentor who showed a bit more of the city to me on a long holiday weekend, as well as drinks at the Top of the Mark, but each of my visits was well before Google Maps and the entire tech sector engulfed Silicon Valley and the city by the Bay, so I wasn't sure really where to go and just visited as far as my feet and my comfort would take me.
Fast forward sixteen years, and I finally had the opportunity to return to San Francisco.
Since before moving to Bend, it has been on my list of places to visit. After all, it is in many ways the West Coast's New York City. Understandably, each city is uniquely its own, but having visited Los Angeles, Seattle and many times Portland, Oregon, San Francisco isn't quite like any other west coast urban destination. In fact, I have to agree with Cecil Beaton,"San Francisco is perhaps the most European of all American cities". Now, New Orleans certainly is a destination unique infused with French and Spanish cuisine and history, but San Francisco involves more ease and community than any other major urban city I have visited, sports the most delectable food options, offers transportation that is varied and easier than any other American city I have traveled, as well as a temperate climate that is never too extreme in any season. Again this is my opinion, but perhaps Twiggy is right, "I'm just mad for San Francisco. It is like London and Paris stacked on top of each other".
But I am getting ahead of myself gushing about San Francisco. I'd like to share with you all that we experienced in a mere 72 hours this past week, offer up some recommendations, and perhaps encourage you to either visit or return to the Paris of the West (an old term used primarily in the late nineteenth early 20th century largely because of the three waves of French immigrants arriving in San Francisco beginning in 1849 with the Gold Rush, in 1852-53 when Louis-Napoleon Bonaparte III offering a national lottery of trips to California to rid the country of his intellectual opponents, and a third wave of many women and children as in San Francisco's early days, the city was comprised of 90% men. In short order, in 1852, six thousand of the city's 36,000 residents were French). No wonder I love this city so much. :)
I've organized today's episode/post into the three fundamental parts for any trip to any country/city to be most successful. Thinking of it as the tripod foundation of traveling with ease: knowing how to get around to wherever you want to go (transportation), knowing you have a comfortable and safe place to sleep at night, and knowing you will be fed to satisfy your appetite. Where to eat, sleep and get about.
Once these three decisions are made, reserved and settled, I am able to loosen up on the itinerary and also relax and look forward to my trip.
Let's begin the 72-hour visit to San Francisco. The good news is you don't have to make your plans too far in advance to still have a wonderful experience. Case in point, for our trip last week, the trip was decided upon in April. Plane tickets and hotel arrangements were made, and then one month prior to the trip, dinner reservations were made as well. The only piece of the three part puzzle was to tend to the on-the-ground transportation, which I had researched, and will talk about more below.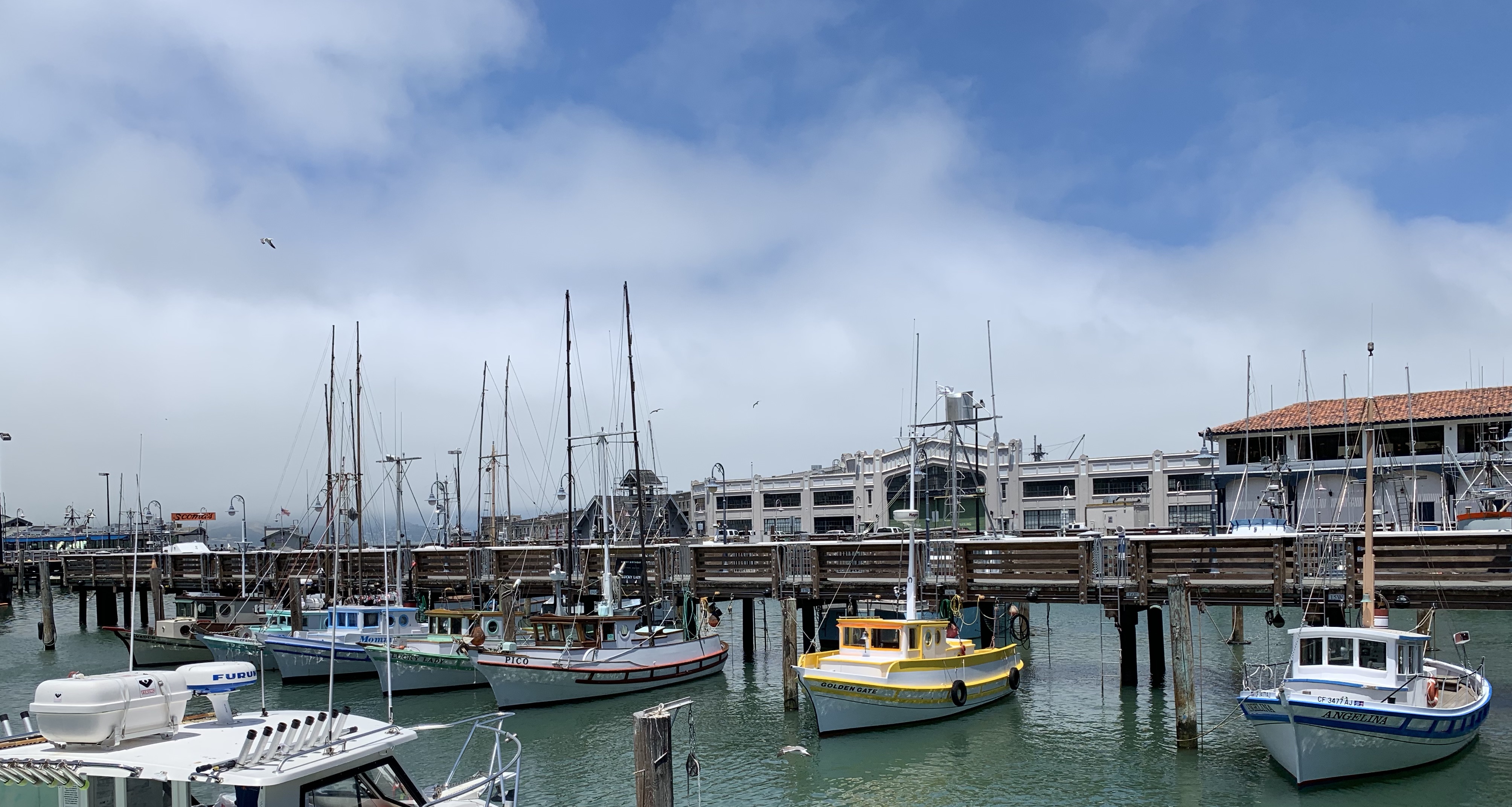 ~Fisherman's Wharf - classic fishermen's boats docked in the bay.~
When to visit:
"The coldest winter I ever spent was a summer in San Francisco."
—Mark Twain
Depending upon the weather you hope to experience, as one of our Uber drivers who has lived in the city for decades shared with us, don't come in June, July and August and expect traditional summer temperatures. Nope. While there is the rare extremely warm day as there was a couple of weeks ago, the average high in the summer is low 70s - expect the fog to roll in and out throughout the day and if you're by the bay, the wind will rip through in the afternoon.
If you are looking for the idyllic weather, our driver, after sharing Twain's quote above, suggested coming in September and October. I quickly took note. The rain will abate in April and not truly return until November. Again, taking the advice of the driver, so readers who live in the Bay Area or who have lived in the area, please do confirm or correct.
Also, we traveled during the work week. The opportunity to arrive on a Tuesday and return on a Thursday was perfect for the pace of everyday life. Nothing was too extremely tourist-laden (there was still an abundance), the evenings were very quiet on the street as we had a street-side window, and traffic at the airport and getting about was as would be expected in any work day scenario - rush-hour, etc.
Whenever you visit, bring layers. One day we both were kissed by the sunshine more than we expected, but in the evening we needed a jacket. My mother packed her light-weight cashmere scarf, which was perfect. I saw many people with scarves. What did I forget, of all things? A scarf. I won't forget again. It is a city in which to wear a scarf.
How to Get Around Once You Arrive
BART - from the SFO airport, the Bay Area Rapid Transit is a very affordable and dependable way to reach the city. We took BART into the city with our luggage with great ease. It was helpful that the line basically begins at the airport, so you have a pick of where to sit and can get situated with your luggage before you get into the heart of the city at which time the train became very full (morning rush hour). The cost was $2.50/person versus a $45+ cab or Uber fare.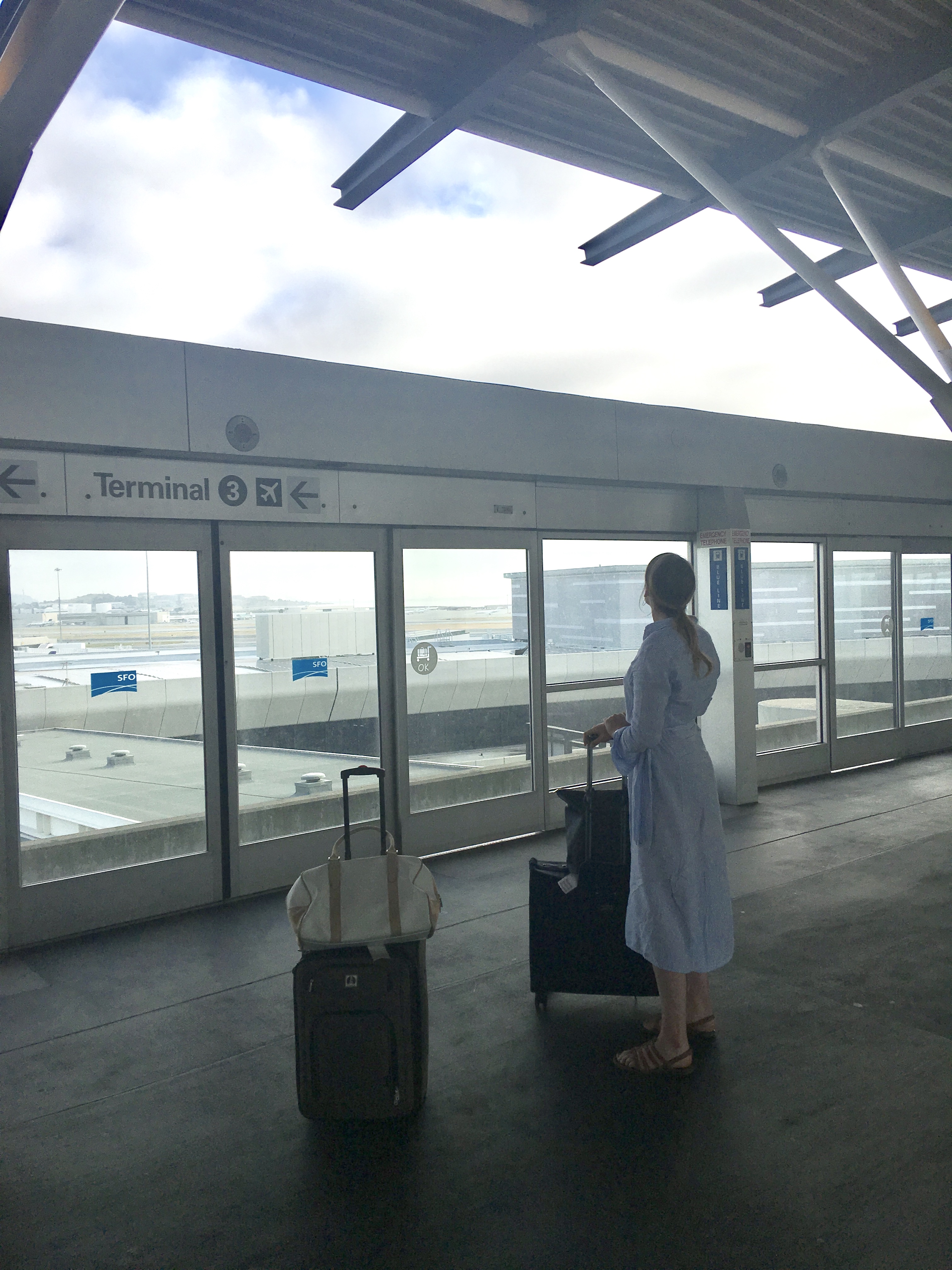 ~waiting for the airport shuttle to take us to the BART airport stop~
Trolley/Cable Car - $2.75/adult; $1.35/senior - There are only three lines that the Trolley/Cable Cars travel, but they are easy to find on a transportation map. We relied primarily on the trolley throughout our trip. You pay in cash or can purchase a pass online. The fare is good for two hours if you buy a single pass. Each of the many cars we rode on were exceptionally clean, and the drivers very helpful.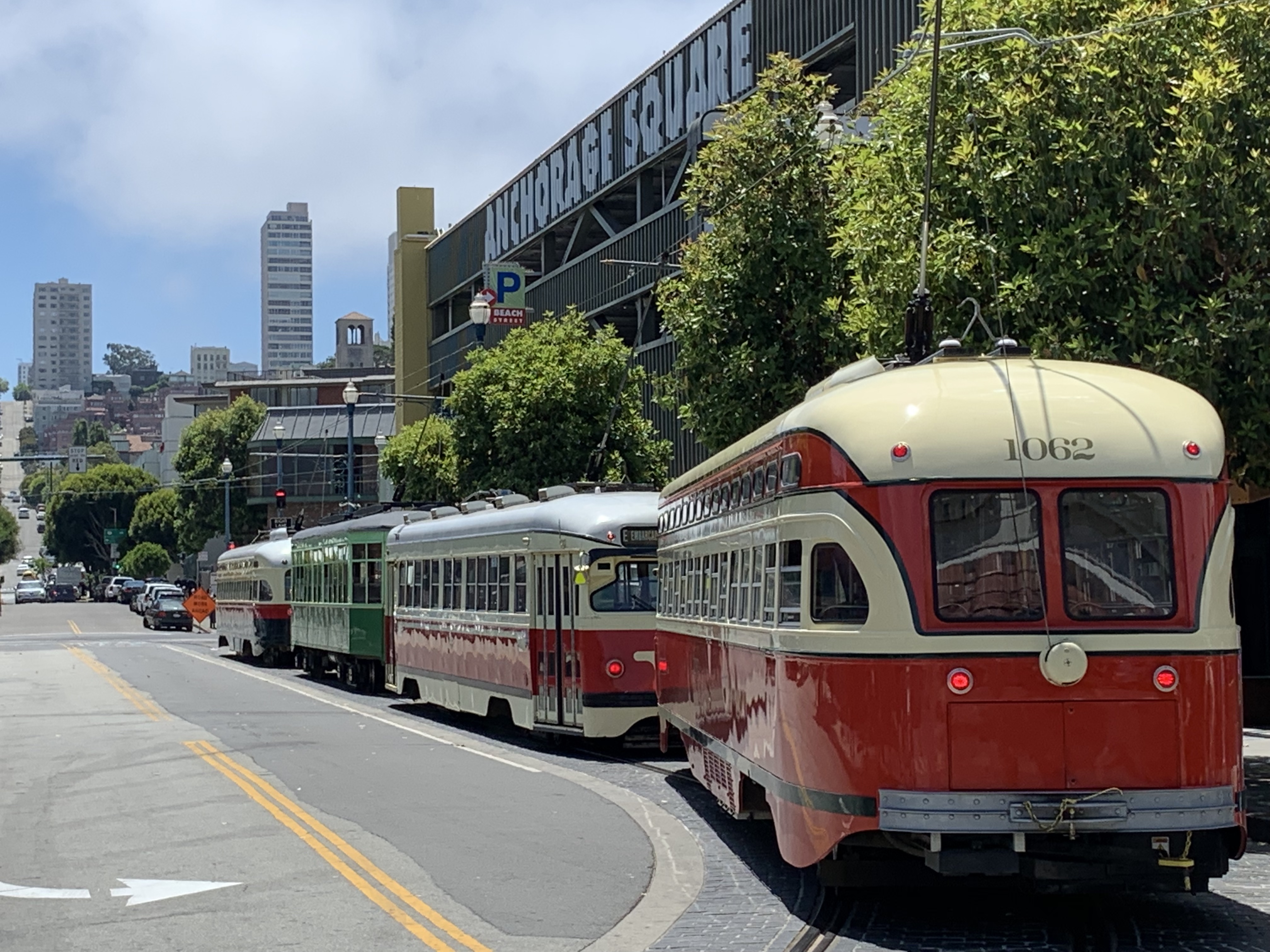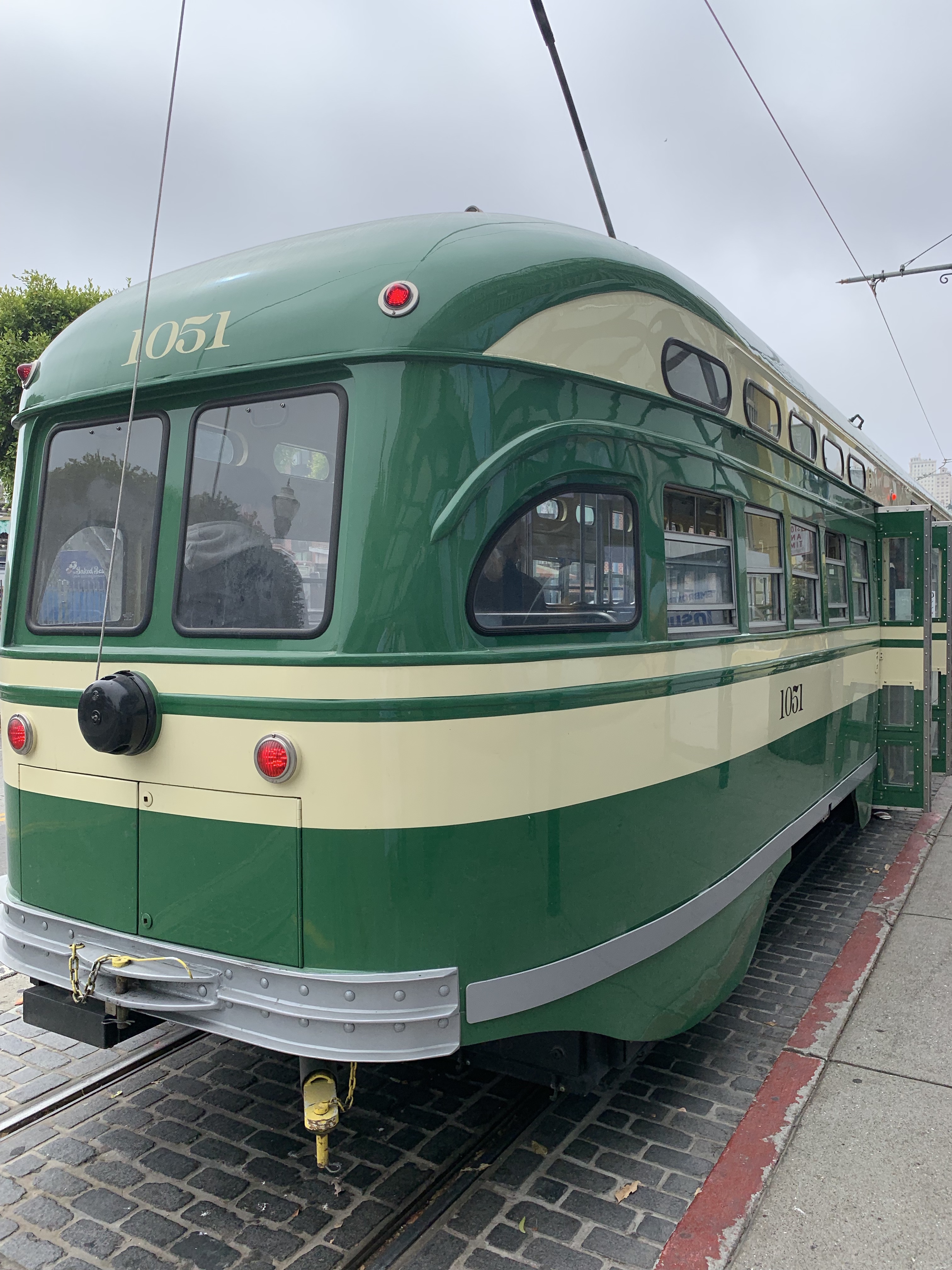 Bus — We happened to ride a bus one evening as it was serving the same line as the trolley car we had arrived on. The transportation map makes it easy to see where to get on and where they stop, and the pass you use for the trolley/cable cars works the same way.
Uber/Lyft versus Taxis - We chose to use Ubers the entire time we were in the city when a trolley wouldn't get us where we needed to go and it was too far to walk, but we also wanted to make to our destination quickly (across the Bay Bridge, to the Golden Gate Bridge and to the Richmond neighborhood). I prefer to take Uber/Lyft because I know what my fare will be upfront. Taking six Uber rides during our trip, we were in a car in fewer than 10 minutes, the cars were clean, the drivers friendly if we chose to talk with them, and we arrived swiftly at our destination).
Where to Stay
While my list won't be long in this section, what I can share with you is where we did stay during our trip and why I highly recommend it. I know it will not fit everyone's budget nor be what everyone would prefer, but if you are looking for the following, you will be very happy with The Argonaut Hotel on Fisherman's Wharf:
Located in North Beach along the Fisherman's Wharf - ideally located for easy access to common sites: Fisherman's Wharf, Ghirardelli Square, a primary Trolley Line that will take you throughout the city, Ferry Building (via Trolley ride), Lombard street, and Little Italy.
Comfort - the beds are plush, the rooms are large, and you can reserve a room that will look out onto Fisherman's Wharf
Located in a historic building
The only hotel on Fisherman's Wharf
Quiet - granted, we stayed during a weeknight, but I could not tell we were staying in a city. No tall buildings surrounded us, we woke up to seagulls and even seals saying hello along the bay, and the street doesn't have many cars use it as it isn't a through street to anything of importance to locals or even tourists as the parking lots are set off the shore.
Impeccable service - we arrived early - 8:30 am, and while we didn't expect our room to be ready, they found one that was, even gave us a free upgrade and situated us before we went out exploring. If the room hadn't been ready, they would have stored our luggage.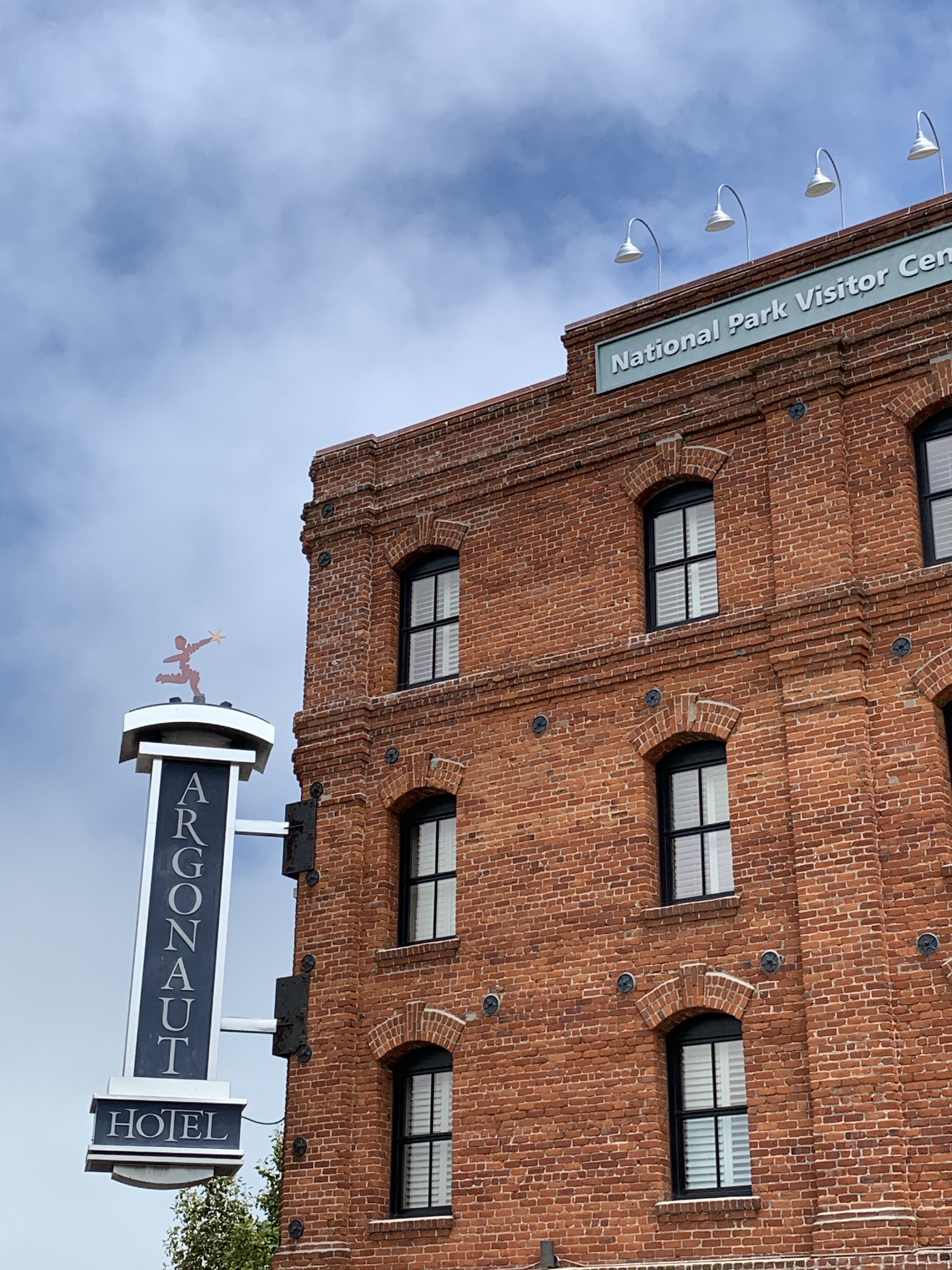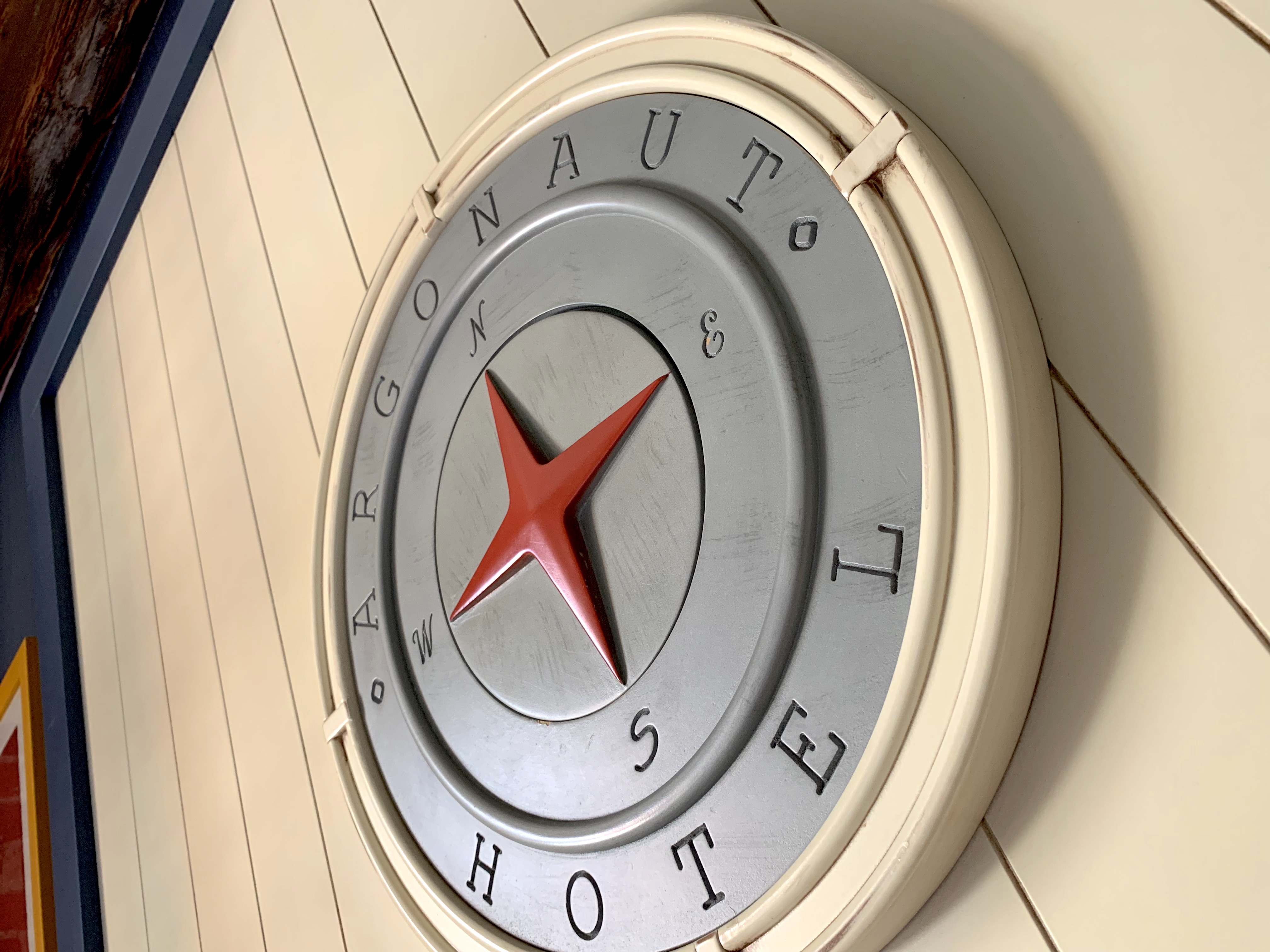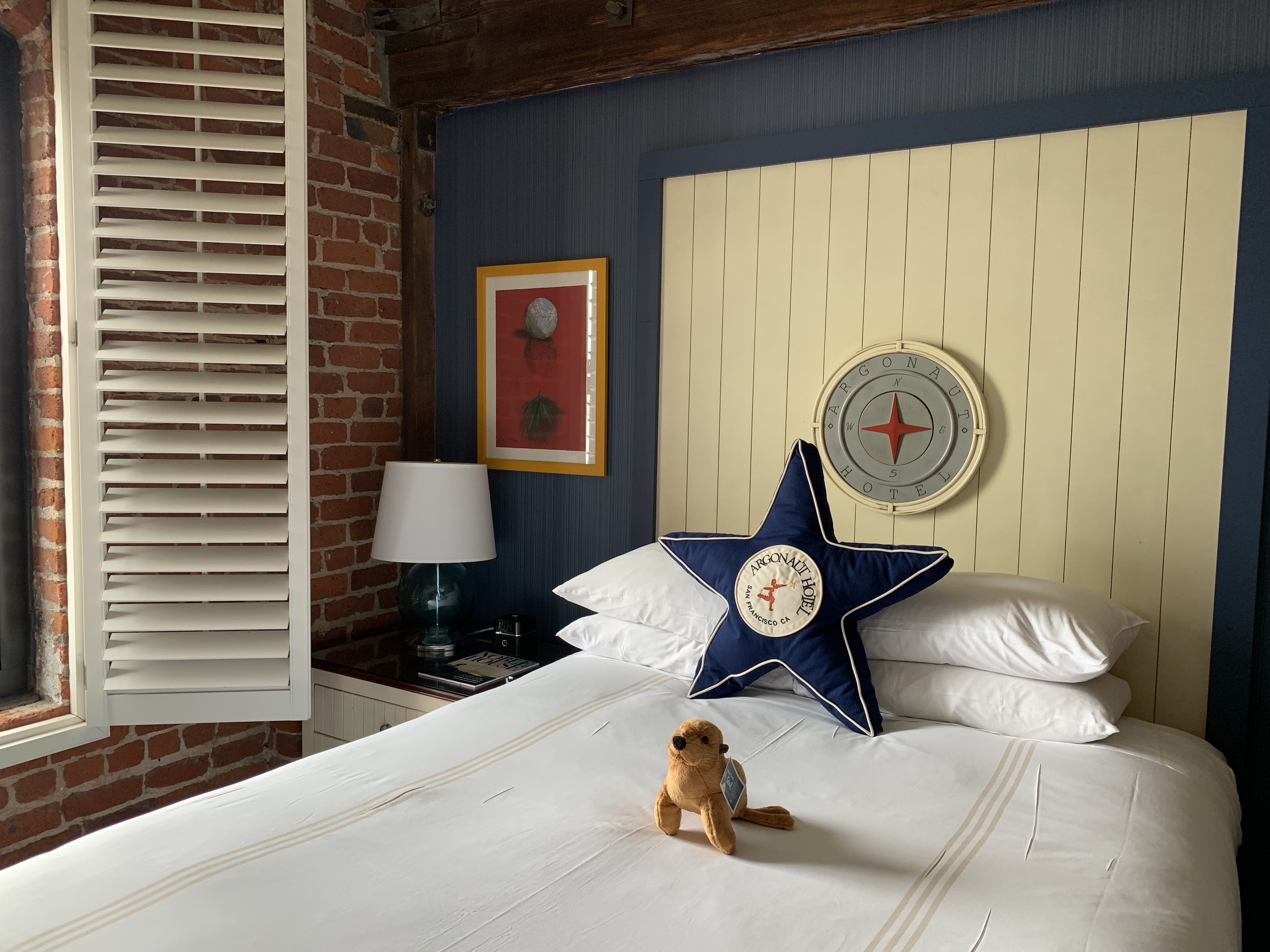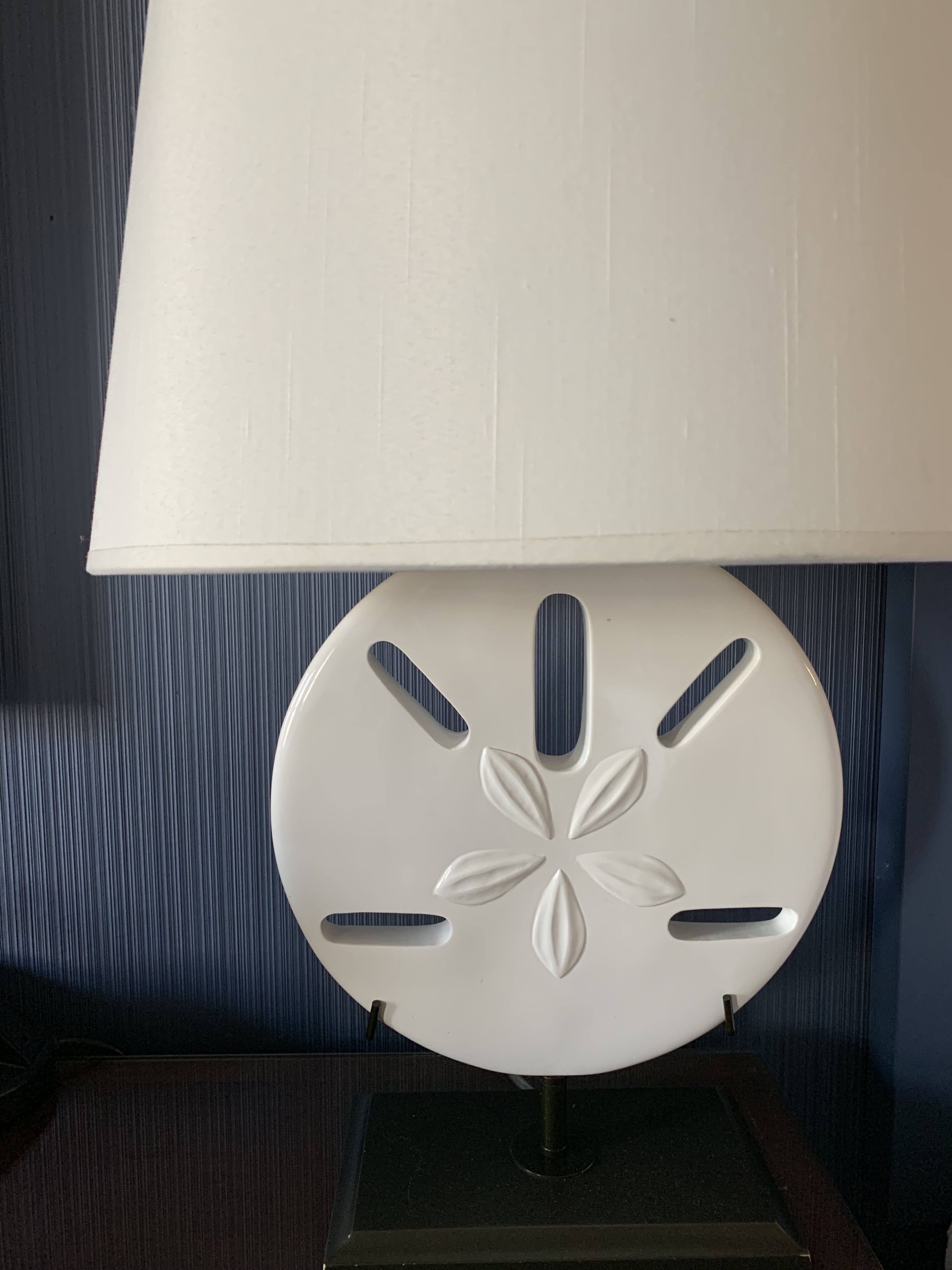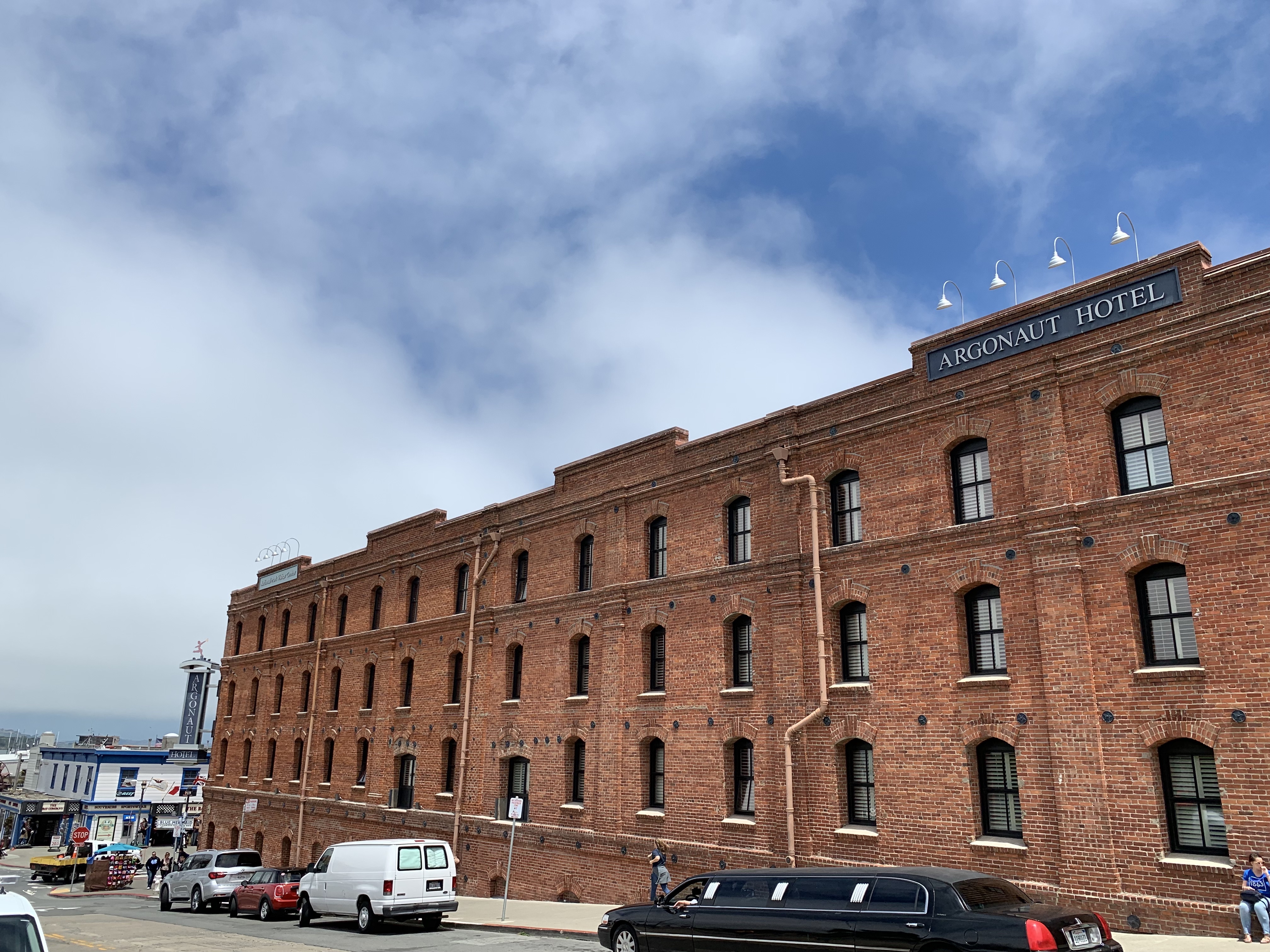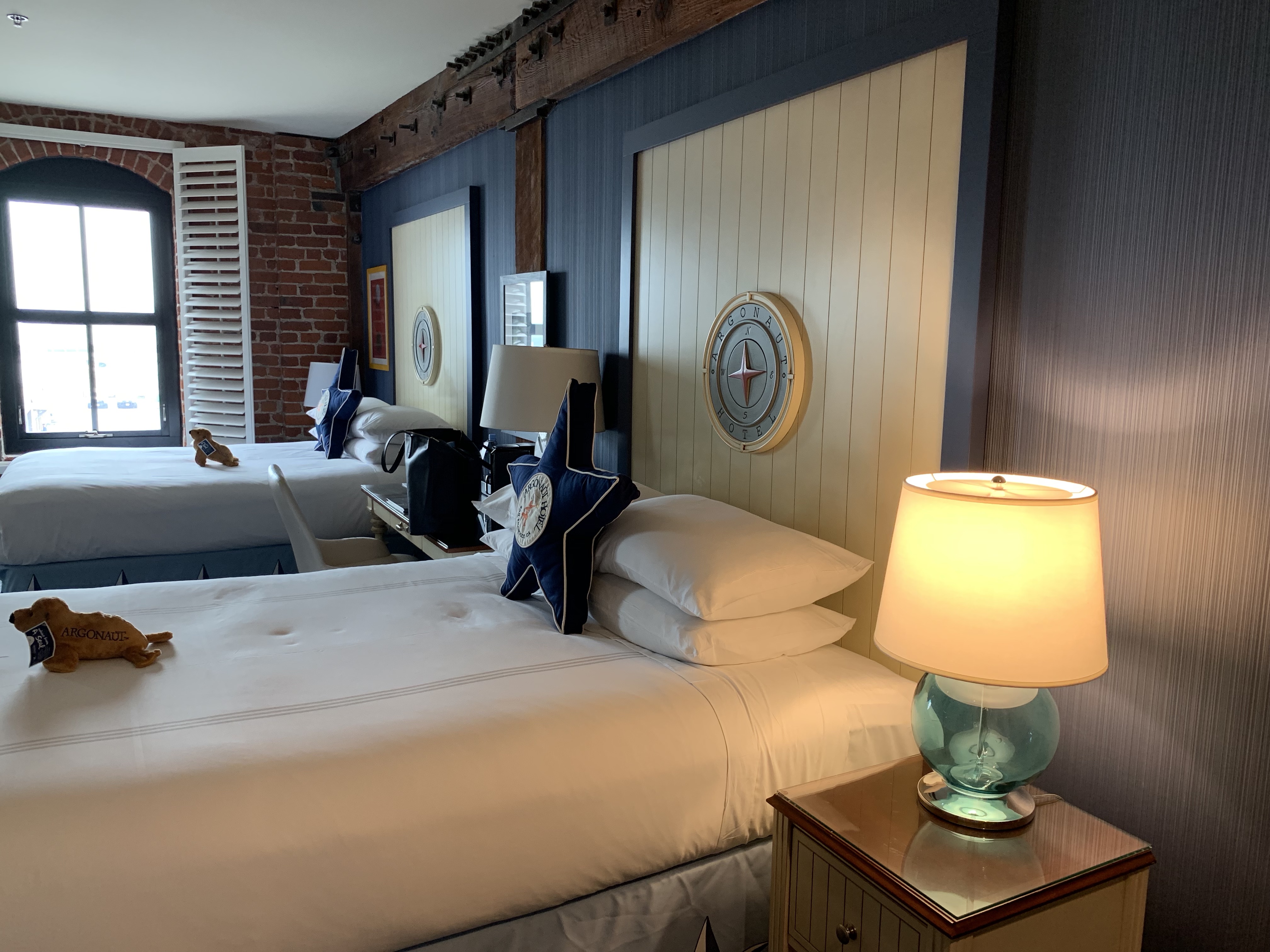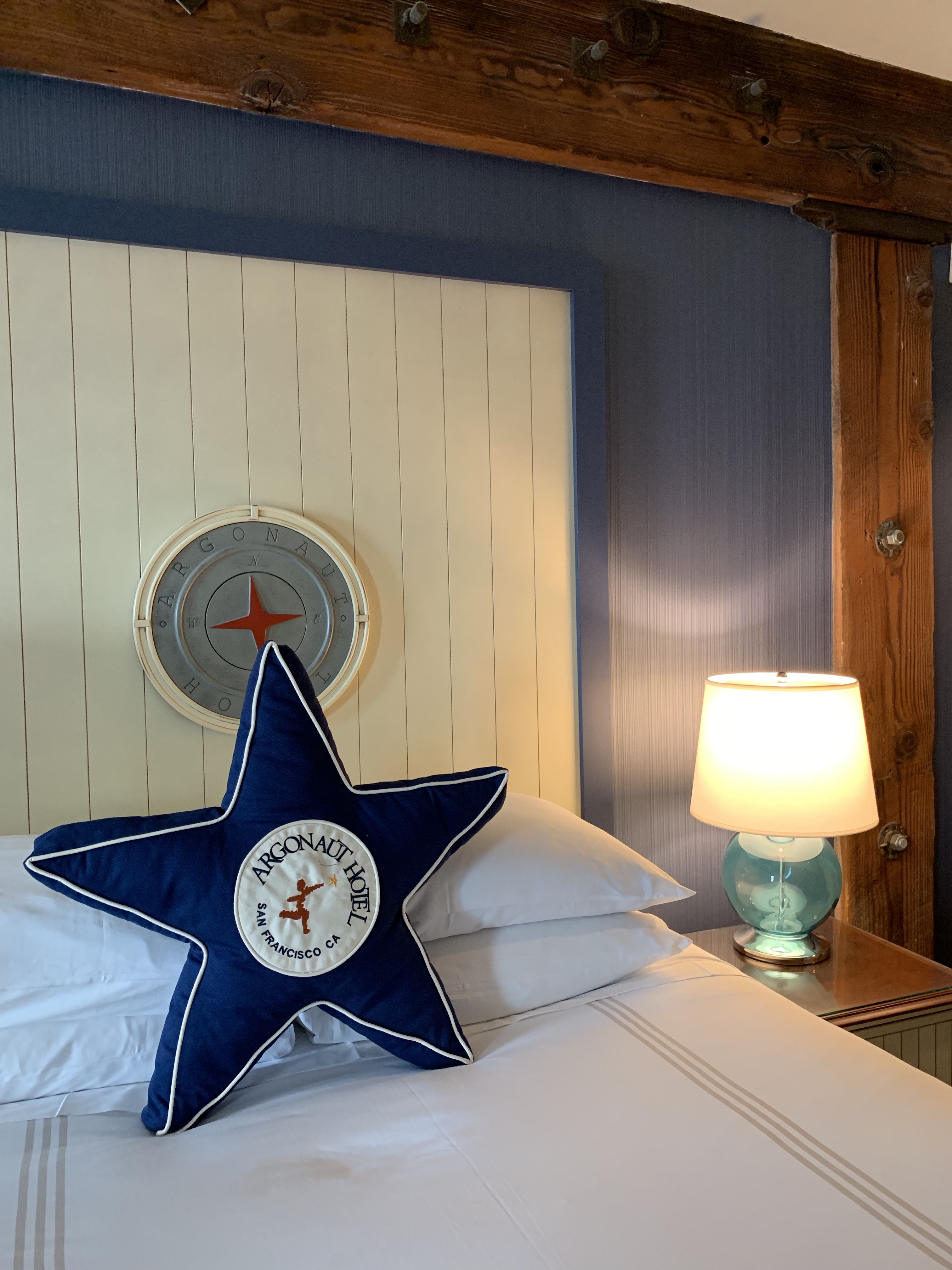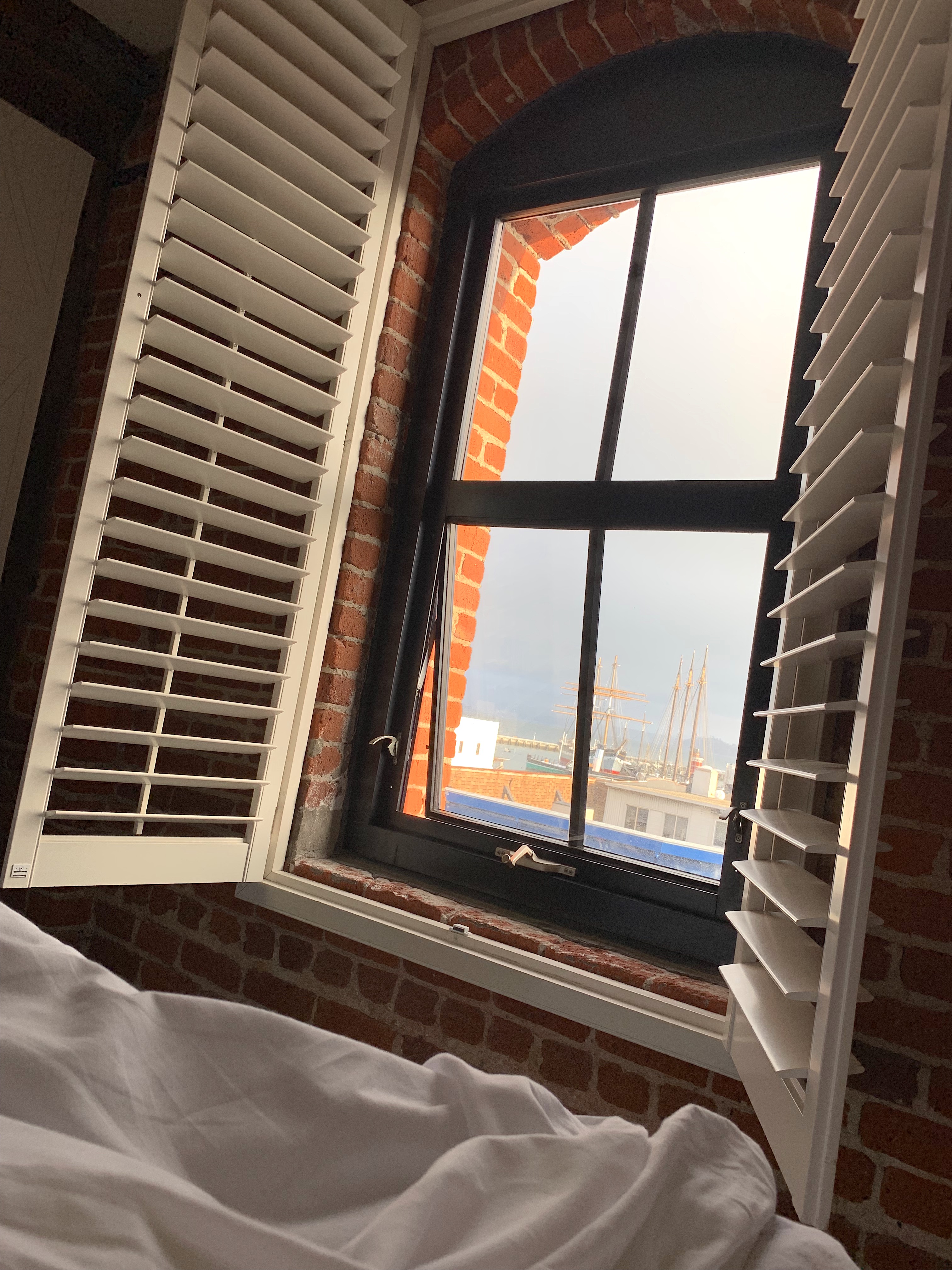 ~Fisherman's Wharf seen directly out our hotel room window.~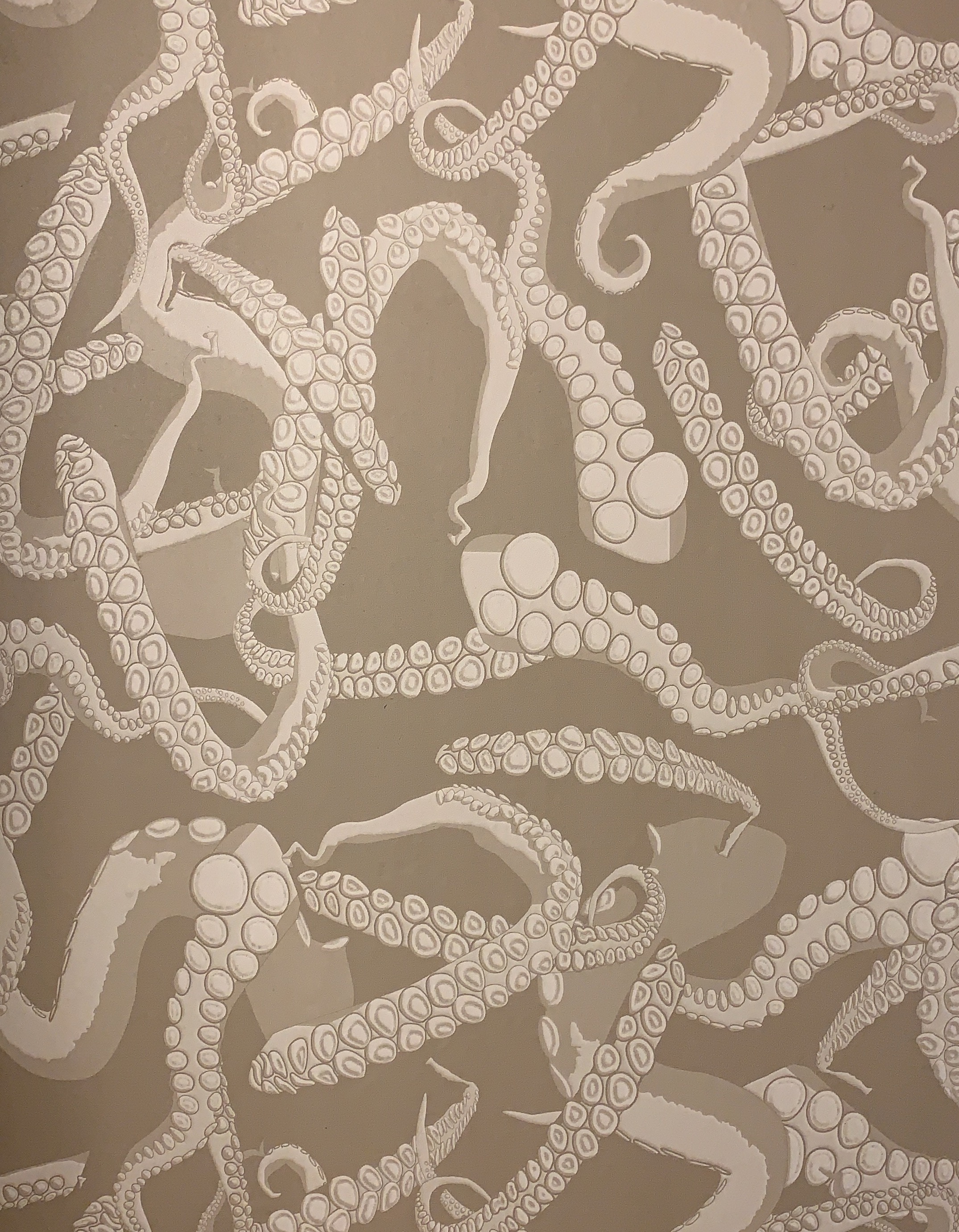 ~wallpaper in the bathroom~
Where to Eat
As one Uber driver who has lived in the city for 22 years told us, San Francisco has always had a strong food culture. Boasting 5000 restaurants, whatever type of cuisine you prefer, you will be able to find it. While he couldn't guarantee it would be delicious fare at every destination, he did note that you can find many wonderful places throughout the city and Bay Area. So let me share with you four places I HIGHLY recommend.
Tartine - If you are looking for French bakery buttery goodness, visit Tartine Bakery (the original bakery that opened about 15 years ago) and/or Tartine Manufactory (sit down for breakfast and lunch). The two locations are about 10 short blocks away from each other.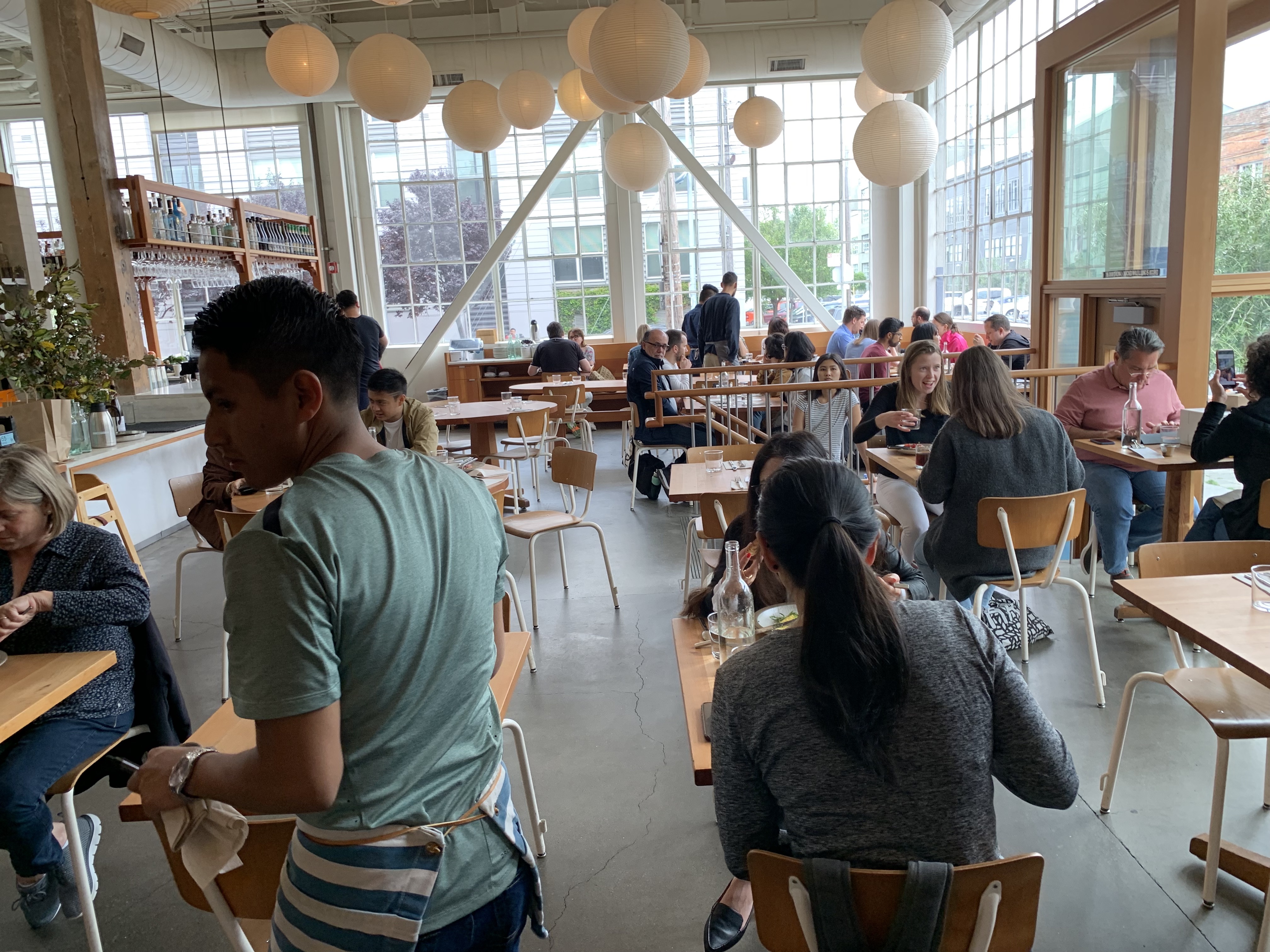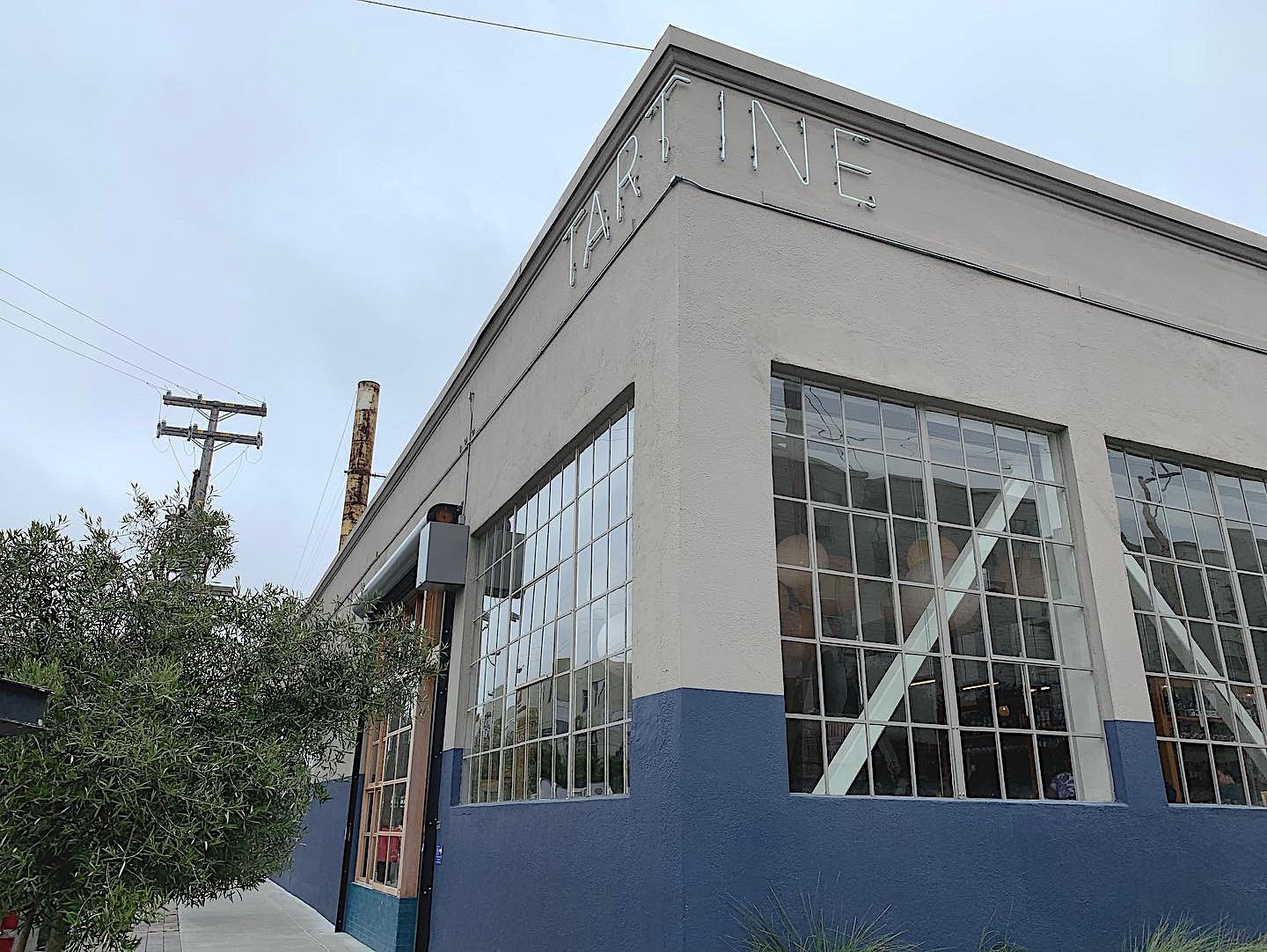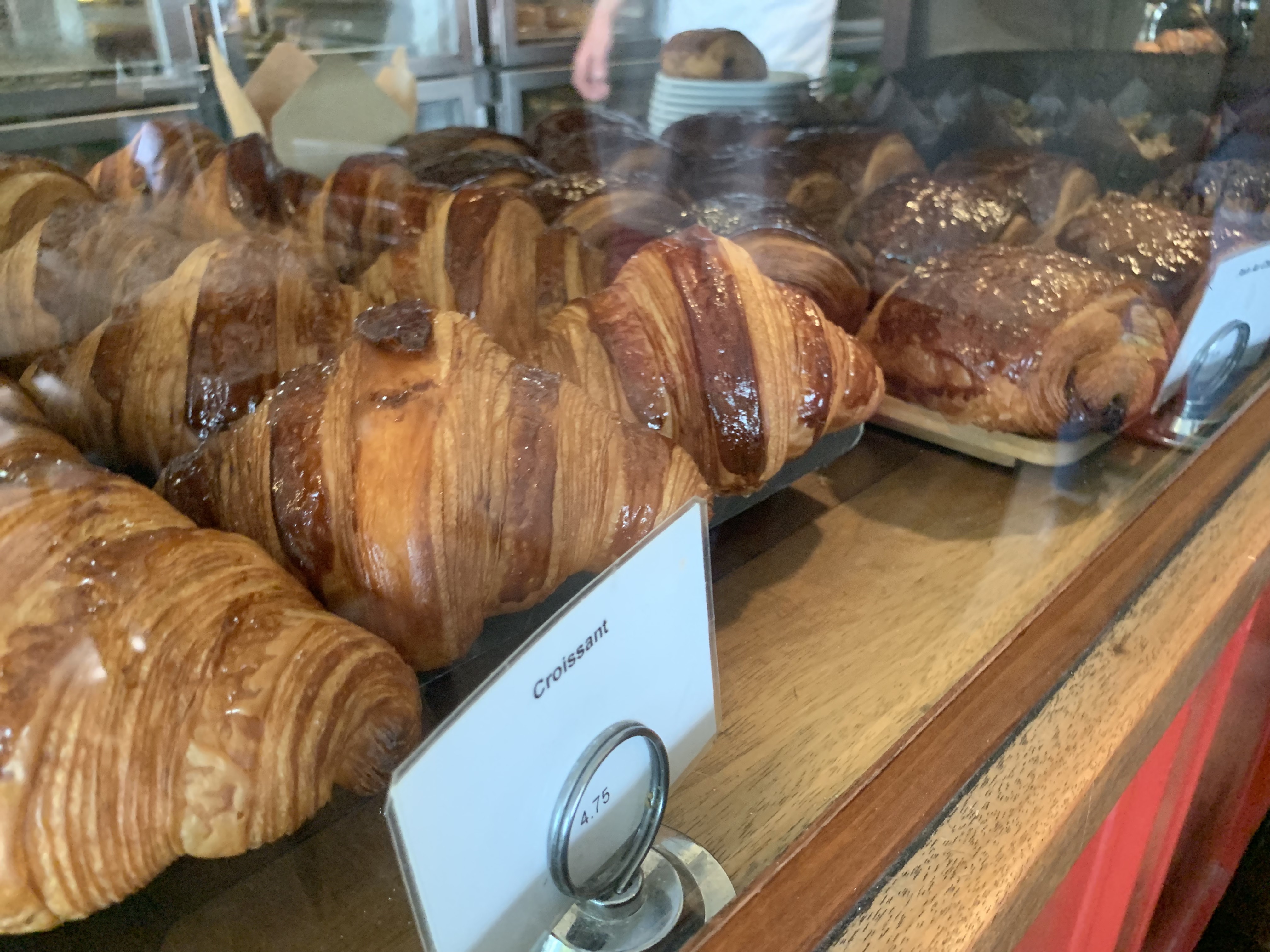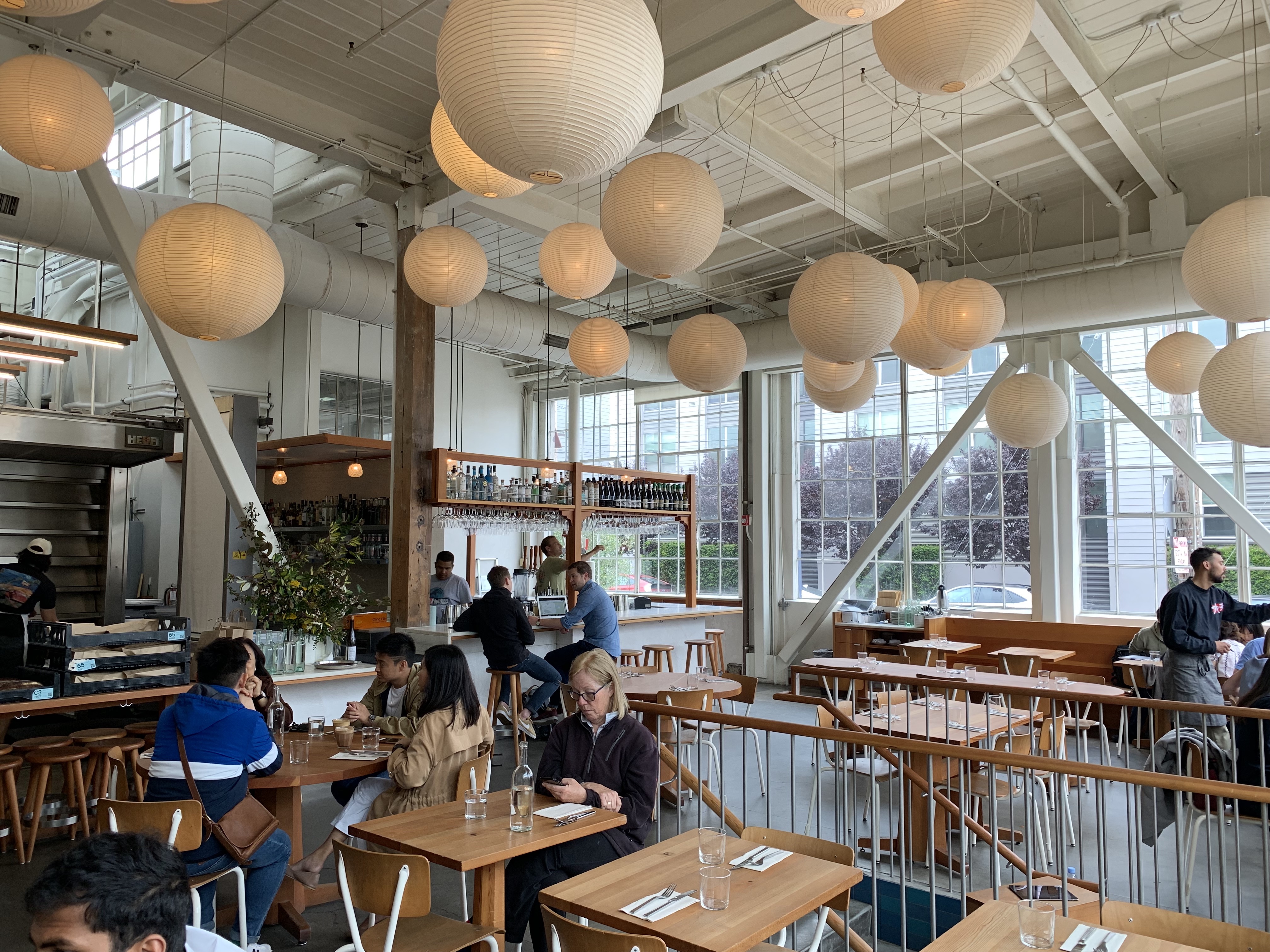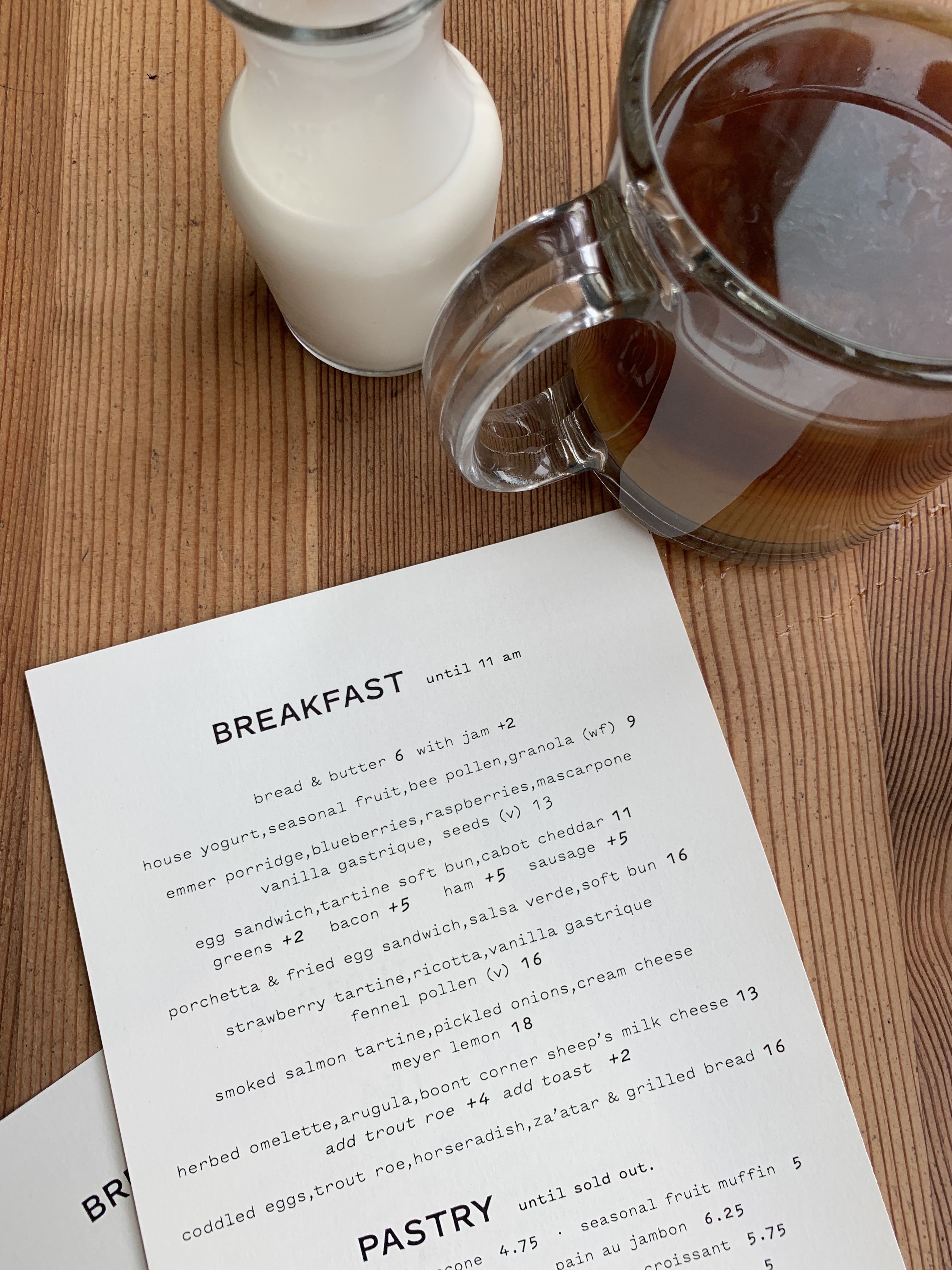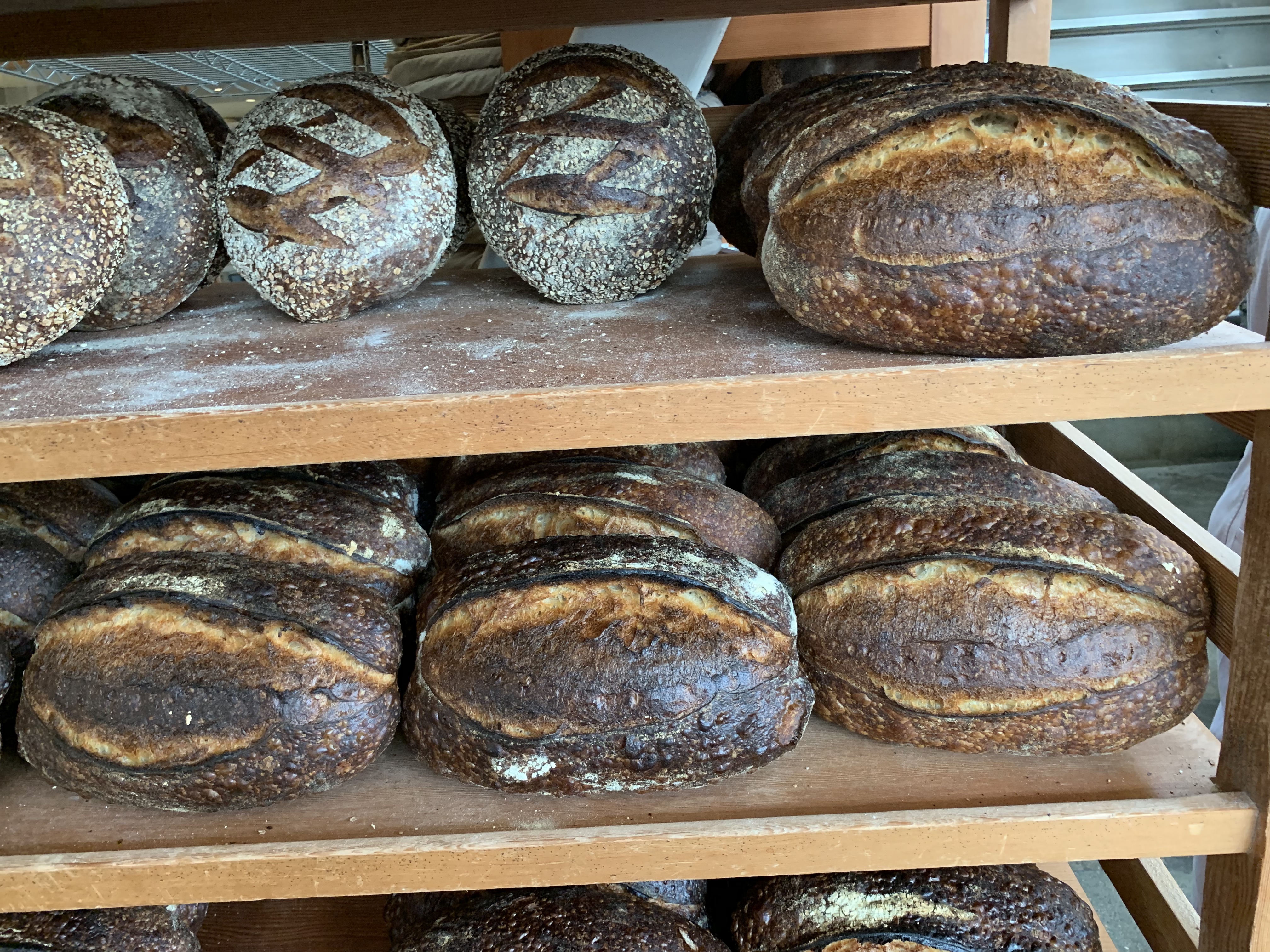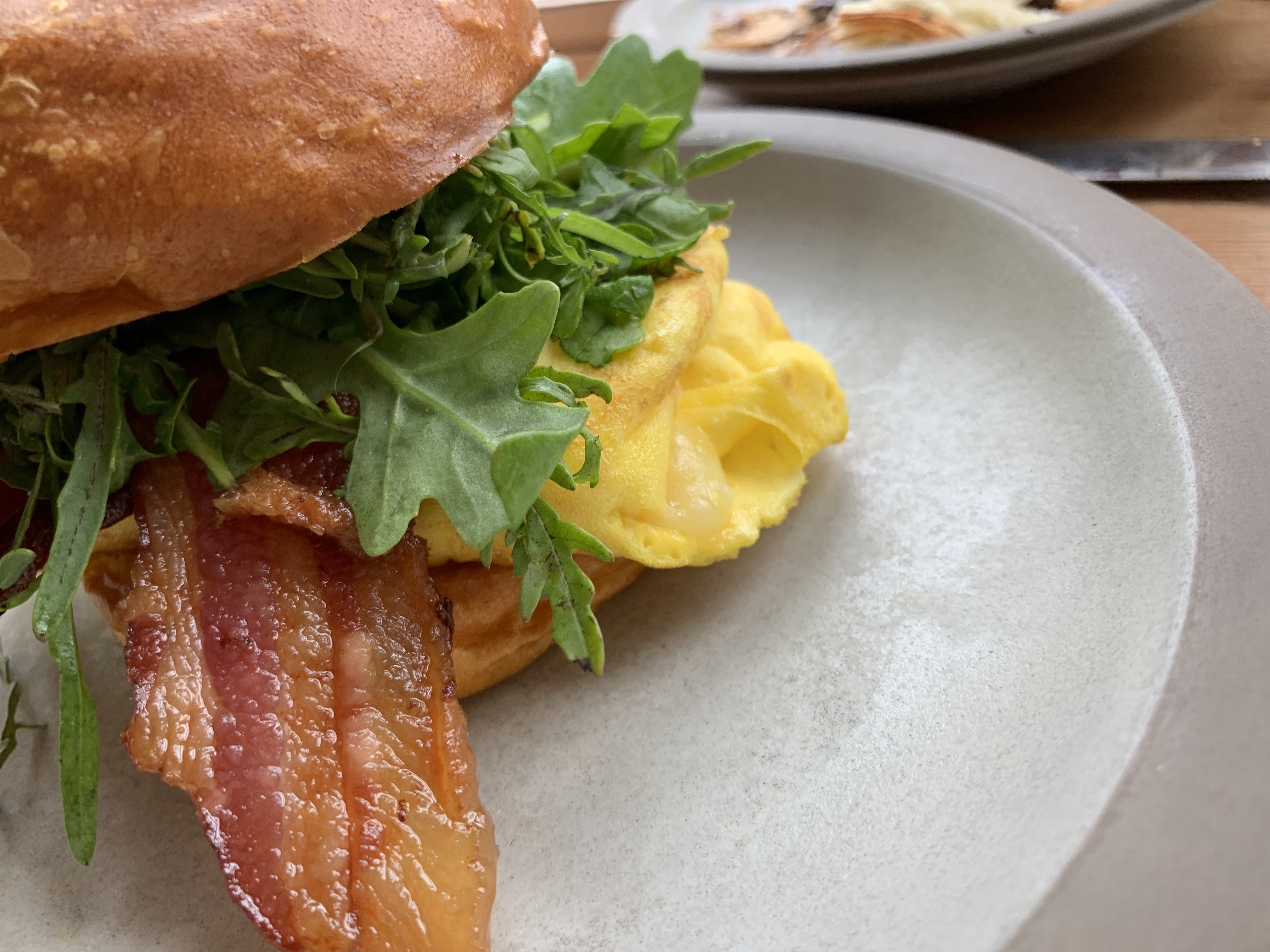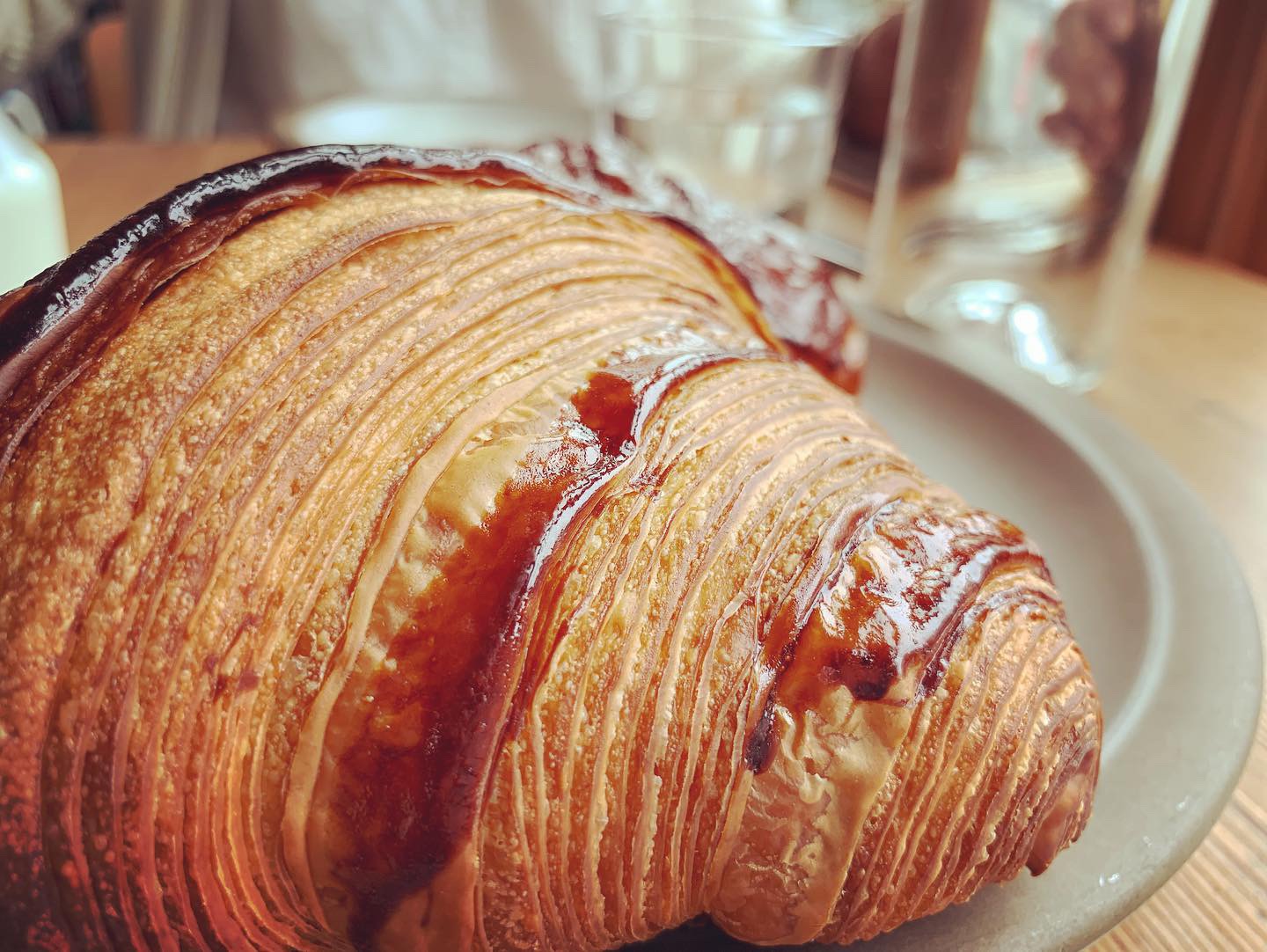 Pearl 6101 Restaurant - Having been opened for about a year, this Richmond neighborhood located restaurant opens at 8 am for breakfast and lunch (closing 1t 2pm), and opens for dinner at 5pm, running until 10 pm. They have brunch on Sundays.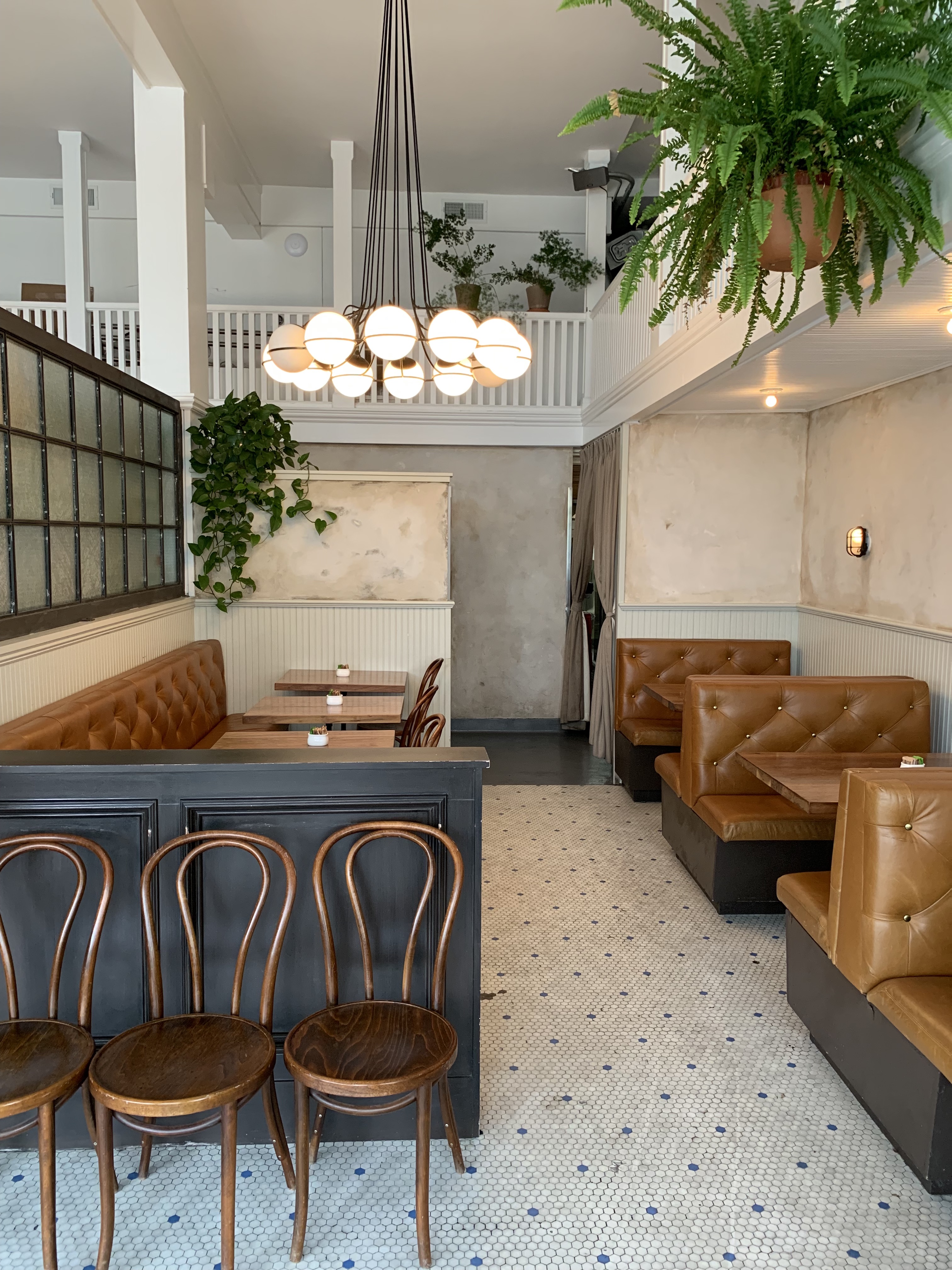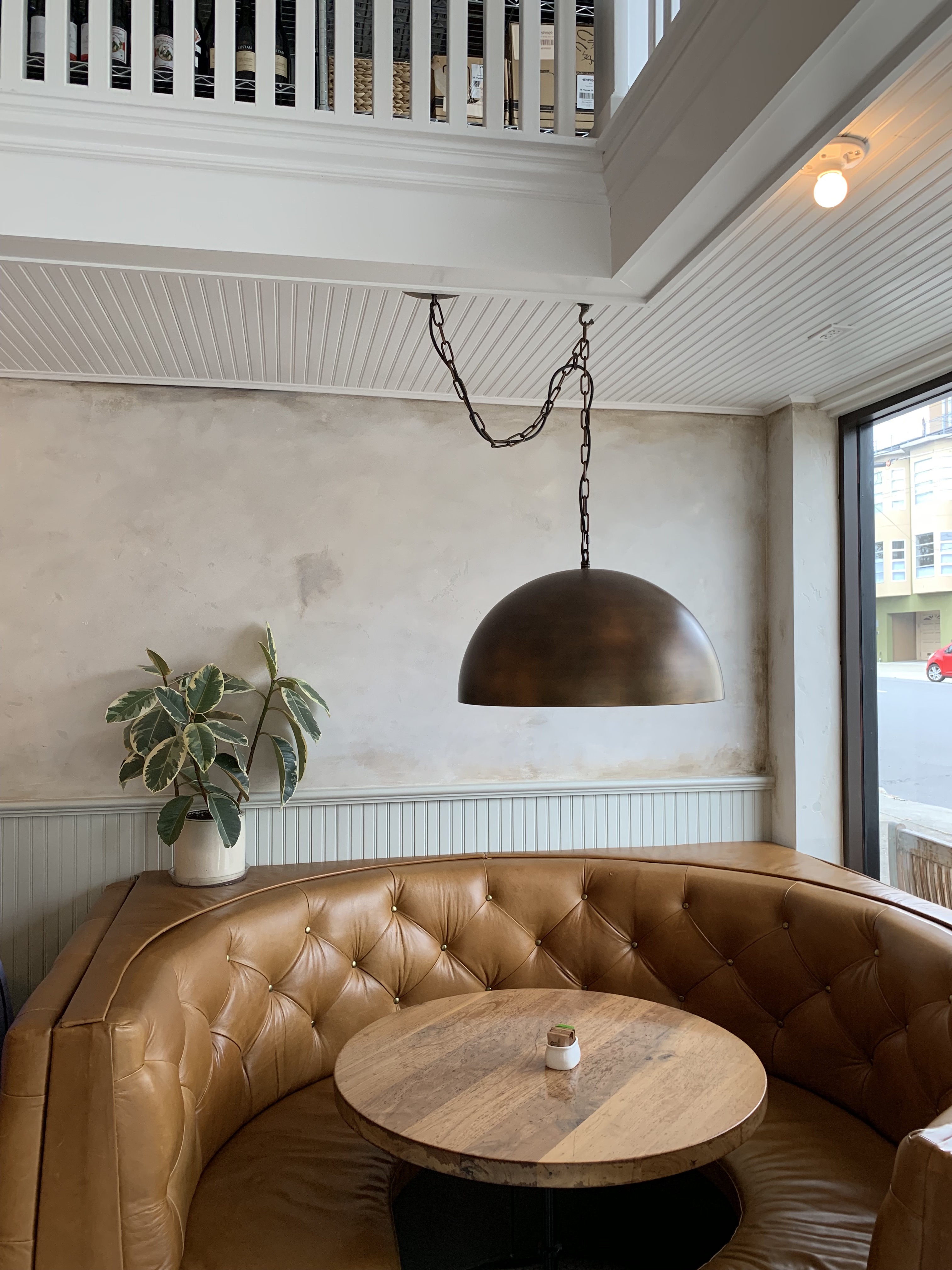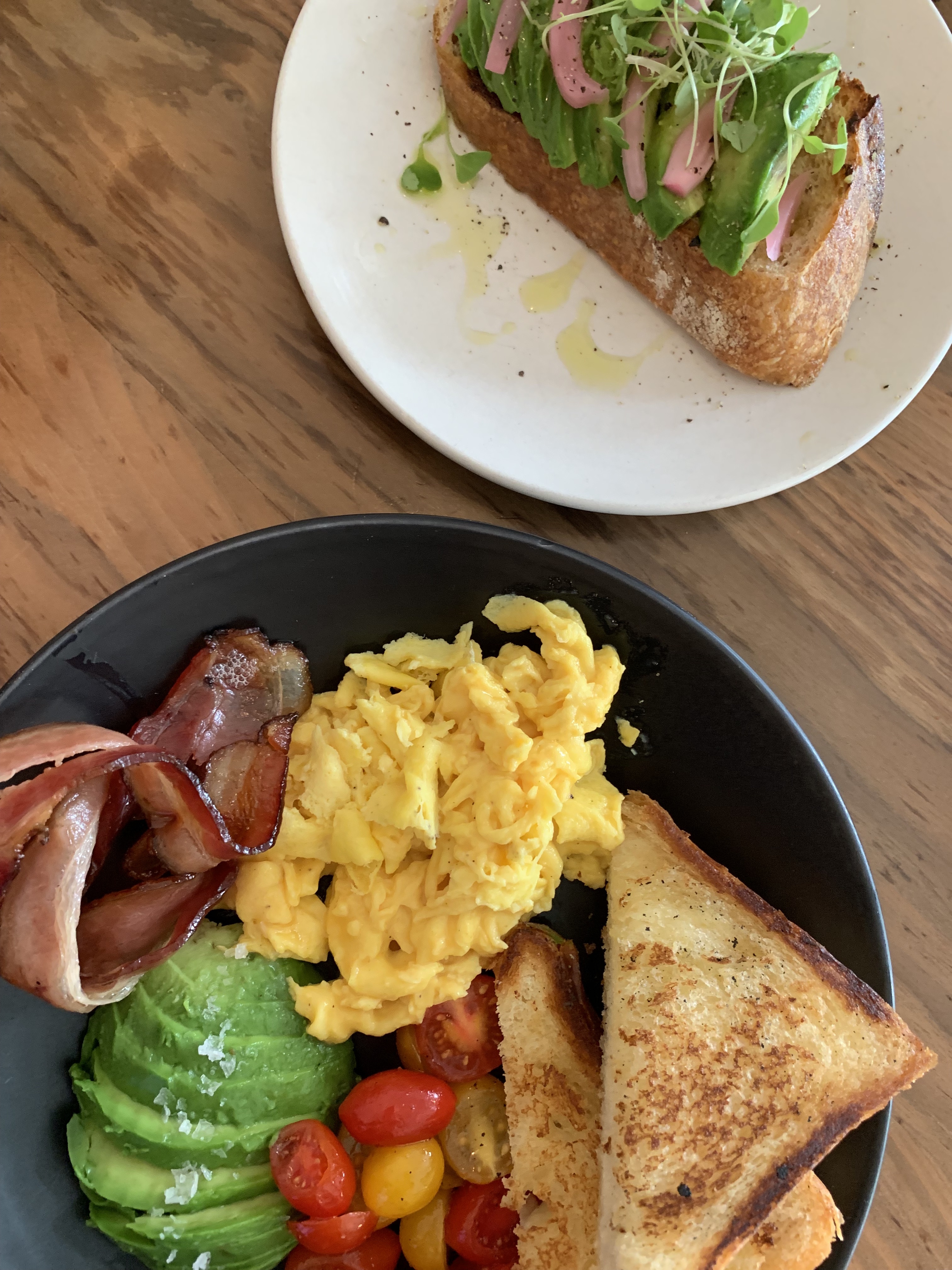 ~the scrambled egg plate and avocado toast~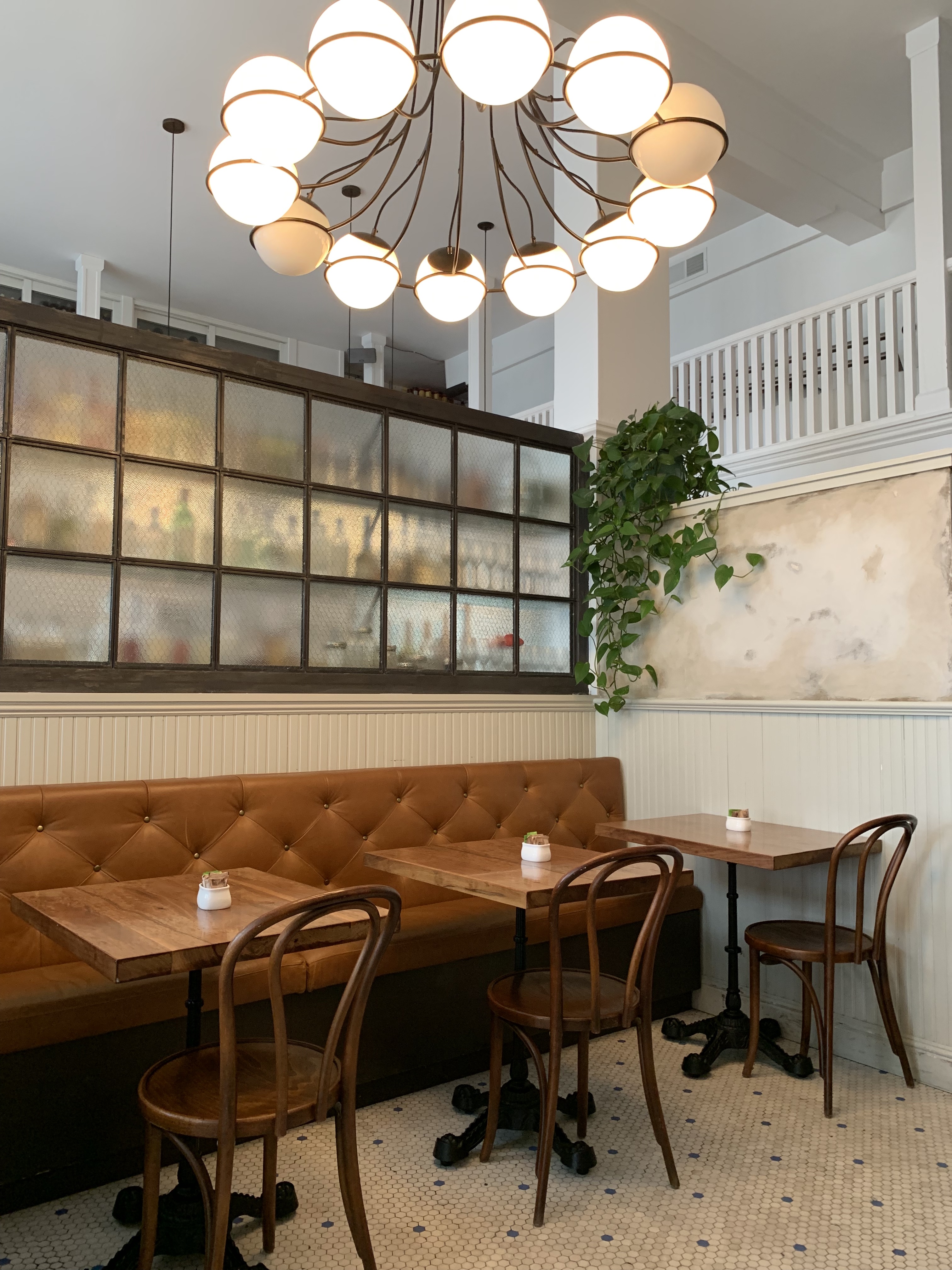 Boulettes Larder + Bouli Bar - Located in the Ferry Building on the far right corner next to Sur la Table, this two-part restaurant offers scrumptious seasonal and locally sourced meals. Boulettes Larder is the light and bright restaurant space that is open for lunch and breakfast (dinners are only reserved for special group occasions, as I learned later). BouliBar (where we dined) is where they serve lunch and dinner, and the pizza as well as other items on the menu will please your palette immensely. My slow baked King Salmon set atop a bed of millet and vegetables dressed in sparkling vinaigrette was mouth-watering delicious. Paired with a glass of rosé - yum.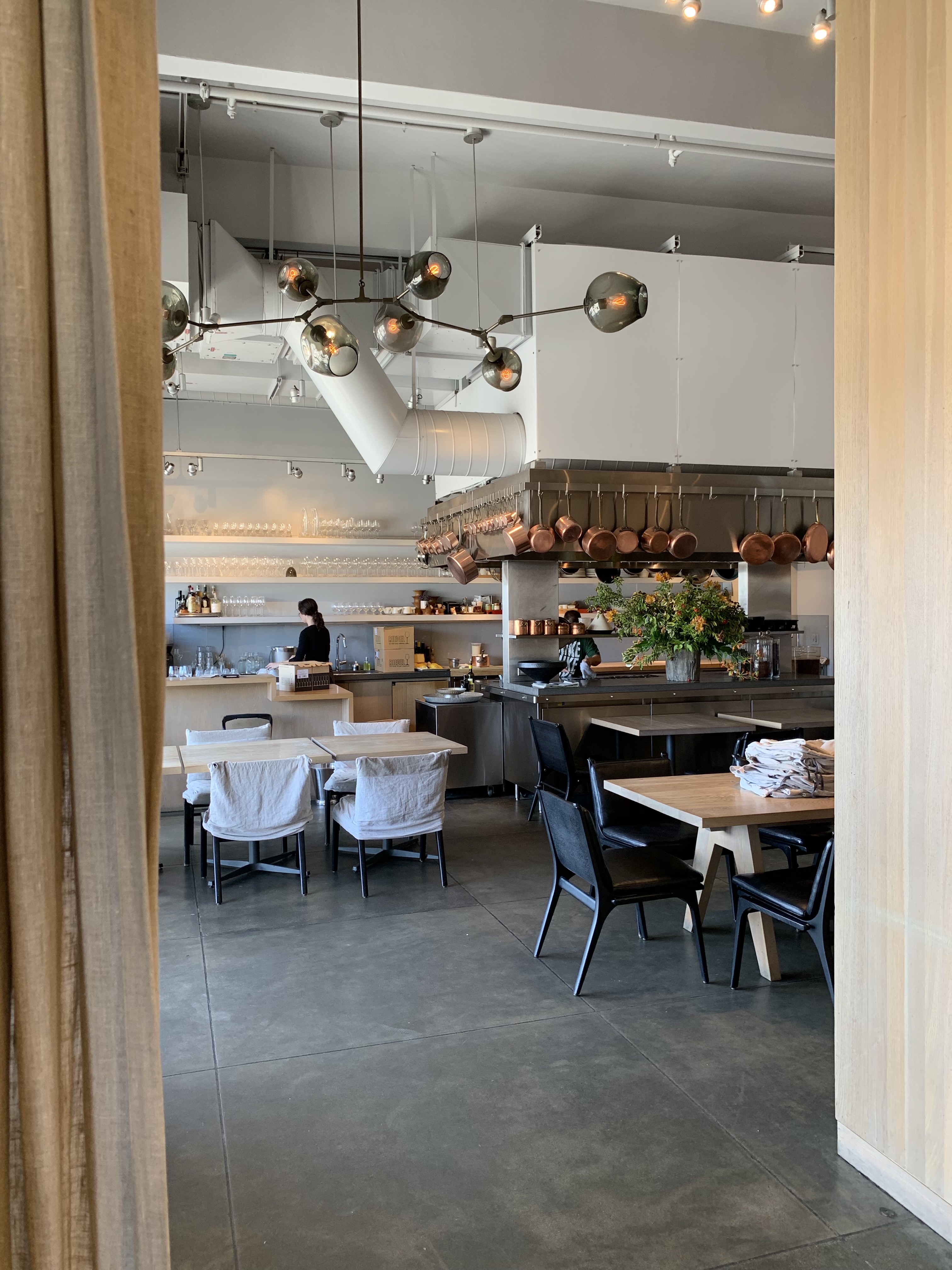 ~the dining room for Boullettes Larder (open to the public for breakfast and lunch; private group dinners in the evening)~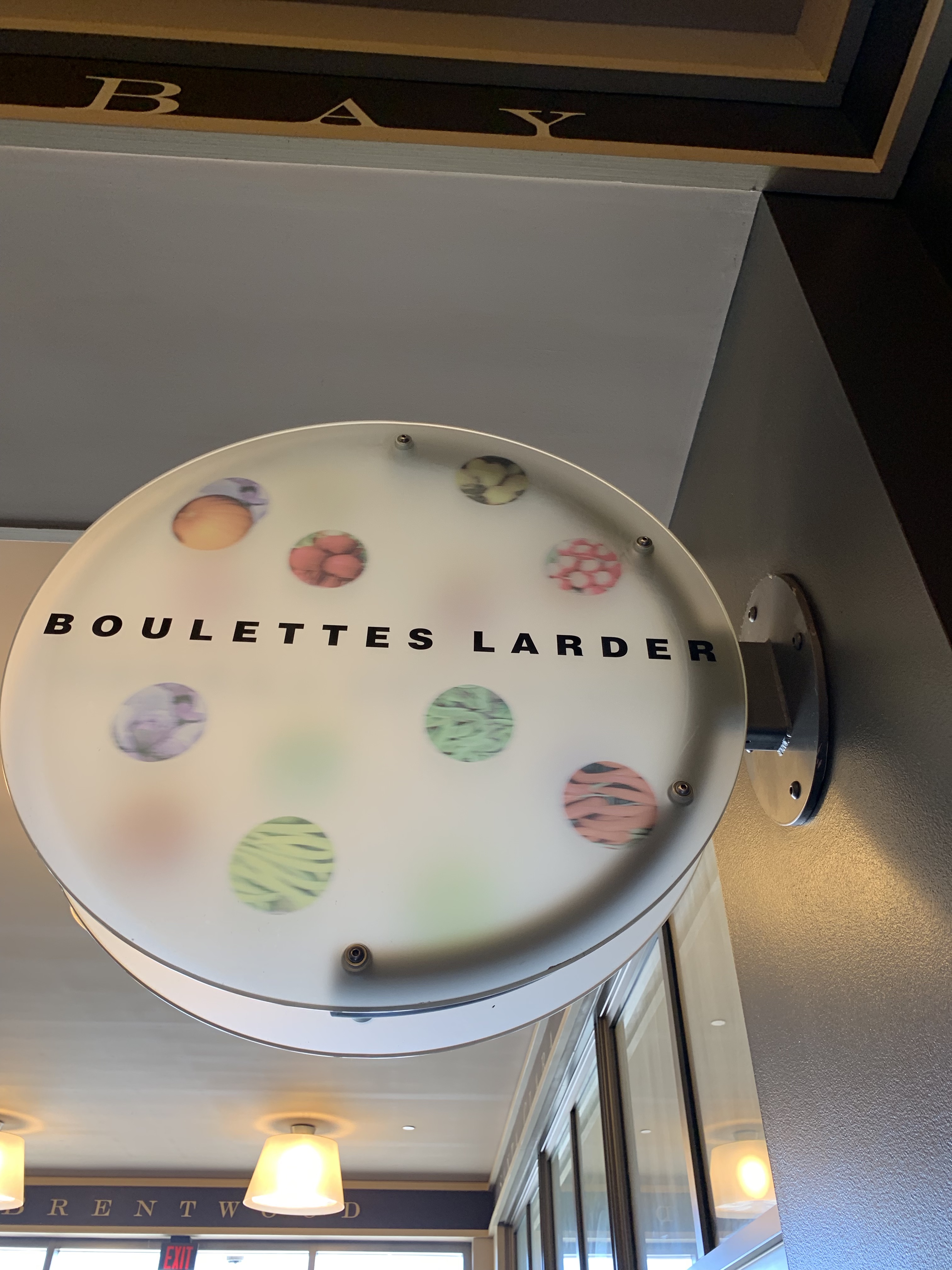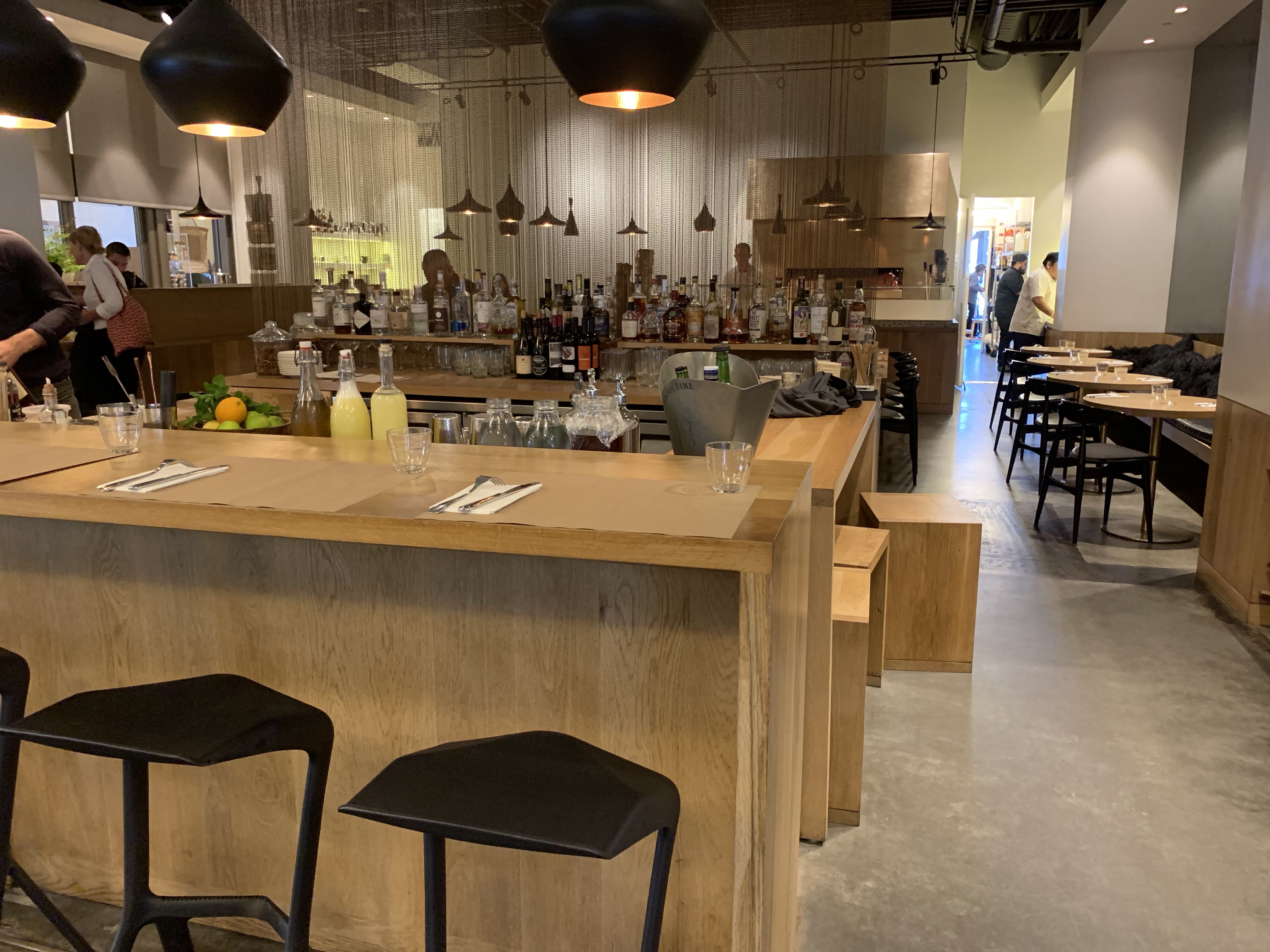 ~Bouli Bar (open for lunch and dinners for the public)~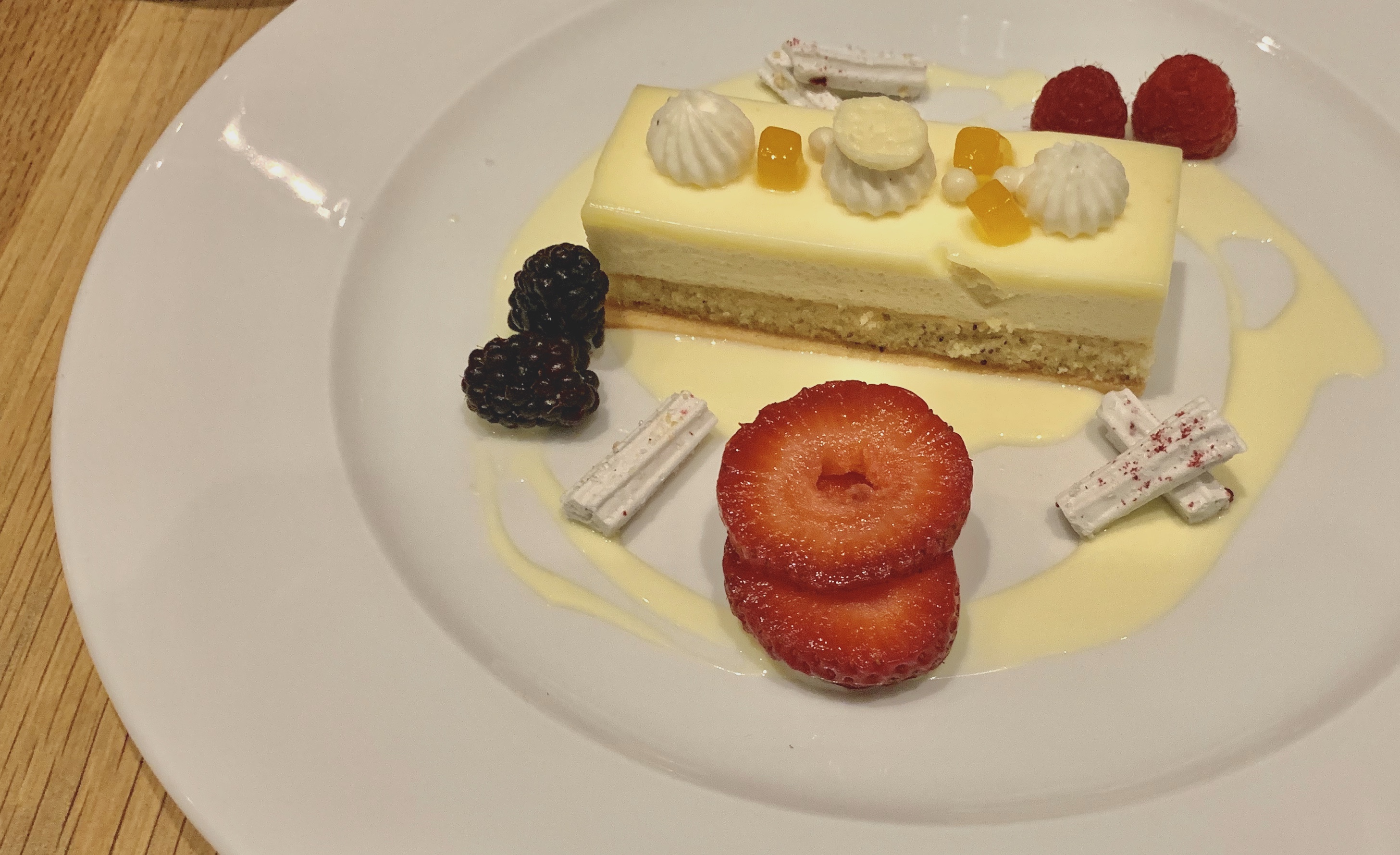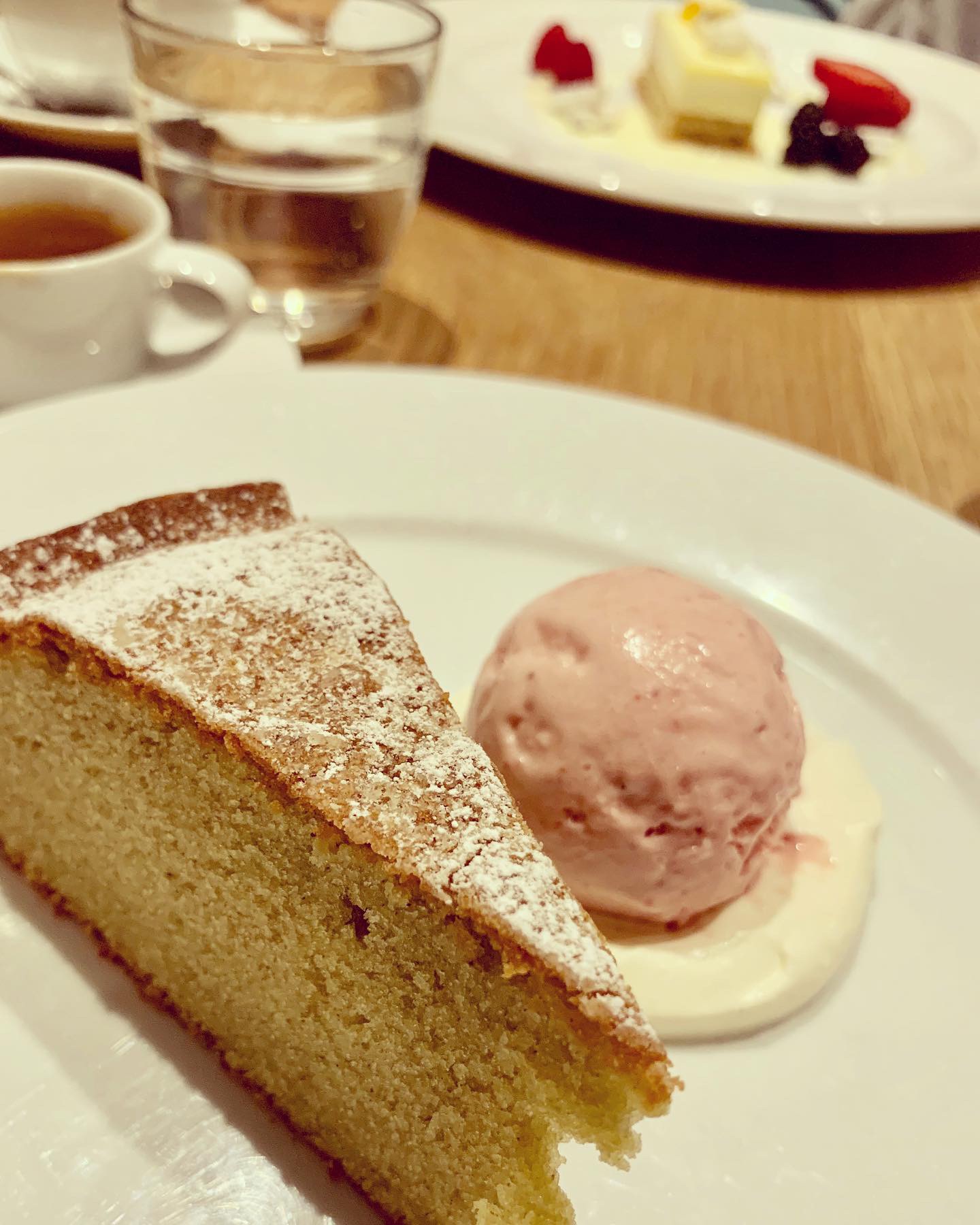 ~Pistachio Cake with strawberry ice cream~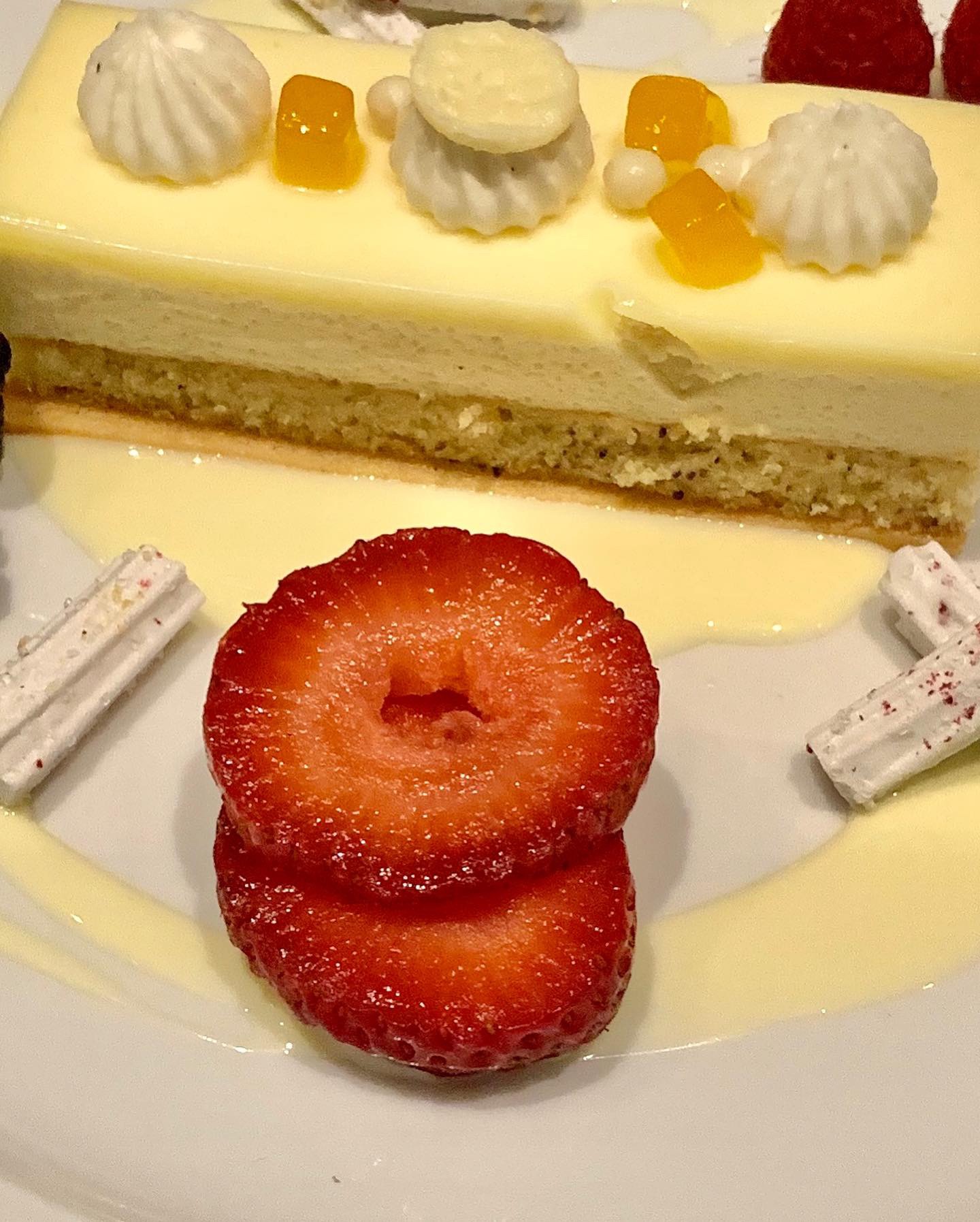 Chez Panisse - Yep, Alice Waters' famed restaurant in Berkley. A dream of a experience, of which I will share in detail on Wednesday of this week, so do stop by. Reservations are taken only one month in advance on the day you wish you dine, but one month prior. Call on that day, when hours of operation begin. Every night a different menu. Every menu is seasonal and sourced locally. You can keep your menu. I had mine signed by the waiter. That is how awesome and, perhaps in admiration I am, of this restaurant. It exceeded my expectations. Stop by Wednesday to find out exactly why.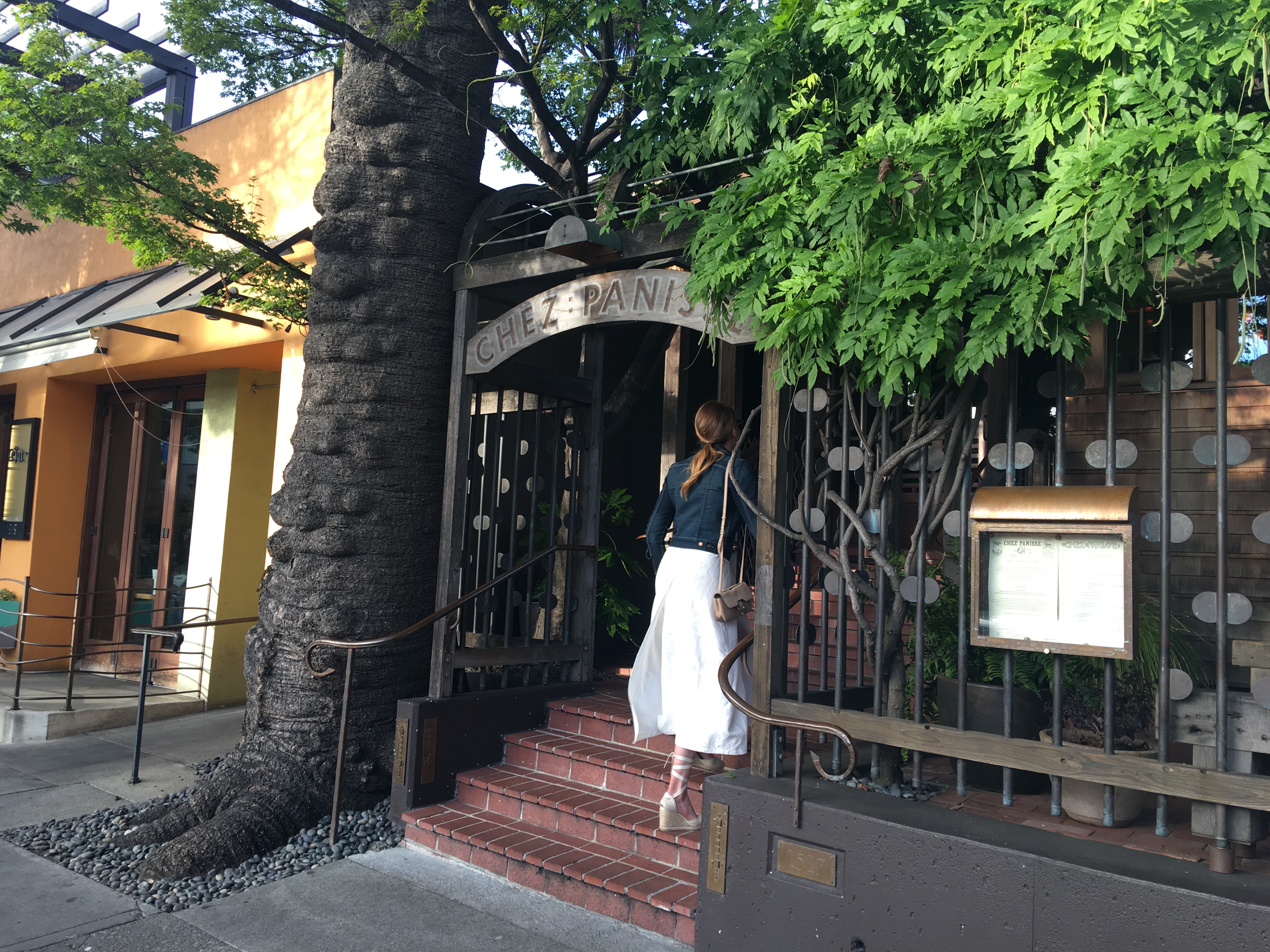 ~the entrance to Chez Panisse in Berkeley~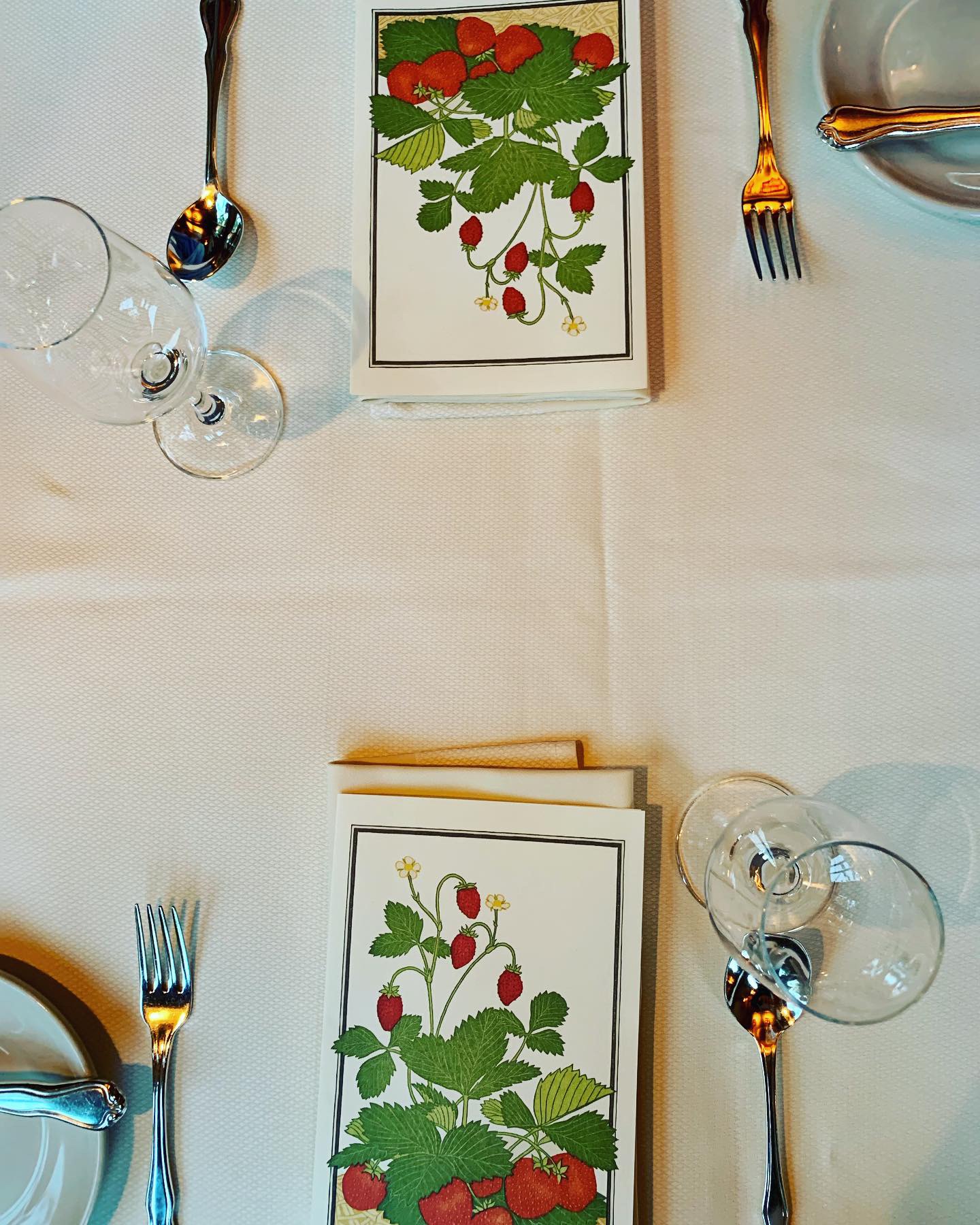 ~the menus - guests can keep them~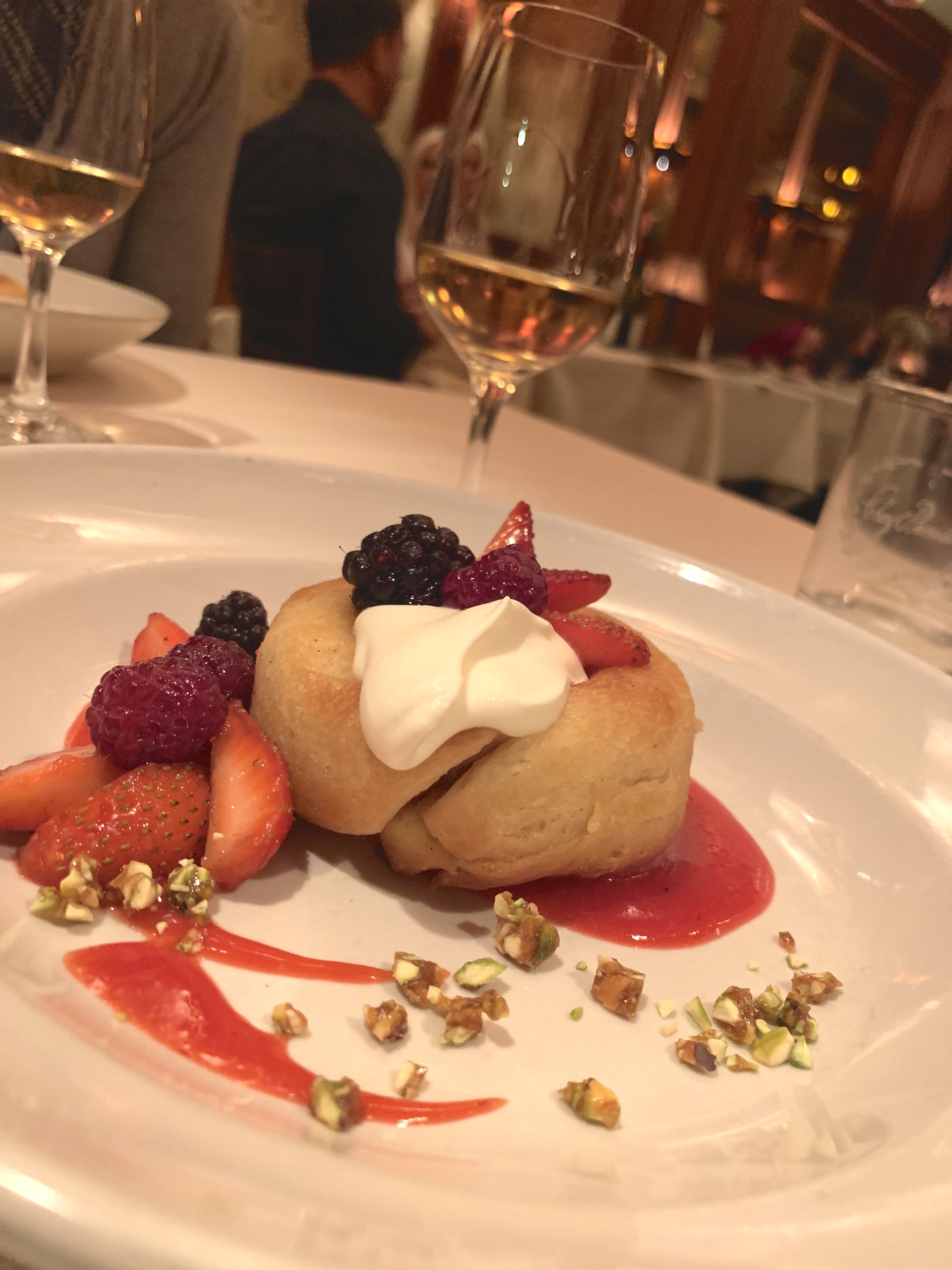 ~dessert: Savarin cake with fresh summer berries and candied pistachios~
Now it's time to tailor it what you love
Each one of us who visits San Francisco will come to the city for different and special reason. As I shared in last Friday's weekly newsletter with subscribers, my visit was all about the food in preparation for The Simply Luxurious Kitchen's upcoming second season. And the city did not disappoint. However, there were a few other places we took the time to see and experience, and I'd like to share them below in case you too might be curious to check them out.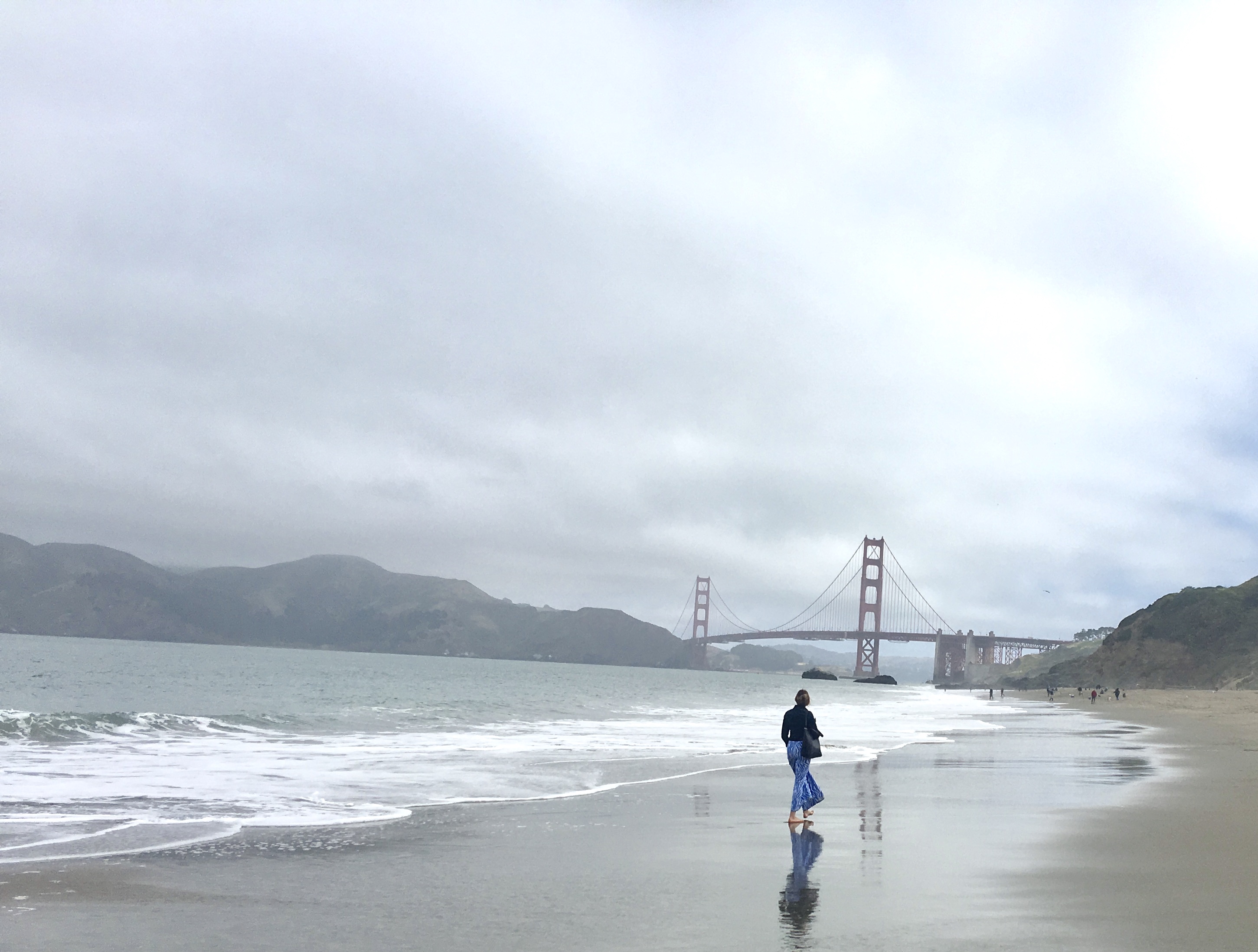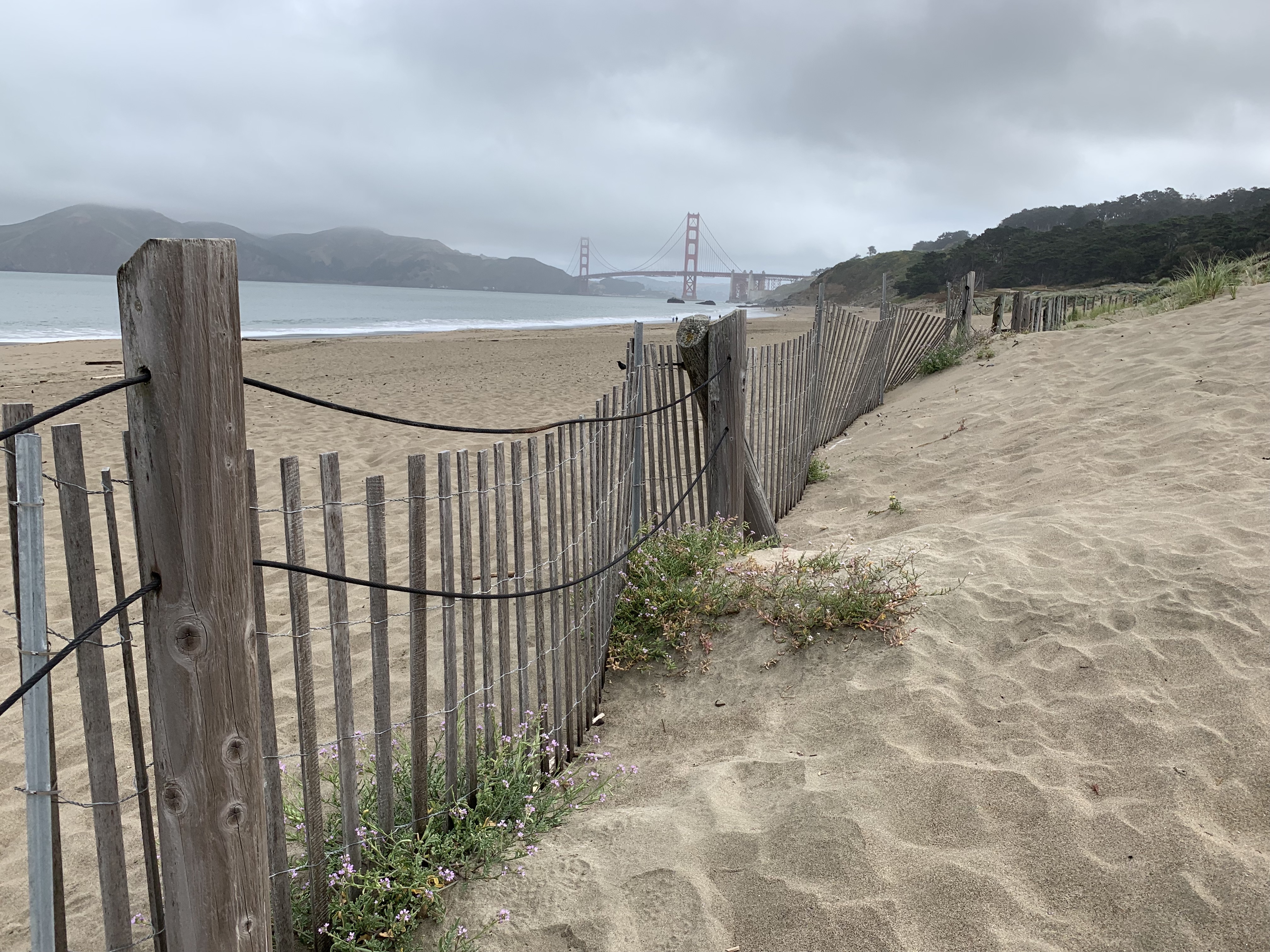 Consignment Clothing, designer options galore at reasonable prices - Goodbyes (two shops) on Sacramento.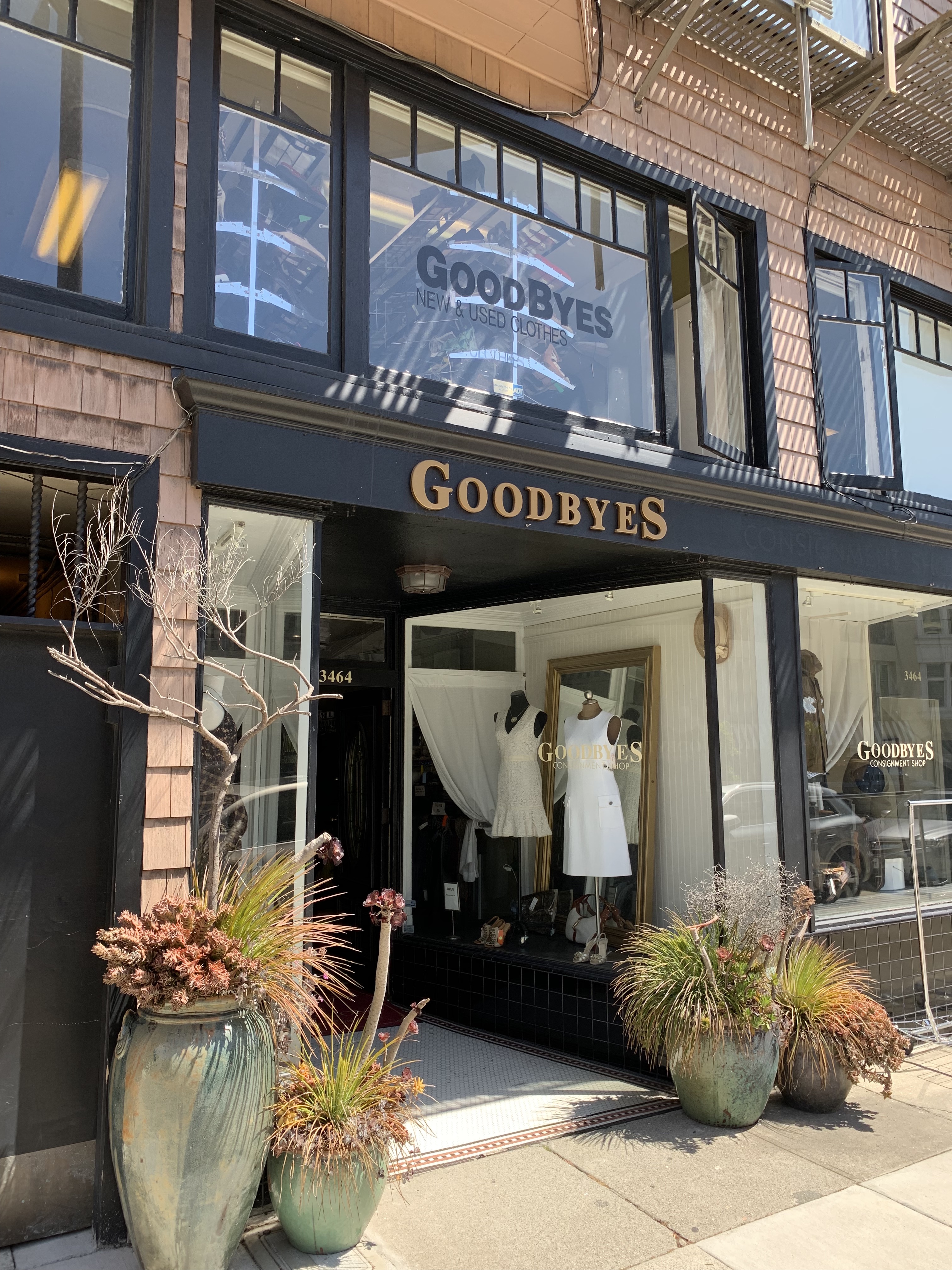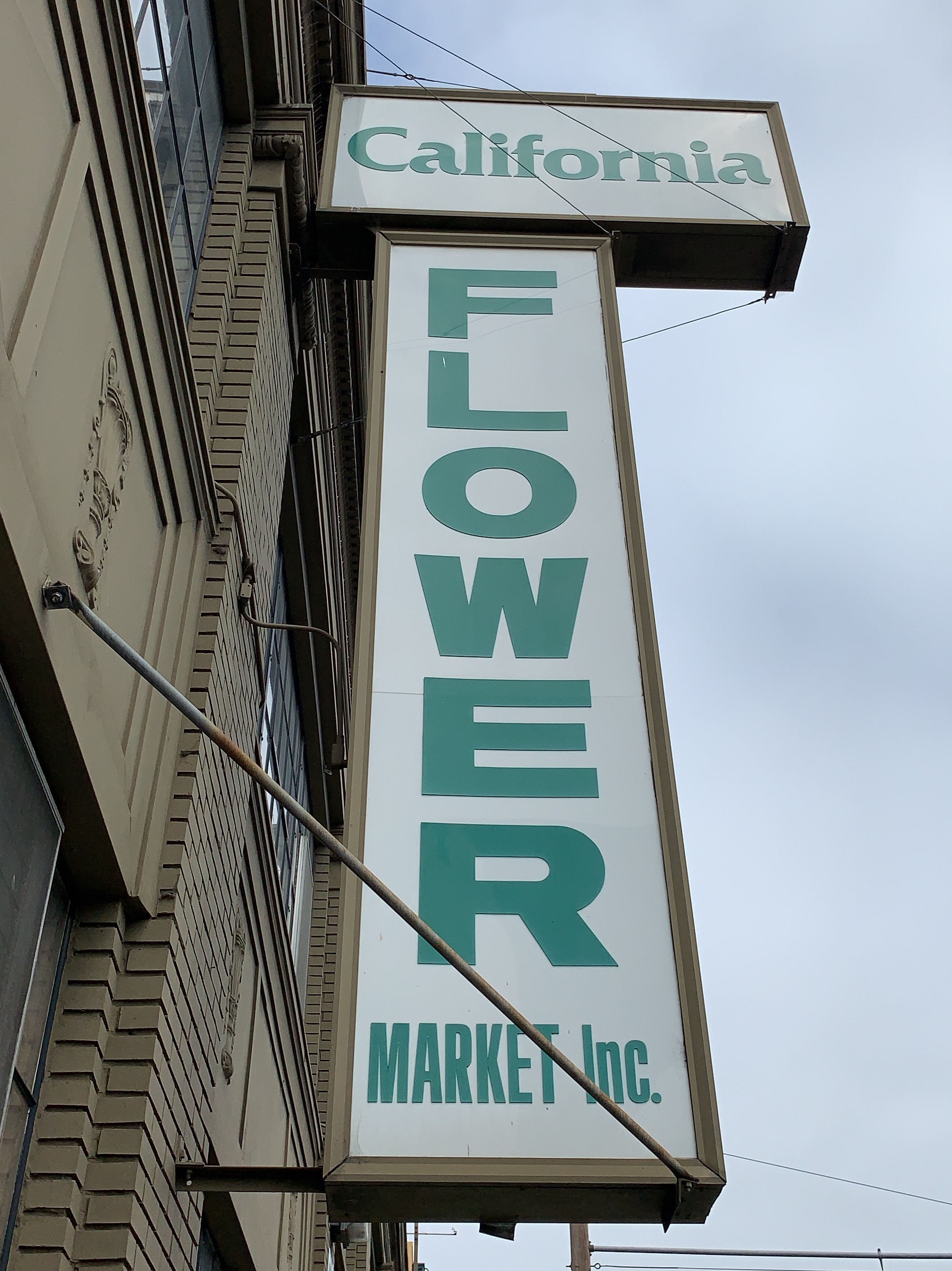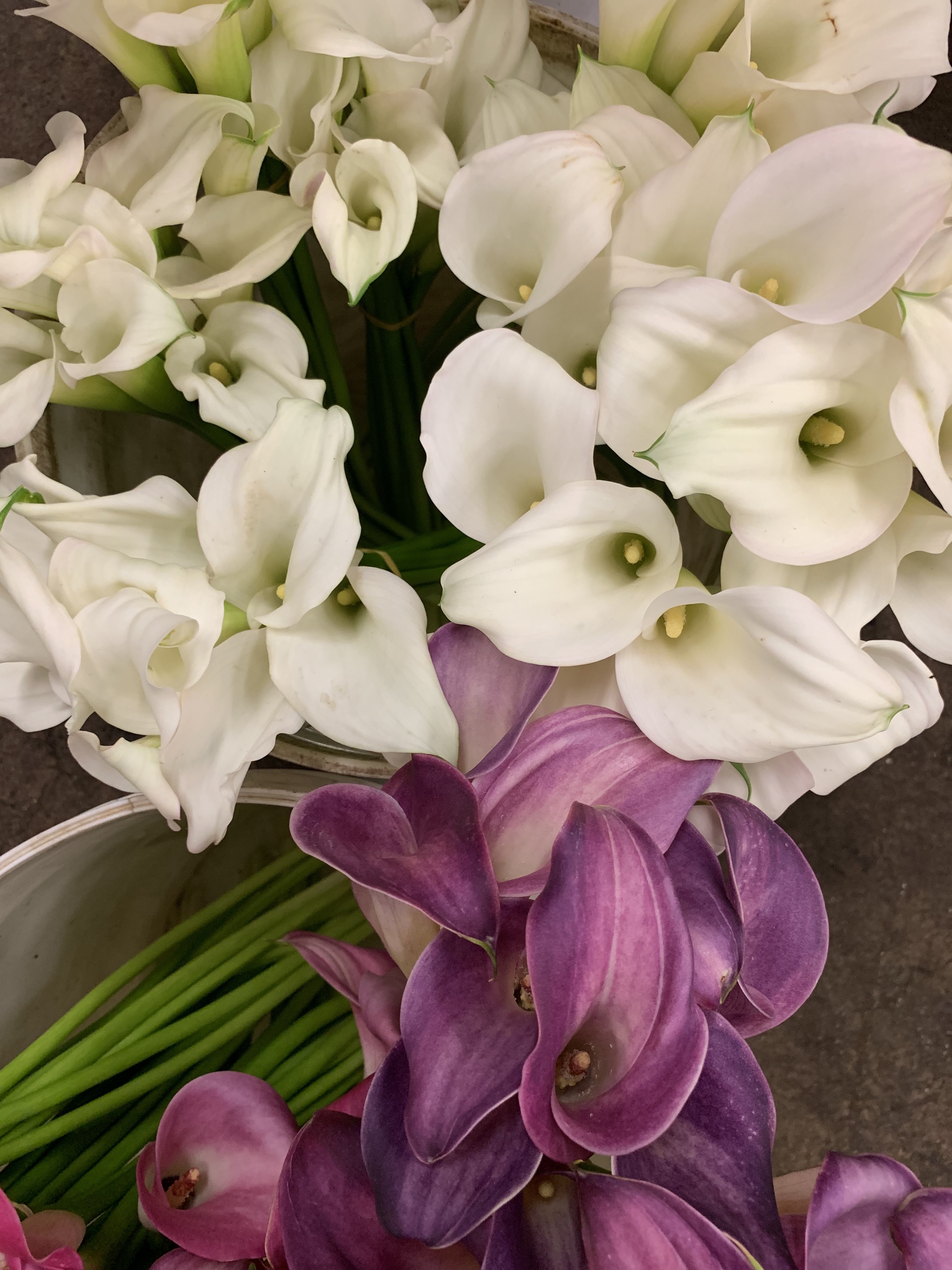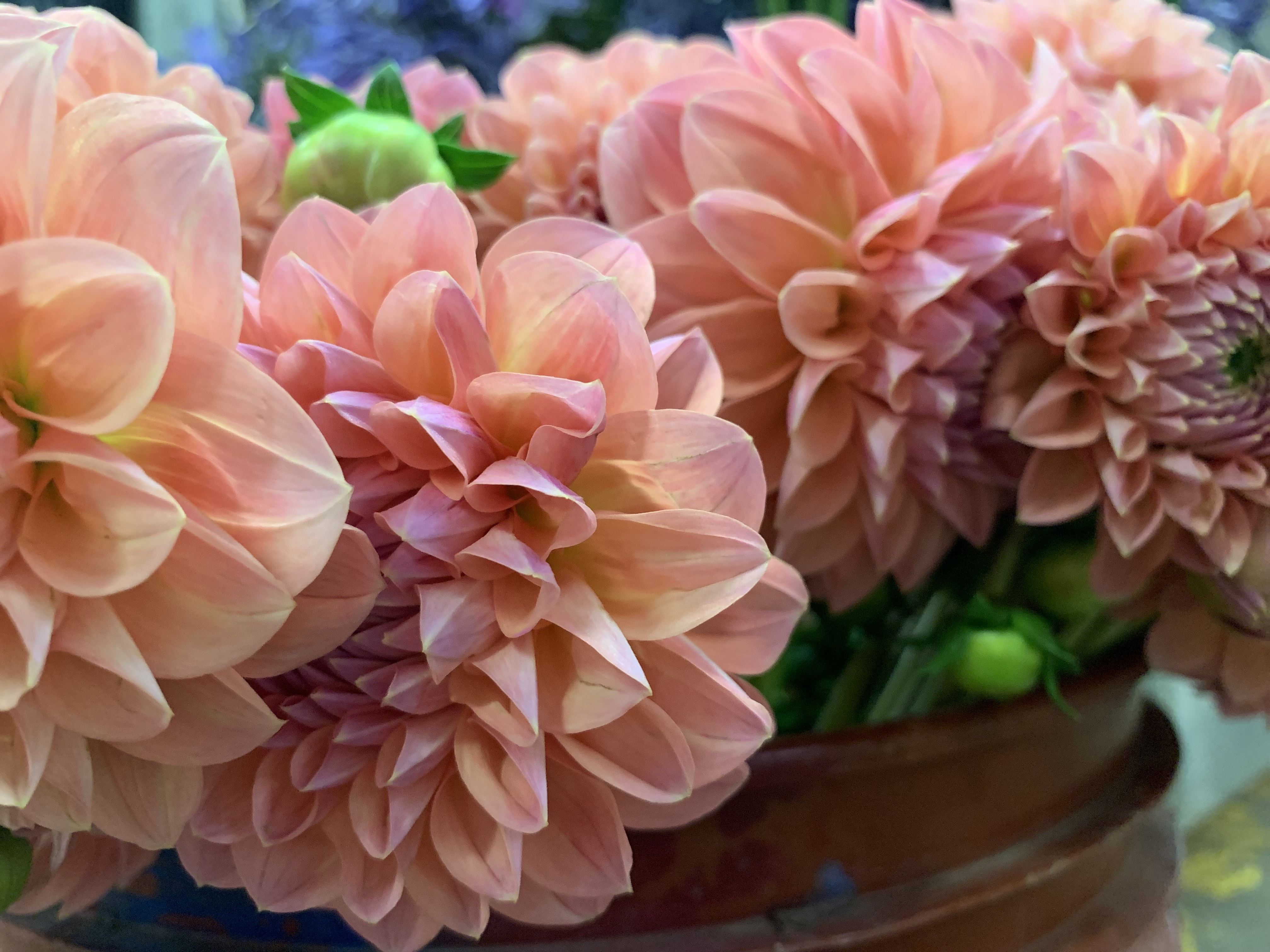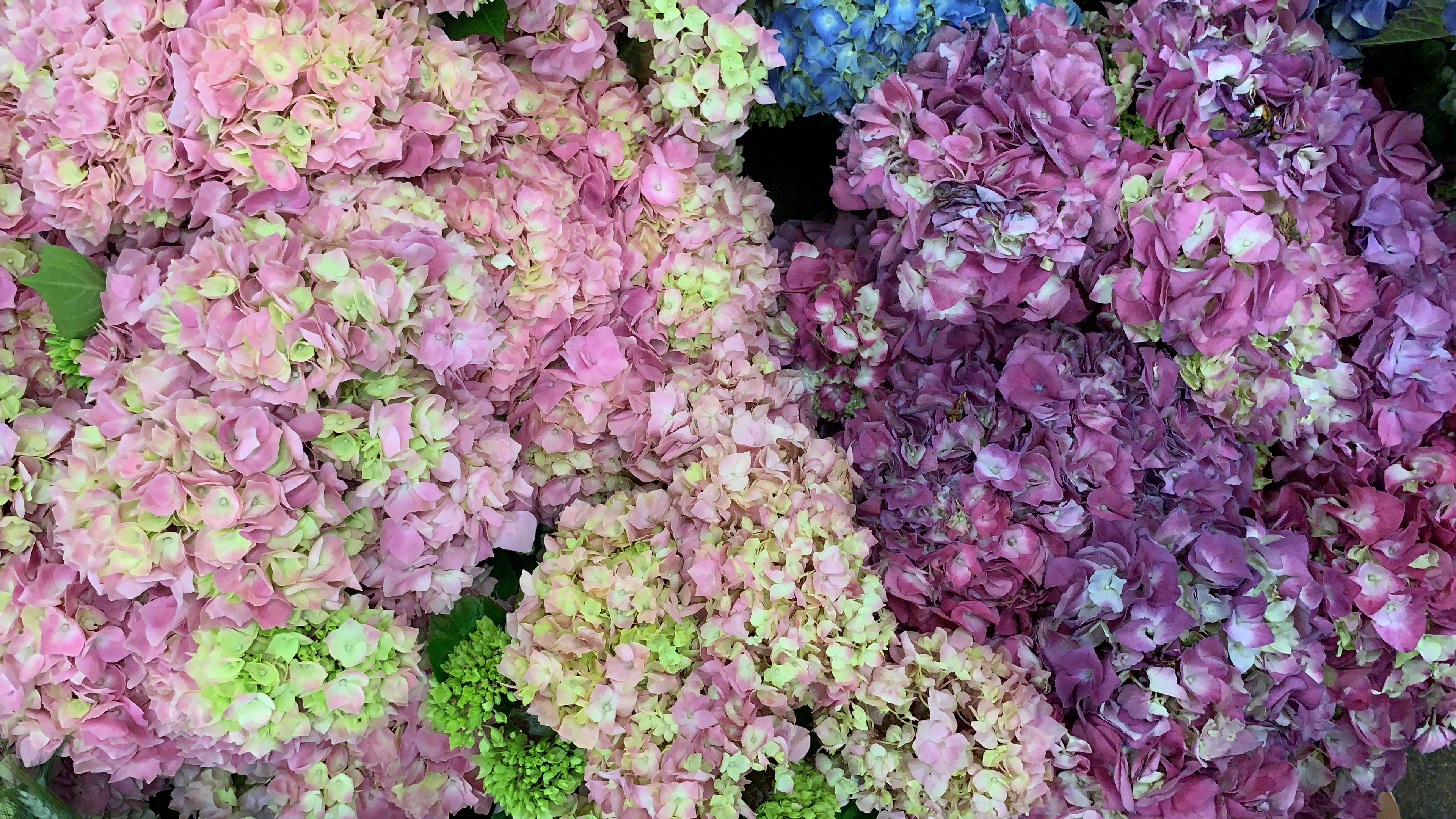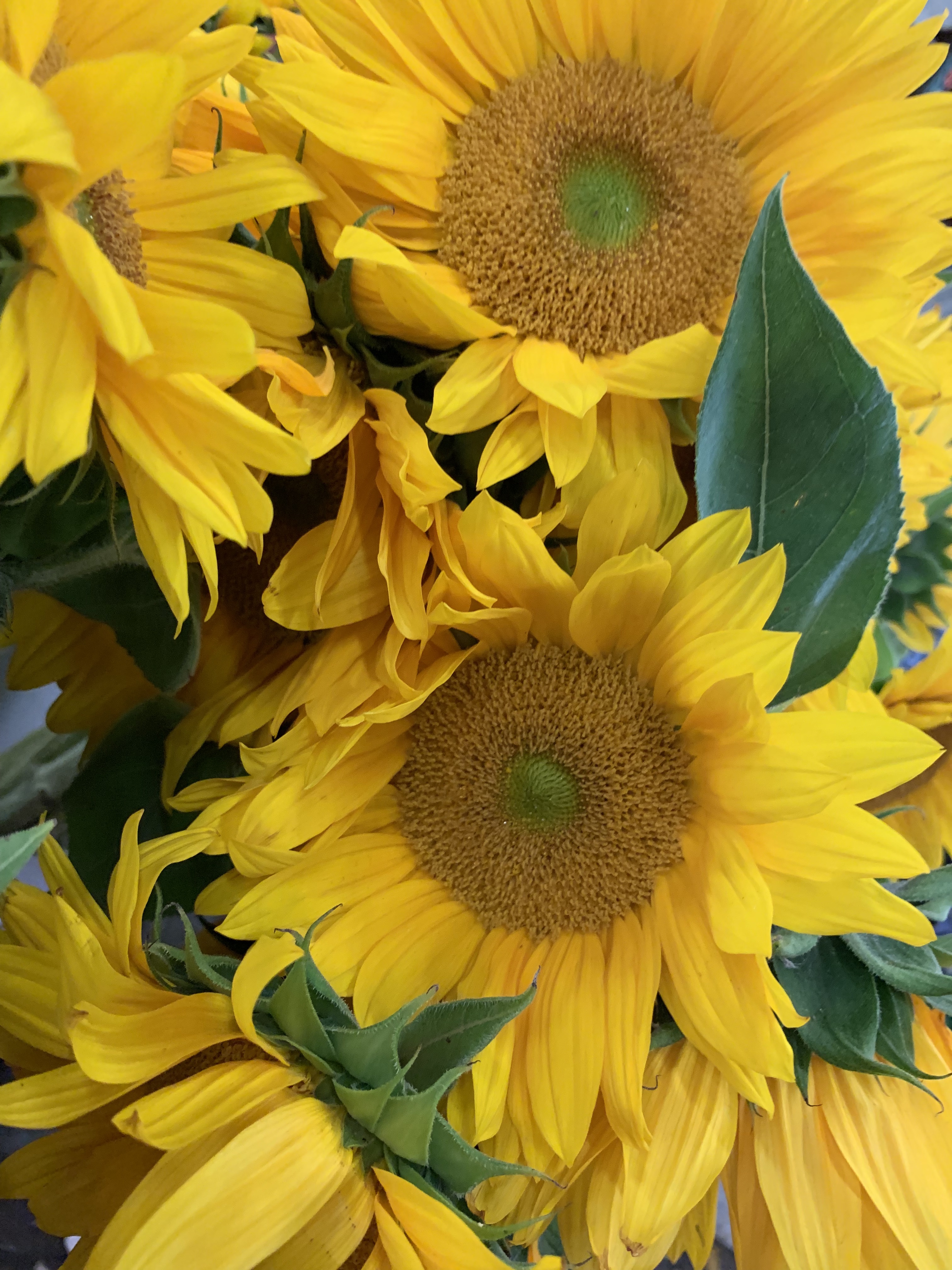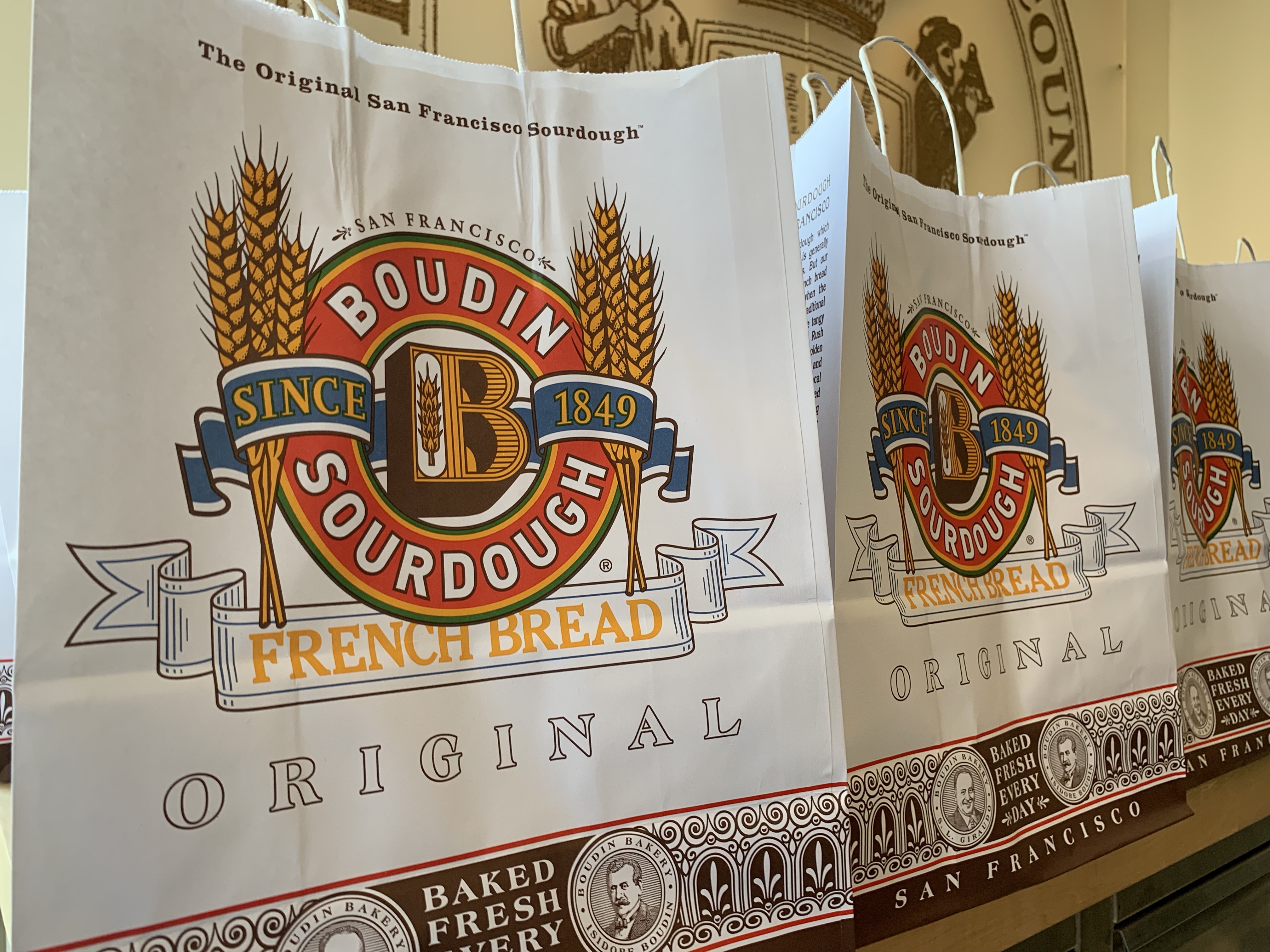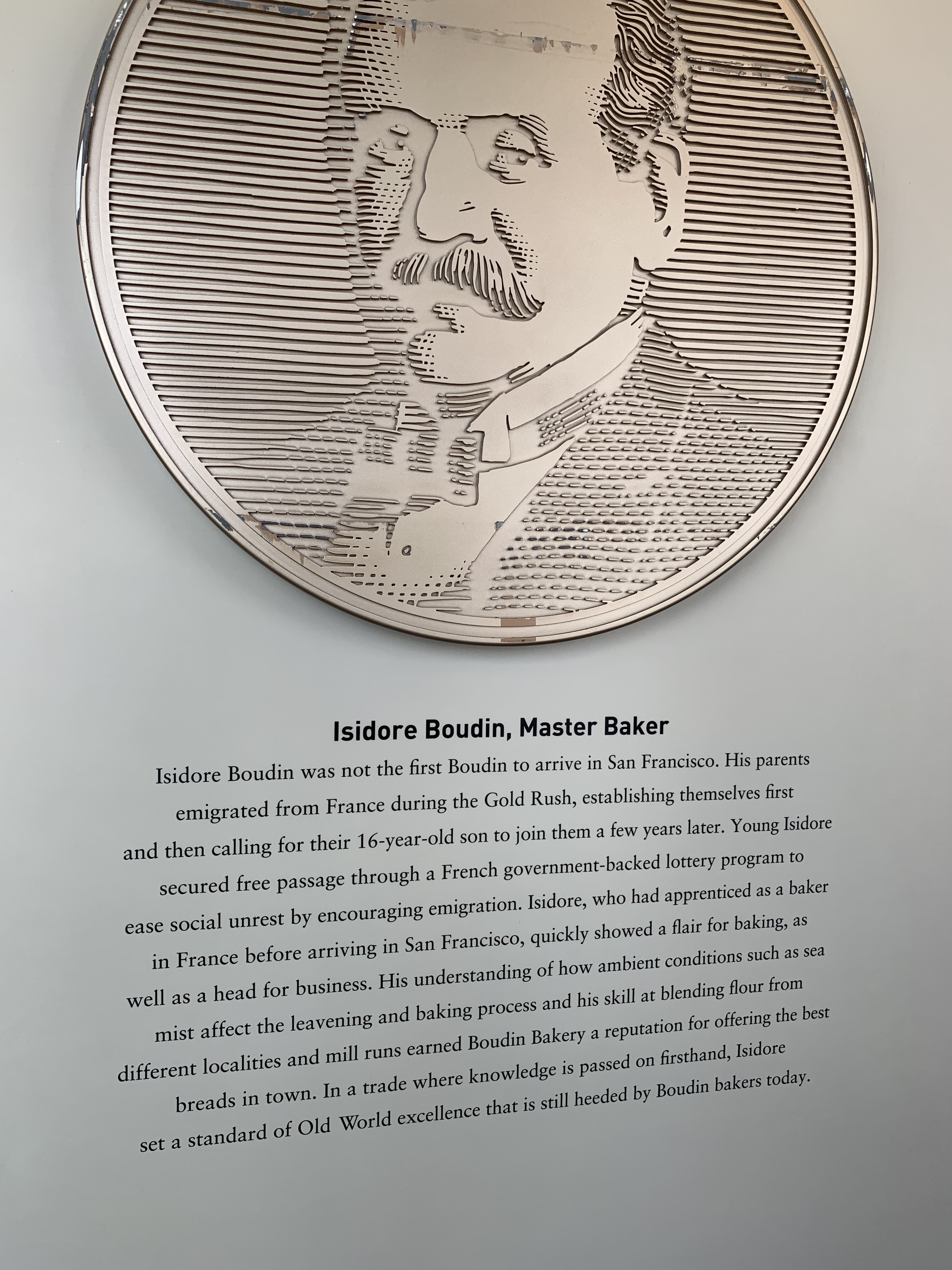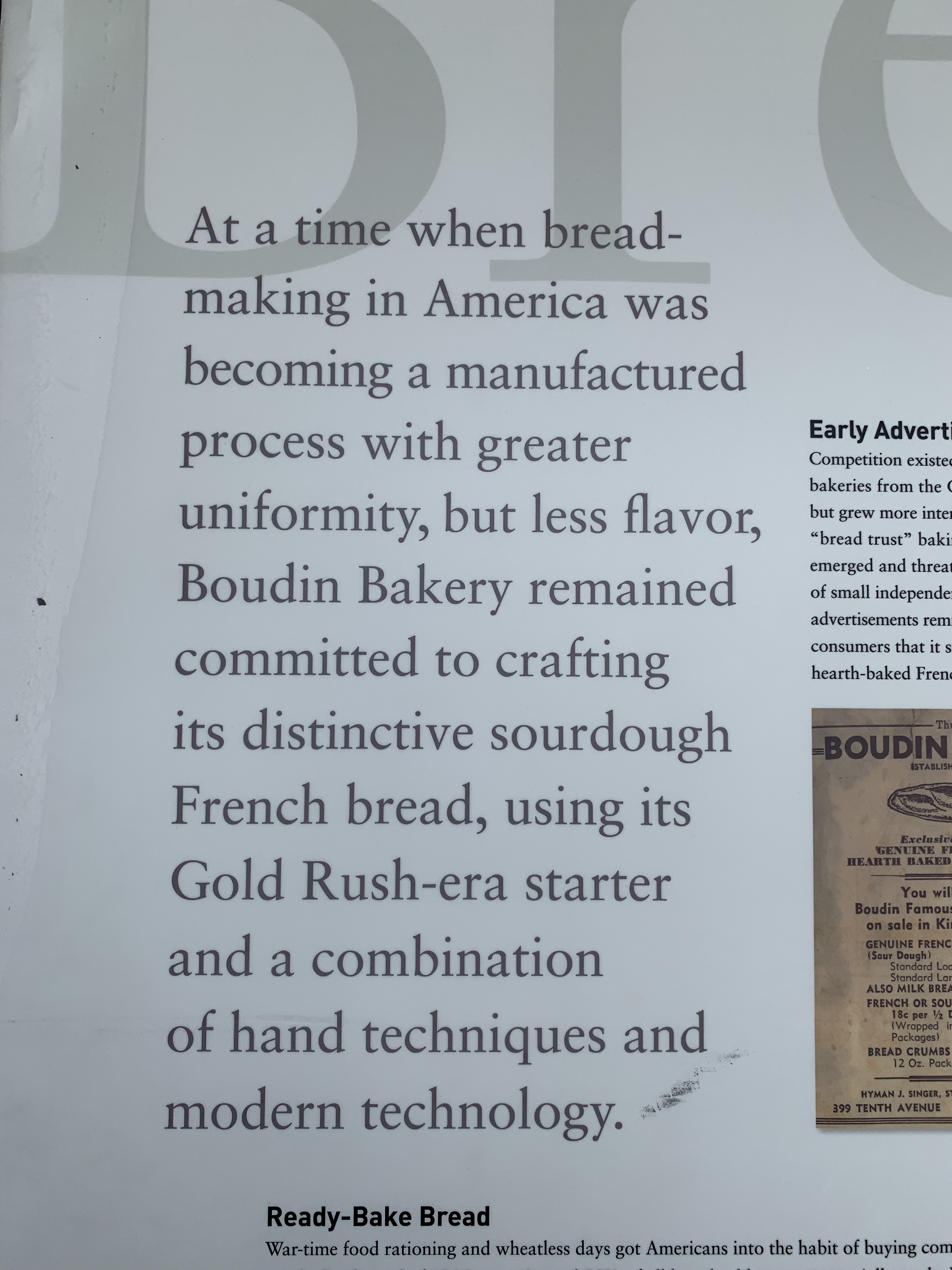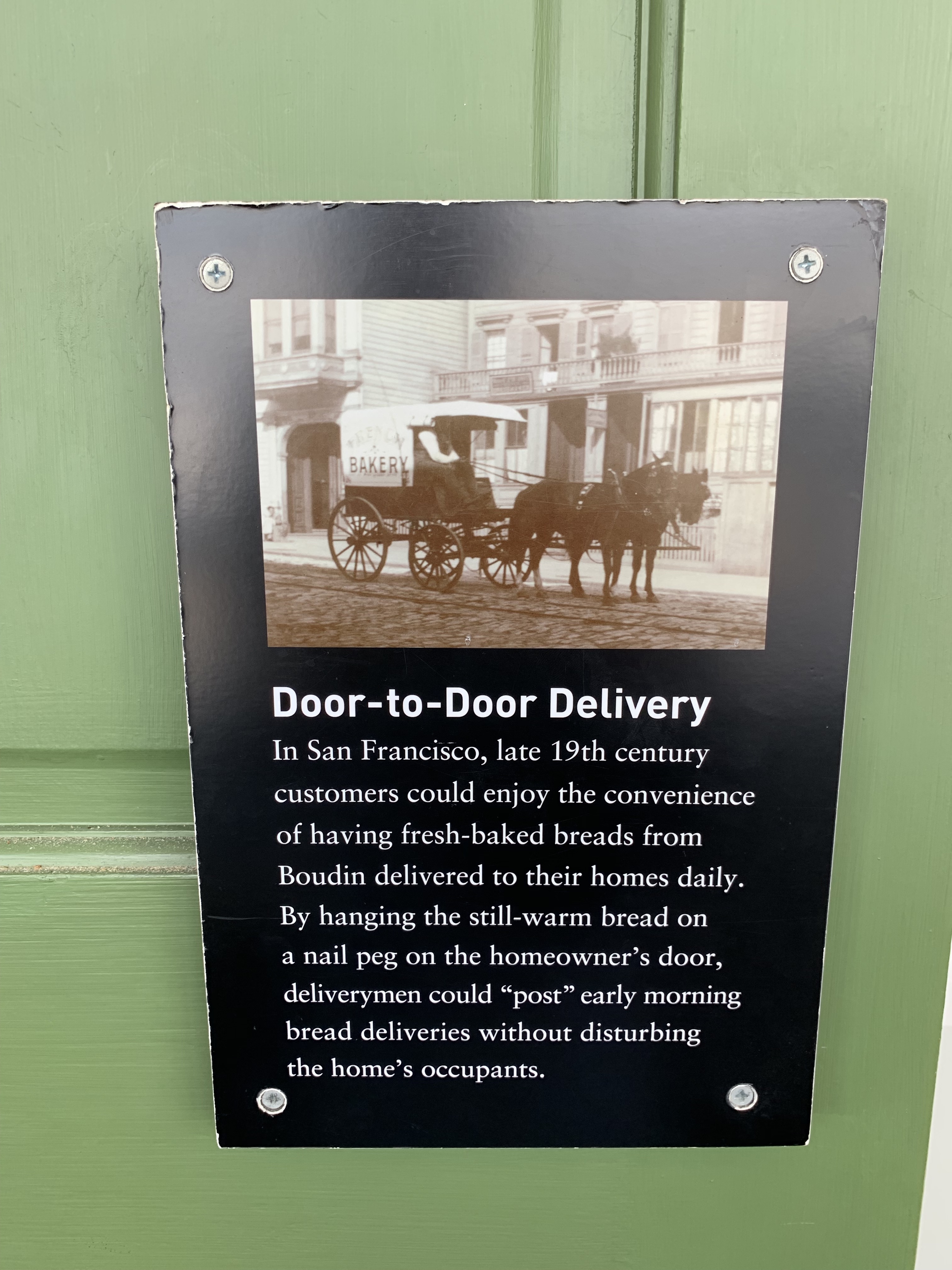 The Ferry Building - farmers market Tuesday and Thursday beginning at 10 am (small); Saturday at 10 am (large)

All of the shops inside the building are opened each day (this is also where Bouletttes Larder + BouliBar is located
Frog's Hollow Bakery is scrumptious as well and located next to Boulettes Larder
So many delicious food-inspired businesses inside.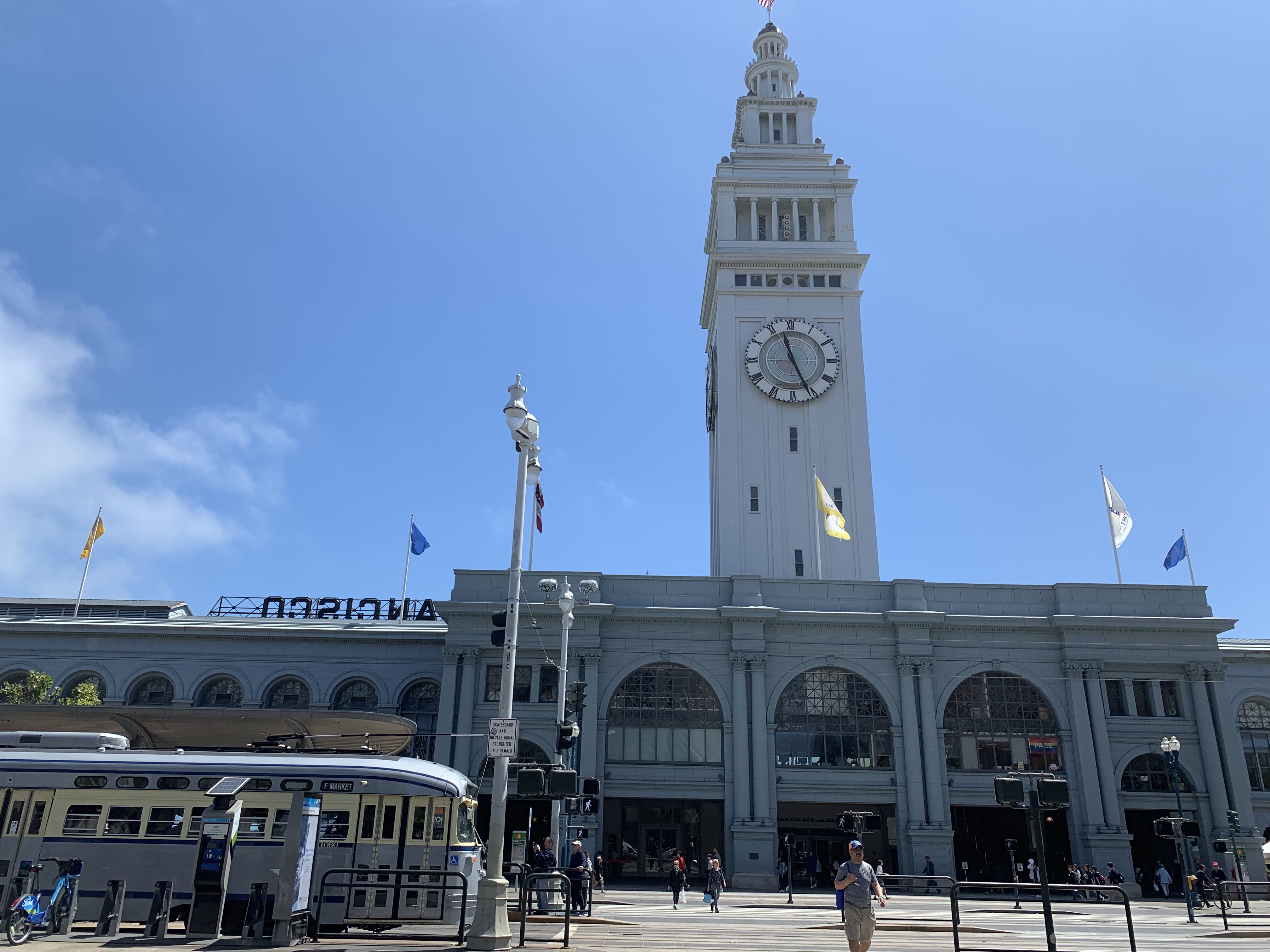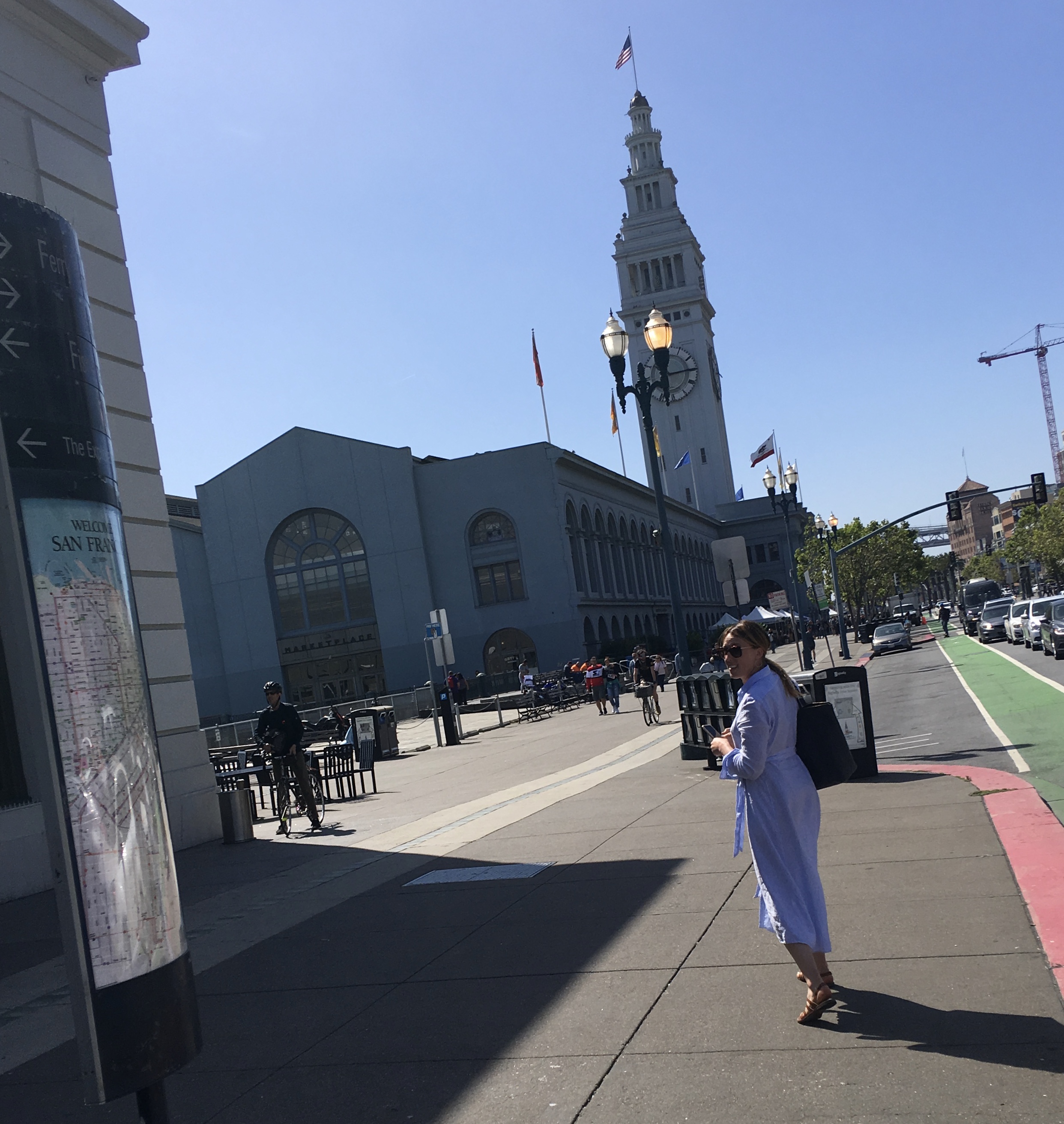 Ghirardelli's Square — Of course, you will find the Ghirardelli's Chocolate shops inside this square, but there are also many other shops, boutiques and restaurants. The view of the bay is lovely, and the park in front, as it is situated next to The Argonaut, was some place I enjoyed just sitting and relaxing after a long day of exploring.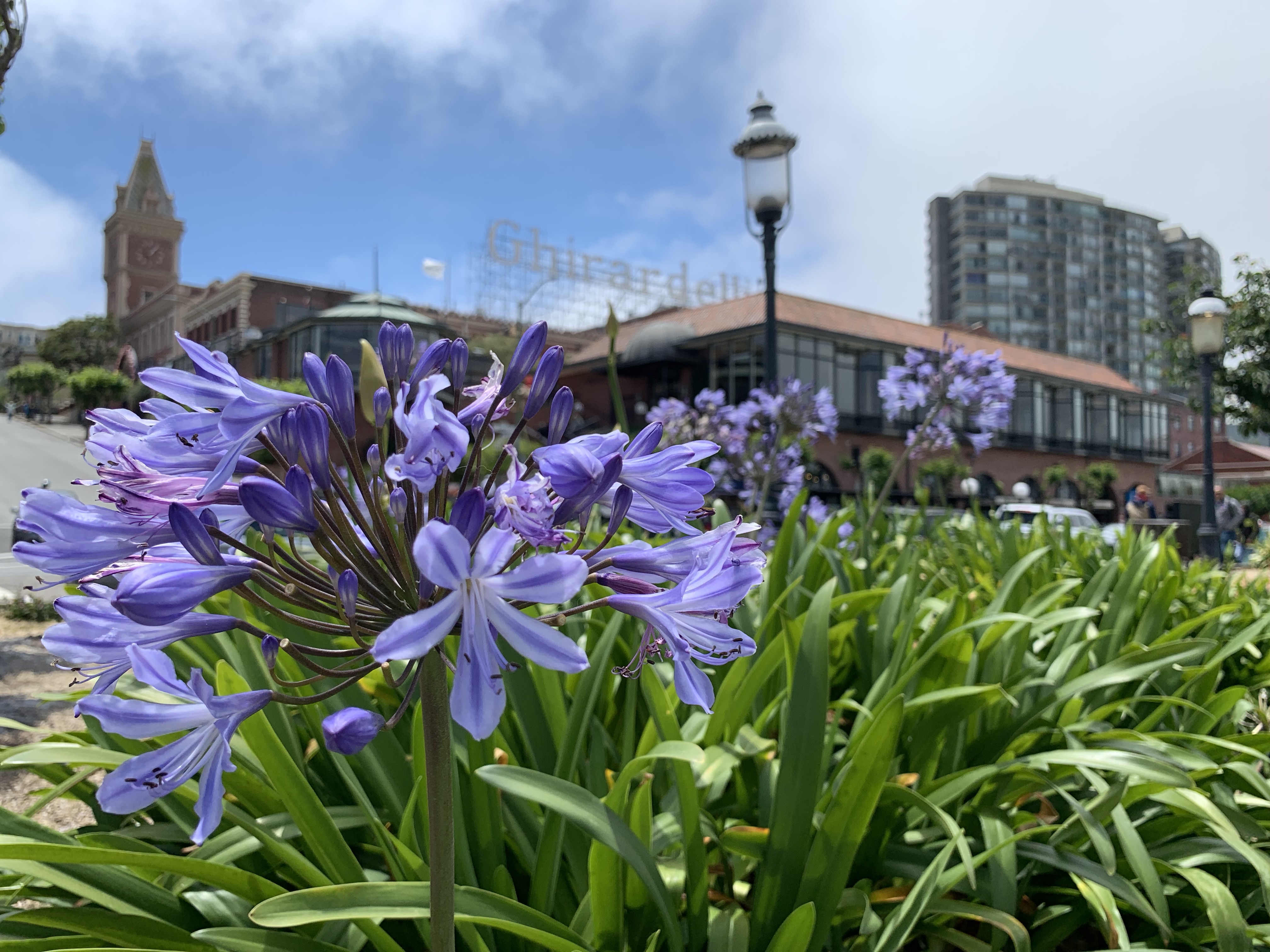 ~Ghirardelli's Square in the background, park in the foreground~
With the 72 hour trip nearing an end, we decided to hop in an Uber to take us to the airport as we didn't want to lug our luggage onto BART amongst the crowds, although, it wouldn't have been impossible to do, we were just tired. In a swift 30 minute time period, leaving from our hotel, we were at the airport ready to return to Bend.
While I knew we had soaked up every minute of our trip seeing and exploring and eating, we also were able to take a nap each day which for me was absolutely necessary. But even with the naps, I slept deeply and quite more at length this past weekend than I have in awhile. What a pleasure this trip was, and I am thankful it is only a 90 minute flight away. Needless to say, with even more recommendations from readers, and places I look forward to visiting again, I look forward to returning.
"Leaving San Francisco is like saying goodbye to an old sweetheart. You want to linger as long as possible." —Walter Kronkite
Be sure to stop by the blog later in the week for a detailed post on Chez Panisse.
~None of this trip was sponsored and all was entirely planned according to my own curiosities and predilections. However, there are some affiliate links.
~SIMILAR POSTS/EPISODES YOU MIGHT ENJOY:
~Traveling Alone Well, episode #220
~A Traveler or a Tourist? The Difference
~French Trip Travel Musings (Why Not . . . Make the Effort?), Part Une, episode #215
~French Trip Travel Musings, Part Deux, episode #216
~Where to Stay in France While Traveling: A Variety of Luxurious Options
Petit Plaisir:
~Written and Co-Produced by Mindy Kaling, starring Emma Thompson and Mindy Kaling, John Lithgow, Reid Scott (VEEP)
~Support women in Hollywood to promote multi-dimensional, diversity in age, ethnicity, life-experience and the varied representation of women that inspires women and young girls to be the hero of their own lives and others, not the playmate in someone else's story. Learn more about the statistics of women in Hollywood. While the numbers are gradually improving, they is progress to be made, and when we go see films that support what we truly applaud and wish to see more of, producers and film executives follow where the money is.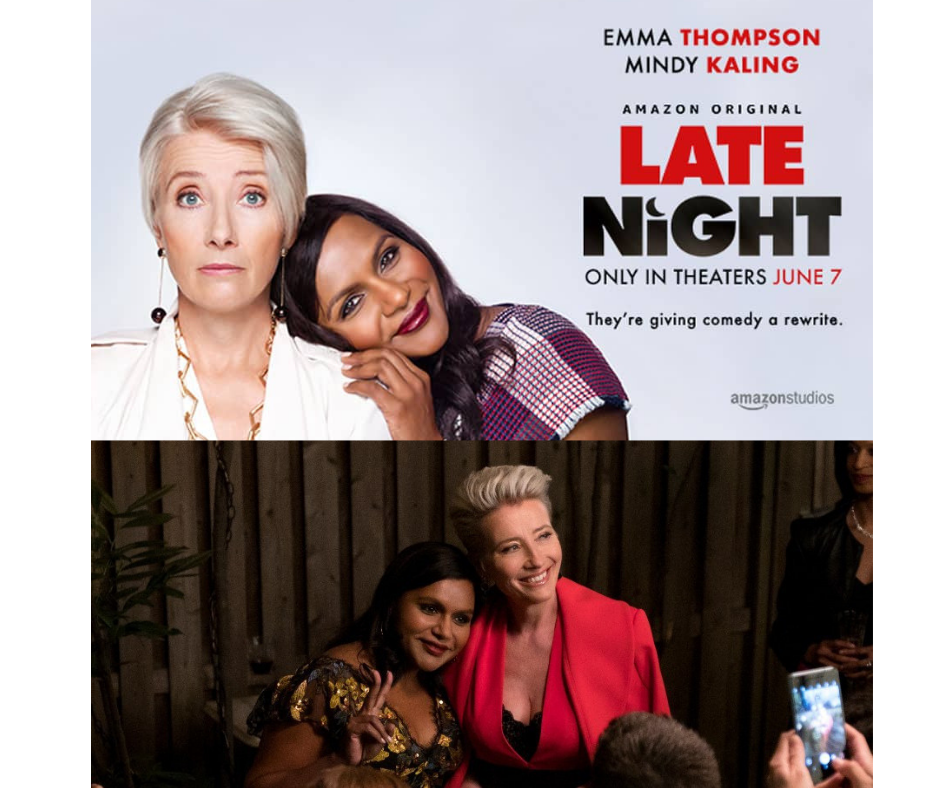 https://youtu.be/XE7OVnets4g
~All images via TSLL, any image with Shannon in them were taken by my mother (thank you Mom!)
---