Sun, 1 December 2019
269: 32 Ways to Be Parisian Chic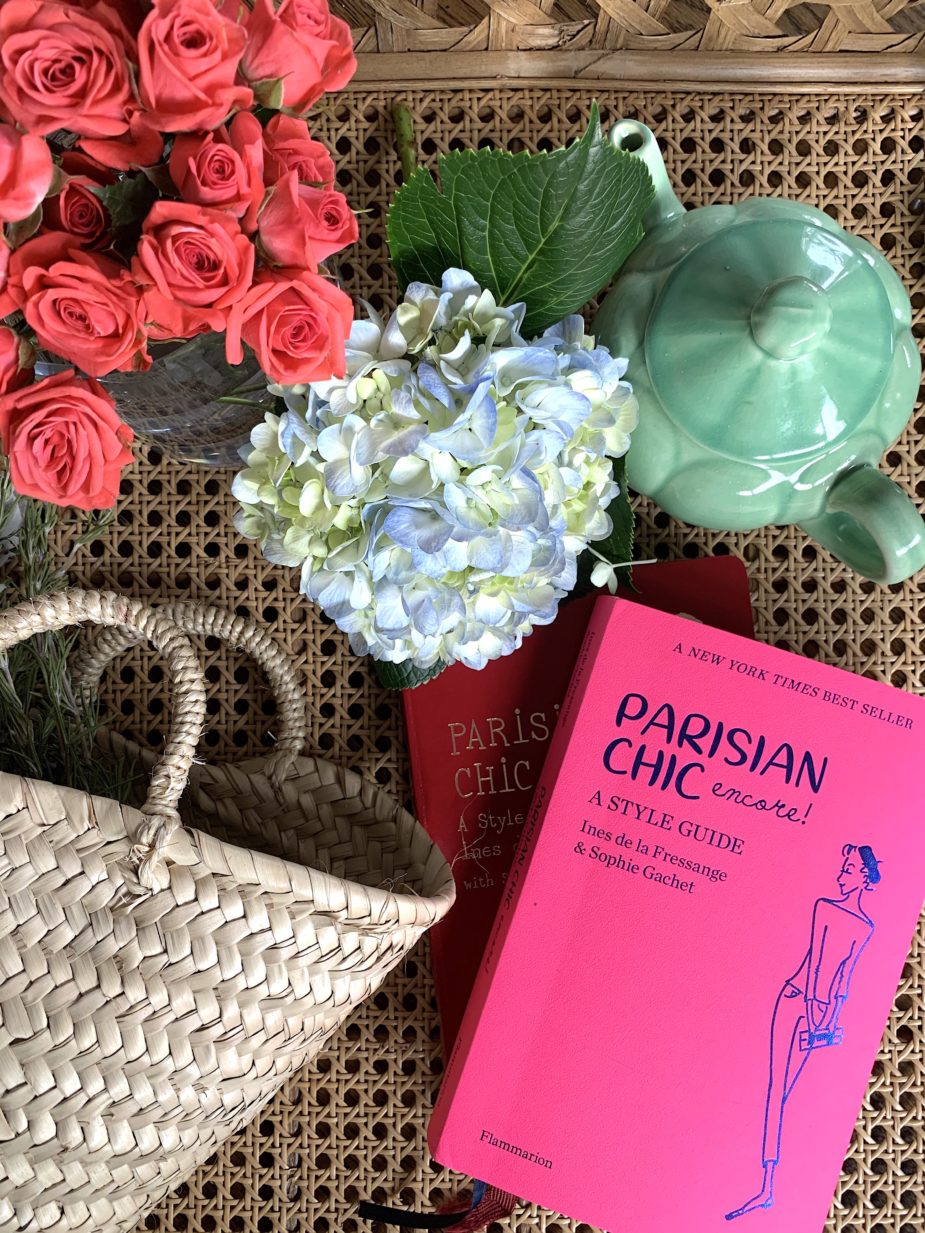 "Everyone knows you don't have to be born in Paris to dress like a Parisian." —Ines de la Fressange, author of Parisian Chic, Encore!: A Style Guide (2019) with Sophie Gachet, co-author
~Subscribe to The Simple Sophisticate: iTunes | Stitcher | iHeartRadio | YouTube | Spotify
In 2011, Karl Lagerfeld's muse and the first model to sign an exclusive modeling contract with the haute couture fashion house, in this case Chanel, Ines de la Fressange published her first Style Guide. Becoming quickly a New York Times Book Review bestseller, eight years later, she has updated her much applauded Parisian Style Guide.
Parisian Chic, Encore!: A Style Guide was recently released this past November. Having written a detailed a review when her original book was first published (have a look), the updated version contains 50% new content, 300 full-color illustrations/photographs, and is completely refreshed. Now admittedly, much of the original holds true and is still a valuable resource, but if you too have the original copy, you know that the latter half of the book is a resource of addresses of boutiques, restaurants and many other Parisian locales recommended by de la Fressange. As one might imagine, these had to be updated.
Today, what I'd like to share with you are 32 Ways to Exhibit Parisian Chic style whether in your wardrobe, home or lifestyle because whether we live in Paris, wish to visit Paris or not, incorporate one or many of her style tips will help us to cultivate our own unique signature style. Let's get started.
~Be sure to tune in to the audio version as much more detail is shared on each of the items shared below.
Sartorial Style
1.Muster up courage and ignore the trends (p.13)
2. Create a vintage collection of your own (p.14)
3. Remember to let your style evolve (p.30)
4. Practice discretion when it comes to labels and accessories (p.12)
5. Take on the role of 'buyer' for your own wardrobe (p.15)
6. Hone the skill of 'mixing things up' (p.16, 26, 28, 29)
Wear a high end designer pant with a simple white shirt
7. Mix patterns and soften with white (p.21)
8. Know the universal rule of proportions when it comes to good style
balancing loose with close-fitting (p.26)
9. Simple is good
"Not everything you buy has to be interesting. A nice scoop neck sweater is a must. You can wear it with jeans and a long necklace —it will look elegant without being boring." (p.32)
10. Welcome men's accessories into your wardrobe - especially belts
Worn and too long for a traditional outfit, belts with such descriptors are perfect for cinching everything that needs a waist. (p. 27)
11. Avoid fashion faux pas (p. 34-37)
Such as T-shirts with supposedly funny sayings and leggings (unless you are headed to yoga class or a your daily workout is calling).
12. Style idea for a date - cropped black trousers, a man's white button-up shirt and low heeled or flat shoes, but don't forget nice lingerie (p.41)
13. Don't be afraid of sneakers (stylish and thoughtful, bien sûr) (p. 45)
Setting: a respite in the park for a snack or to simply catch your breath
Dress Code: Jeans, a sweater or sweatshirt with a dash or deluge of color and sneakers
14. When packing for a getaway, bring denim (p.48) . . .
. . . also a loose shirt, white jeans, two long-sleeved shirts, a white cotton dress (and to view the entire list visit page 48-49).
15. Buy the right leather jacket . . .
. . . which is "as close fitting as possible with high armholes and patch pockets". (p. 54)
16. Never follow diets. Rather follow Ines' golden rule:
"Pay attention when you are eating and stop when you are no longer hungry." (p. 171)
Interior Style
17. Remember the truth about dinner parties - they are coming to see you, not for a gourmet meal (p. 170)
18. Dinner party - a simple, yet delicious dinner, followed by an amusing dessert (regarding the presentation). (p. 170)
19. Stick to a central theme in your home decor
20. Make decor statements with a single piece of furniture - a chair, a settee.
Thoughtfully chosen items can stand-out against a neutral palette
21. Welcome the scented candles . . . to every room
22.Harmonize containers in the kitchen (p. 152)
23. Use vases to store kitchen utensils (p. 152)
24. Display a painting on an easel instead of the wall (p.156)
25. Collect and display a variety of ceramic items on a table - trés Parisienne (swap regularly) (p. 156)
26. Choose an inviting sofa (large, comfortable, plush is that is your liking) (p. 156)
27. Keep your eye out for a vintage stepladder to place next to a bookshelf (p. 156)
28. Unification in the closet - hangers of the same color
29. Give everything in your closet a front-row seat
So you can see what you have and wear it! (p. 162)
Final Thoughts
30. Don't worry about buying last season's trends
31. Walk or bike as much as you can instead of hopping into a car (location dependent)
32. Know what true effortless style is . . . "self-confidence and a smile" (p.26)
SIMILAR POSTS/EPISODES YOU MIGHT ENJOY:
---
---
---
---
---
Petit Plaisir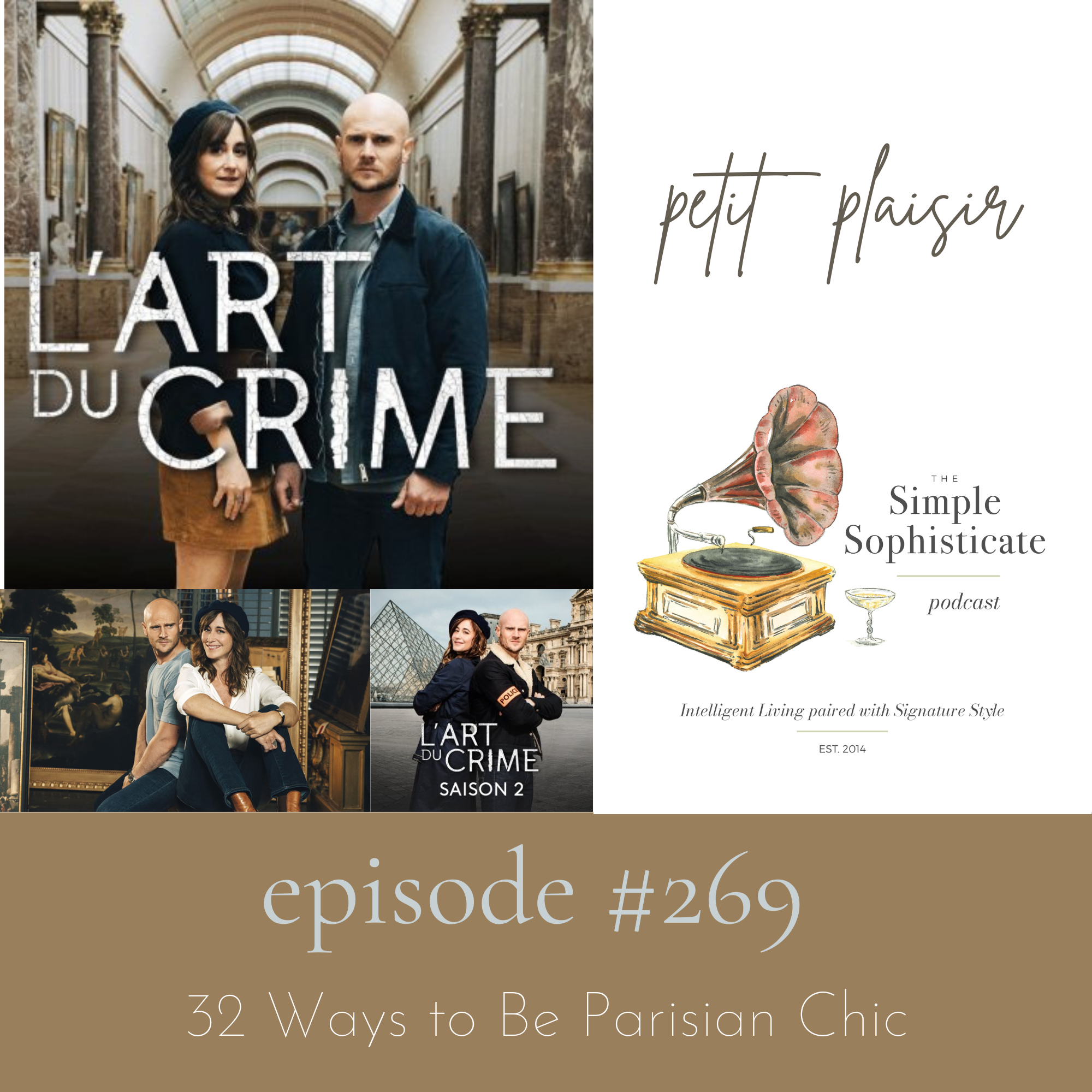 ---