Sun, 19 June 2022
332: The Power and Necessity of Regular and Frequent Reflection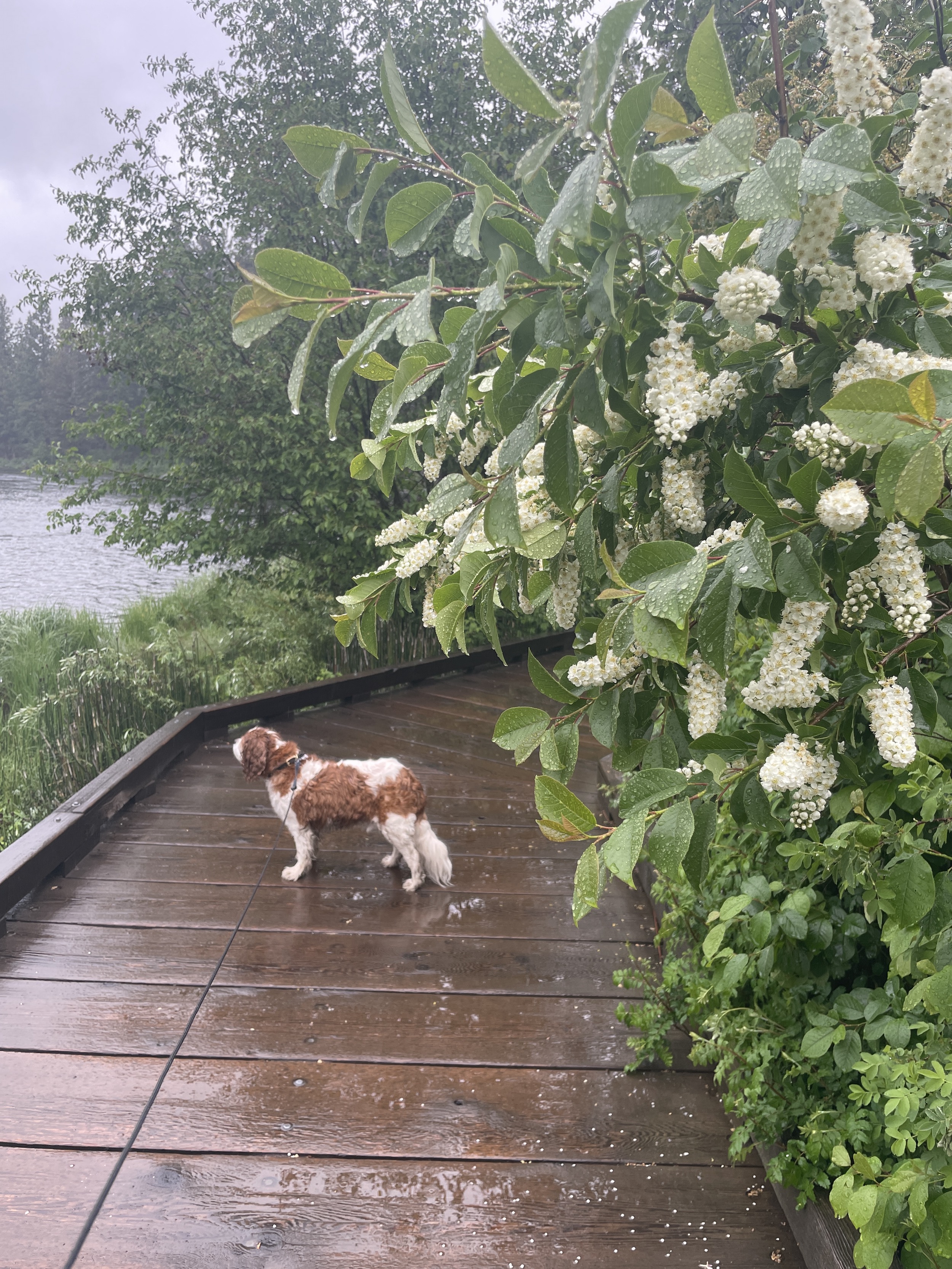 "Your soul needs time for solitude and self-reflection. In order to love, lead, heal, and create, you must nourish yourself first." —Louise Hay
Stillness.
Silence.
Solitude.
Whether you have ten minutes or an entire afternoon or day to give to quiet contemplation, otherwise known as reflection, when you choose to do so, you ground yourself, ensuring the next "step" in your life journey will be far more constructive and in alignment with a life of contentment.
I happened upon an observation made by Paul Child, the husband of Julia Child, while reading Warming Up Julia Child: The remarkable figures who shaped a legend, while traveling the west coast during the first book tour for his wife, sharing in a letter with Avis DeVoto about the bustle in Southern California whose population was skyrocketing at the time,"'So busy w/material consumption & social whirling,' that they neglected reading and reflection." It was his concluding clause of what he felt was lacking that immediately drew my attention: His prioritizing and valuing of reflection as a regular pastime for a deeper appreciation of art and science, and well, living well, in his opinion.
Unconsciously, it has been my nature since I was a young girl, to reflect often. Likely associated with being introverted, but because it was unconscious, overthinking could occur which was unproductive. However, because I knew and had many examples from my life journey that resulted from being reflective, thinking deeply about a project, life choice, or temporary dilemma, I knew there was great power in being reflective. The skill I needed to learn was how to harness it for constructive purposes and to recognize when it became destructive (when my mind would regress to its Lizard Mind tendency and spend time in the land of worrying and catatrophizing).
"Most true happiness comes from one's inner life, from the disposition of the mind and soul. Admittedly, a good inner life is difficult to achieve, especially in these trying times. It takes reflection and contemplation and self-discipline." – William L. Shirer
William Shirer, an American journalist and war correspondent, and notably, the first reporter hired by Edward R. Murrow, acknowledges the need to attain the skill of self-discipline, and the understanding that a strong and healthy inner life is a conscious effort that is not easy, but powerfully rewarding when achieved. In 2010, I shared a list of benefits when we acquire the skill of self-discipline, and over the years I have found to be true that it is when I have clarity about my priorities, about myself and how best to nurture myself so that I am deeply content and at peace that self-discipline becomes easier and isn't a battle with bad habits I wish to eliminate.
It may at first seem antithetical to slow down and be still to gain a better life, but as was discussed in last Monday's Motivational post, it is through subtraction that we increase the quality of our life.
Silence and the act of Reflecting go hand in hand, as we need to provide the space to recall, remember, examine and consider. As artist from the 16th and 17th century Francis Bacon states, "Silence is the sleep that nourishes wisdom." In order to understand, we must slow down. In order to find peace with our direction, we must find the time to be still and ponder all that we have experienced during the day, the week, etc..
Confucius as well prioritized the importance and value of reflection when he said, "By three methods we may learn wisdom. First, by reflection, which is noblest. Second, by imitation, which is easiest and third by experience which is bitterest." To reflect enables us to avoid unwanted outcomes, events, loss, pain and hardship. Similar to a pickup that has found its way into a sinking water-logged mud puddle. To continue to spin one's wheels literally, only digs the pickup further into the ground, making it more and more difficult to be pulled free. It is through pausing, reflecting on the situation, ascertaining a plan that is not identical to the one that brought you to the mud puddle that will enable a desired outcome.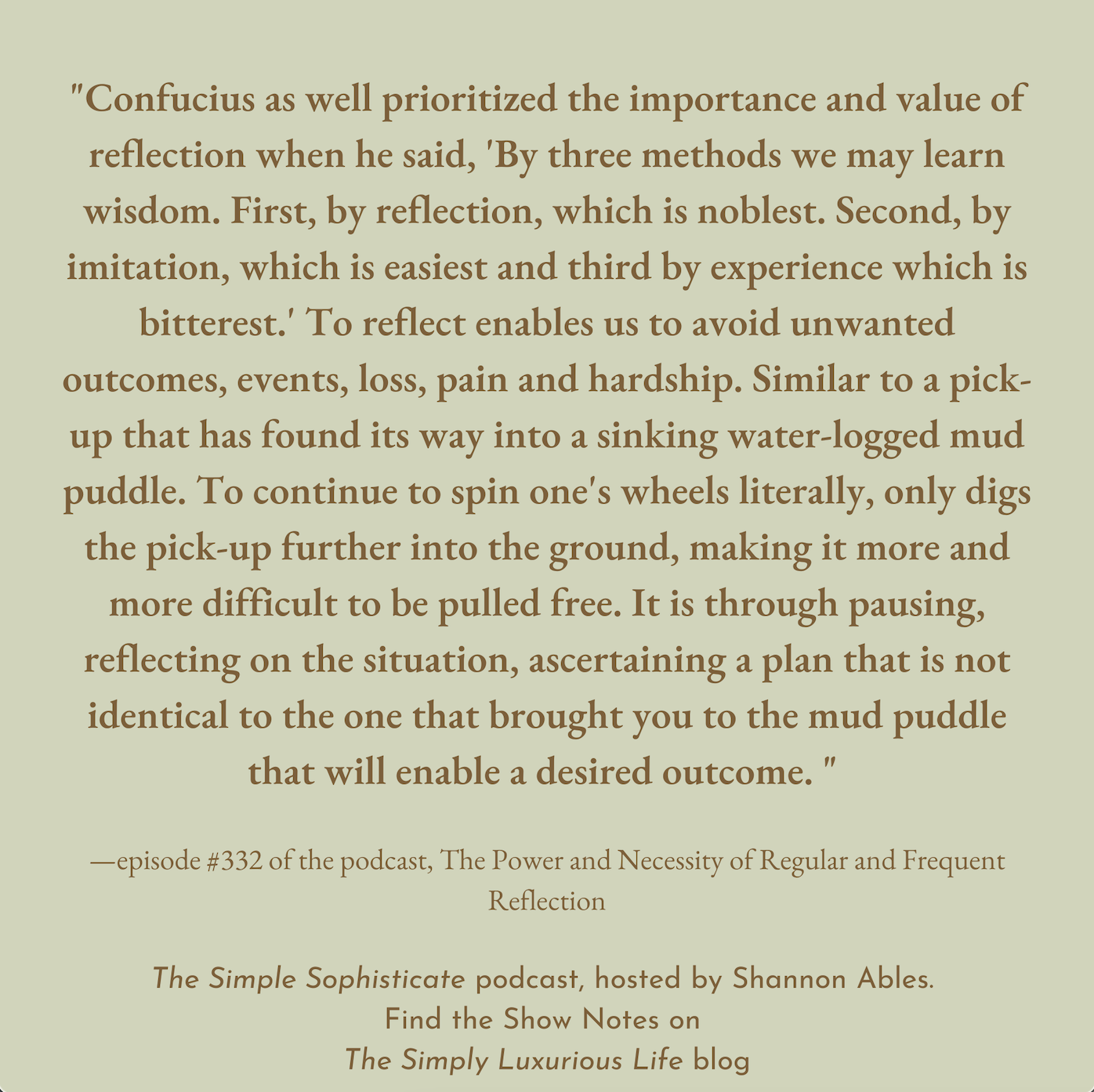 As my own daily life has become far more quiet, I have found myself experiencing moments that remind me of my childhood when I would while away entire afternoons or mornings, completely enthralled with an excursion with my horse or other animals, writing or reading, or simply toodling about letting my curiosity lead the way. Absolute bliss. And such moments were made possible because I gave myself time the year and two years prior to reflect on what was and what was not working in my life, what made me feel fulfilled, grounded and at peace, no matter what others said I should be doing to attain such desired outcomes. In this turning point in my life, reflecting was a vital tool that gifted me with the trust in my decision I had for so long been too scared to make.
As I know there are many fellow introverts as well as HSPs in TSLL community, reflecting, as I mentioned above, is likely already part of your everydays. The struggle I consciously have identified to be a barrier I need to work through (or around) in order to get on the other side of is acknowledging and finding peace with the truth that I thrive in an environment and approach to living my everydays that many people I had surrounded myself with or been surrounded by (due to teaching) don't find to be comforting or nourishing. For so long I expended energy, with my family, with colleagues or friends trying to explain, defend and becoming frustrated sometimes to the point of exasperation as though I was banging my head against a wall, that how I enjoy living my days is the real deal. It genuinely brings me deep satisfaction, elation and it is my place of true contentment. Some of these people I would try to convince extended pity, some assumed their way of living was superior because it wasn't their way and so I must be unhappy even though I claimed otherwise. And so what I am in the process of doing is finding peace with the reality that they may never understand, finding courage to speak my truth in a loving yet strong way, being at peace with the reality that my truth may cause some of these people to feel discomfort in the moment when I share, but I avoid feeling resentful later which is a destructive and unhelpful feeling as I move forward building and nurturing relationships with people who accept a truth they may never understand, and lovingly acknowledge there are many ways to find contentment and thus many moments of happiness.
What exactly does 'reflecting' look like in our daily lives?
Well, let's first take a look at what it is not. It is not meditating. Meditating is a valuable skill and practice, something I wrote a detailed post about sharing six benefits and how to meditate daily, but reflecting requires you to use the mind, to contemplate, to examine, and meditation asks you to observe your mind, to step back and strengthen your ability or simple awareness so that you engage with each day with more mindfulness, being able to hold yourself fully in the present moment.
(1) Reflecting asks for you to find a quiet space. This could be in one spot or on your walk while you either listen to your favorite music, anything that doesn't ask you to think about the content you are hearing, so in order to reflect, you will want to turn off the podcast episode (counter-intuitive direction coming from a podcaster, I know :)). Maybe it is while you are taking a bath, taking a shower, sitting in your favorite cozy chair or outside on your porch or working in your garden. You can be doing something while you are reflecting, but it needs to be quiet which enables your thoughts to wander without influence or distraction.
(2) Journaling often helps us to understand what our thoughts are trying to help us understand. As I shared a couple of weeks ago, often it is when I put what I am thinking about on paper that I make more sense of what I am actually trying to work through. The process of manually telling my hand to write a certain word or idea helps me solidify what I am actually feeling, wanting, or what is causing frustration.
(3) Reading can help prompt reflection, but only if you stop to let yourself ponder and mull over what it is that was sparked in your mind while you were reading. When I was teaching, I prompted my students to annotate while they read because it helped them to actively engage with the writer. And while it did slow their reading down, it also strengthen a closer reading of the text. My description of such reading and writing on the page was that they were having a conversation with the author - questioning, sharing ahas, challenging, understanding, etc..
(4) Regularly engage in reflecting and thus it will become a practice that not only becomes easier to do as you will find great benefit as you go through your days, but you will want to return to this comforting space in your day. Reflecting becomes a space where you are conversing about the day's and life's events, making sense of them as best you can and if you cannot, presenting questions for your mind to mull over in the days and weeks to come. I find the latter to be unexpectedly powerful because our mind is there to help us if we let it. We can sometimes pose a question to our mind, sleep on it, and wake up with an amazing aha we had not thought of but because so much stored information is in our long-term memory, it took our mind time to find where it was located. :)
(5) Practice meditation. I know, I know, I just said that meditation is not reflecting, and I am sticking to what I said, but in order to have an effective and beneficial reflective practice, you must have control of your mind. You need to be able to tell it where to go and where not to go, and how you do that is by strengthening the muscle that is the mind, and you do that through meditation.
The Benefits of Regular, Frequent Reflection
Now that my days have breath, in other words, regular 'white space', something Mozart reminds is how the music is heard and thus appreciated (here is his actual quote, "The music is not in the notes, but in the silence between."), I reflect every day and have found great strength received, grounding steadiness and a more sturdy confidence in my journey moving forward which is full of so many unknowns. Often the reflecting is in my journal, but it can also occur while I am taking my long morning walk with Norman or our short stroll in the evening. I have had to consciously remain vigilant that my mind doesn't let the reflecting wander where it doesn't need to go - worry, catatrophizing, etc. - places it would go without my knowledge previously of how to stop it or acknowledging that doing so was unnecessary and definitely not helpful, but such bad habits have been significantly reduced if not eliminated. I find this bad habit arises when I am tired, have not given myself enough time to recharge, and so I am being more mindful of my daily schedule as well.
The key to ensuring your reflection is beneficial is to always be focusing on constructive actions and progress rather than ruminating on negative events. The latter is where 'overthinking' and catatrophizing can happen, and there is never a benefit in such mental habits. This is where strengthening your mind gives you the power to direct your mind's attention. This is where meditation is a skill that contributes to reflection as meditation strengthens the muscle that is the mind. Now let's look at the benefits of regular, frequent reflection.
"Honest self-reflection opens your mind to reprogramming, change, success, and freedom."- Vikas Runwal
As well, in order for any of the below benefits to be experienced, you must be brave enough to be honest with yourself. You may not like what your mind discovers upon reflection during certain instances as you realize you behaved or acted or spoke in a way that was not in alignment with who you want to be. You may discover you need to apologize and accept the consequences of your choices, but in so doing, you will learn, and because you are reflecting you are beginning to create positive change.
"Time and reflection change the sight little by little 'til we come to understand." —Paul Cezanne
1.Deeper clarity of direction
2. Decision-making becomes easier
3. Deeper clarity of your needs, dreams and their roots of origin - are they yours innately or placed upon you by society
4. Better selections of which relationships to become a part of, to invest in
5. Improved relationships - you discover areas you would like to improve, better understand about yourself, and you also find your voice to communicate your needs, desires and interests.
6. Reduction of stress and anxiety as you become comfortable with your own company, strengthening your sense of agency as you trust your decisions and competence to navigate whatever the future presents.
7. Deeper and more restful sleep
8. Improved Emotional Intelligence (EQ)
In order to welcome a regular and frequent practice of reflection, you may have to rearrange your daily routine, but I assure you, the benefits, what you gain, will be more than worth it as you will begin to live a life you deeply love. Changes will certainly be a part of your journey when you begin to reflect in this way, but the changes will be made by you, and will be constructive.
So today, embrace your own company, befriend yourself, as Jane Austen describes the leading character in Mansfield Park Fanny Price, "Her own thoughts and reflections were habitually her best companions." Once you begin to confront behaviors and choices that do not contribute to the life you want to live, you will greatly enjoy the company that is your constant companion, you.
"The capacity to reflect is at the heart of what it is to be an effective learner."- Bill Lucas
SIMILAR POSTS/EPISODES YOU MIGHT ENJOY
Petit Plaisir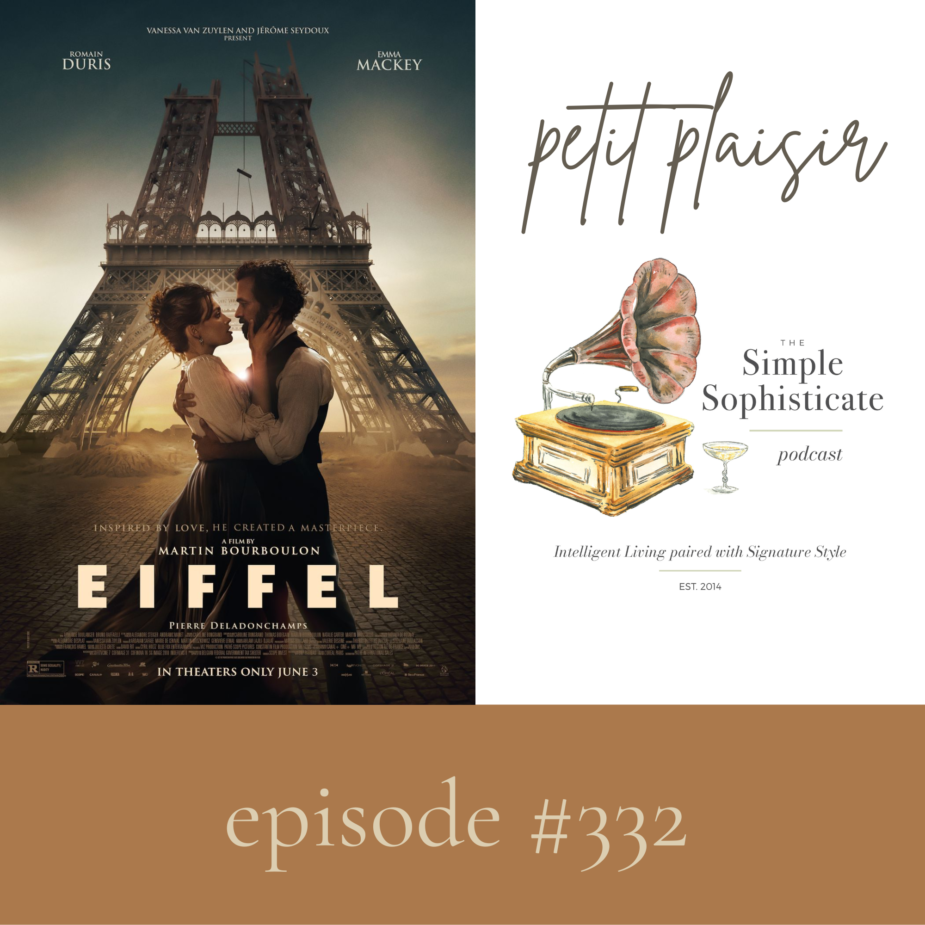 ~The Simple Sophisticate, episode #332
~Subscribe to The Simple Sophisticate: iTunes | Stitcher | iHeartRadio | YouTube | Spotify | Amazon Music
---