Tue, 14 February 2023
351: 8 Strategies for Curating a Spring Capsule Wardrobe That Sings without the Excess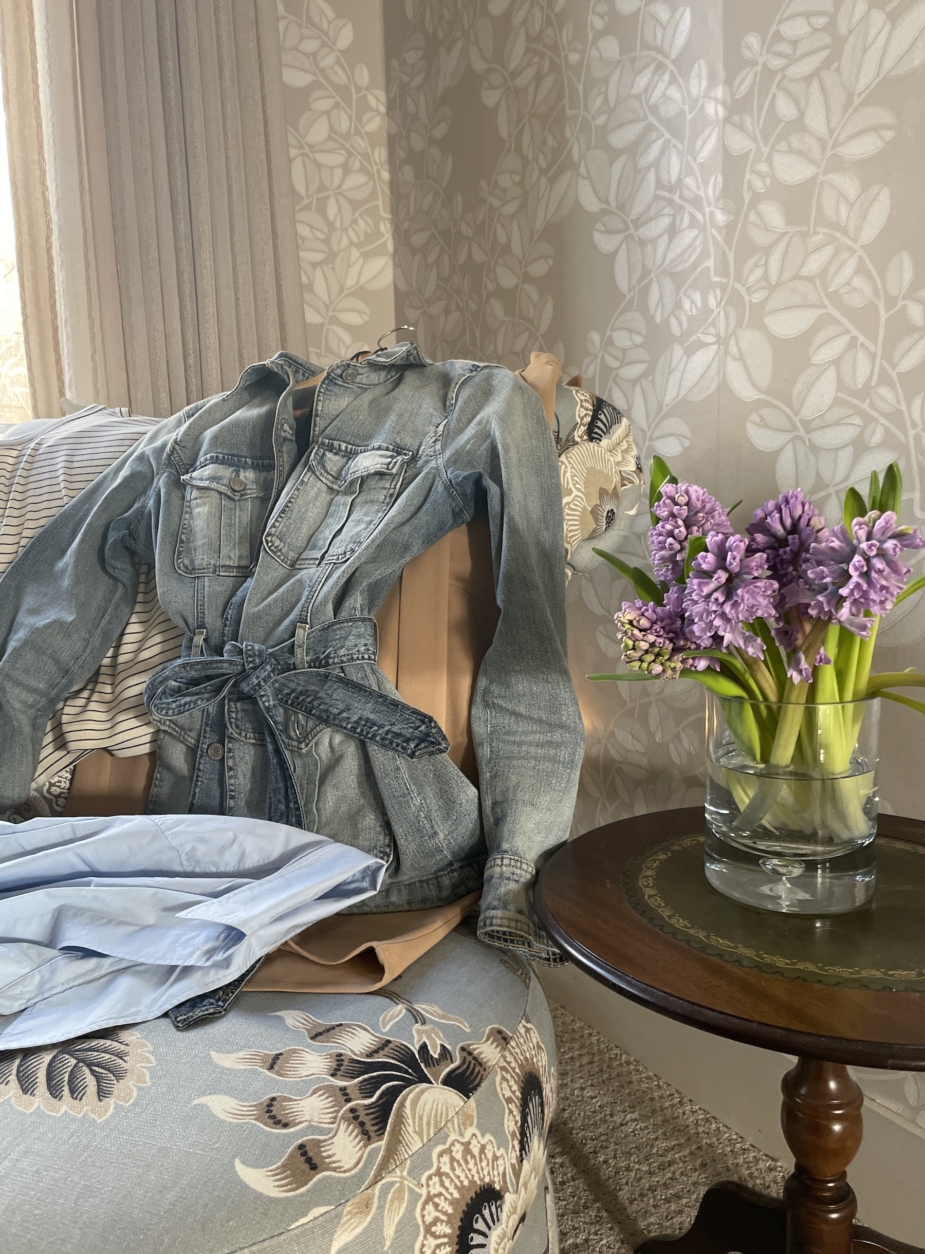 Gabriel. No last name needed, but he doesn't have one if he did, interestingly enough. I'm talking about Gabriel of Emily in Paris fame. Played by Lucas Bravo, Gabriel is the inspiration for today's post/episode because his clothes don't do the talking unlike the rest of the fashion-clad cast, but they definitely don't hinder his appeal.
In a recent article in The Wall Street Journal, Ashley Ogawa Clarke spotlights the character's no-excess capsule wardrobe that works to a "T" while he works as an up-and-coming chef in one of the most highly fashionable cities in the world. Sharing that "costume designer Marylin Fitoussi wanted to telegraph that he's 'more focused on cooking rather than always thinking, How do I look?'" In other words, allowing the clothes support the life he lives, showcase, but not hog the stage.
This observation immediately caught my attention as I have found myself shifting when it comes to my own clothing: not away from caring what I choose to wear, but as I become more confident and focused on running TSLL well, choosing a wardrobe that is simple, yet stylish, requires less thought, but looks smart and yet effortless.
With the release of TSLL's Annual Spring Shopping Guide arriving soon (March 1st), today's episode/post will share ideas for preparing ourselves for how to be savvy shoppers with clarity about what a Capsule Wardrobe entails without the Excess. To follow Albert Einstein's advice, although I doubt he was referring to wardrobe shopping, "Make everything as simple as possible, but not simpler."
Let's take a look at how to simplify to amplify as we invest in key items for our Spring Capsule Wardrobe:
---
1.Love a cut/style/length? Buy it in multiples, but in different colors
This piece of advice is well-known, but something that Gabriel demonstrates well, but that is not often advised is that the colors for the same style are different. Decide to become a student of your skin's undertones as well as what complements your hair color, and purchase different colors in that same style - a shirt, a pair of pants, a skirt, a dress, a jacket, etc. - that works well with your silhouette, lifestyle and personal taste.
---
2. Denim just works, so invest in it, buy multiples of the exact same pair, then alter
Something that was suggested in the article mentioned above is this idea. When you find a pair of jeans that just work - they are high quality, the wash is spot-on, the waist-height is ideal and the fit remains constant (in other words, not too much stretch) - buy multiple pairs, and then based on the different shoes you wear your jeans with, have certain pairs altered to work well with that particular pair of jeans, so that while the same jean, each has a slightly different look and adds that extra polish from the tailoring.
For example, you may want an ankle hemline for the summer and spring when you wear with flats or heels, but a longer hem for wearing with booties in the fall and winter.
---
3. Find a jacket or blazer that you love and don't stray (buy multiples, in different colors)
For me, it is an oversized blazer that I will be hunting down this spring, and in multiples. They may not each be from the same brand, but the style an cut will be the same. The idea here is that you know what complements your style, what works for your lifestyle, so why stray? Just change up the color, change up the fabric to either dress up or down, and go do what you do and pay no mind to what you are wearing (because you look and feel great).
---
4. Switch up materials
Speaking of switching up the fabric . . . keeping it simple without the excess means you apply what you know and you don't add the fluff. A simple slub tee under an oversized blazer with ankle hemmed denim. Done and looking great. Throw your crossbody bag over your shoulder and get about your business. Come the weekend or an evening out, change the denim jeans to crepe pants with the same length and finish, maybe even still a dark navy, similar to your jeans. The blazer and tee still work, but you've punched it up a bit.
---
5. Find your pop of color and home in on that and nothing else (except neutrals)
Something I wrote about in this post last year more generally is knowing what colors work for you and to forget the rest. Keeping in mind that the colors you come up with work with each other, and so to drill down a bit more specifically, stick to neutrals all except one color. And select this lone star color to be a color that complements you without fail. My one color is a cool pink - not pastel, not fuchsia, not maroon - but a cool undertone pink. No other color makes an appearance in my closet as I have learned through past purchases that other colors just don't work for me as well as I thought they might when I viewed them in the store or online. Paired with my neutrals of cream, navy, denim, and camel, that is just about all I wear, and almost everything can mix and match.
This may sound boring, but there is no reason for me to attempt to dress like a style influencer or like Emily in Paris or Carrie Bradshaw. I adore each of their courageous ensembles and they look AMAZING, but what I gain from watching them is ideas of what types of items can go together, and then I return to my color palette and rest assured that what I end up purchasing will work with what I already have.
---
6. Stick to the basics for types of clothing and avoid the trends
To relieve any confusion and fret about what to buy each season, walk away from worrying about trying to figure out the trends, and instead return to the basics - basic tees, oversized button-up shirts, blazers, A-line skirts or wrap dresses, knee-high boots, flats - ballet or loafers, blazers, etc. - and within those basics, become the student of yourself and know the answer to the following question: What flatters me? Necklines, hem lengths, sleeve lengths, heel height, waist height, etc.
The simplifying of the process makes the decision-making easier, the selection streamlined and therefore you can narrow down what is available for you to choose from without draining your energy flipping/scrolling through item after item after item which is ultimately how frustration builds up - we see more of what we don't want than what we do. When the opposite begins to happen because you have edited out what wouldn't be best for your wardrobe, you feel as though you have ample options and the shopping begins to become more enjoyable.
---
7. Keep your shoe options to four, with variations
Part of the stress of dressing well is often having the shoe we need, so let's simplify that as well. Make sure you have these four types of shoes in your closet, and make sure they are investment - high quality and fit well. (1) a trainer or a sneaker that fits what you need - not too wide, the best material for your lifestyle (canvas or leather, etc.), and a color that will work with your outfits. (2) a pump or heel to your choosing for dress and work - choose the height that flatters your leg and is comfortable to wear in a color (or colors) that work with your wardrobe. (3) a boot - ankle or knee high, determine the heel height for your lifestyle. And (4) a flat of your preference - pointed toe or slightly rounded, a loafer, etc.
Begin with ensuring you have one of each, a quality pair of each and then build on that as you discover what will complement your wardrobe.
---
8. Make selecting quality over quantity your modus operandi
At the core of living simply luxuriously is to live a life of quality over quantity in all arenas of our life, and so with our capsule wardrobe, as I have shared many times before, choose quality items. Even if you can only buy one this season, instead of the handful you would prefer, that one, if made well, fits you smashingly and complements your awesomeness is worth the price. Keeping in mind the rule of investment - cost per wear, and let that long-term benefit ease your mind. From boots, to coats, to sweaters and dresses, blazers and camisoles, when I purchase a quality item, it continues to be worn year after year, for years to come. I wrote a detailed post on my first purchase (and only thus far) of a Burberry trench, and while I waited for years to be able to purchase it, it is still in fantastic shape now six years later and it is worn constantly during the spring and fall months.
Again and again and again, with advice shared in fashion magazines and even in Masterclass by fashion experts, the advice shared for keeping your wardrobe simple, but stylish is to, yep, you guessed it - choose quality over quantity. Ultimately, what you're doing when it comes to creating a capsule wardrobe that sings but without the excess is investing in multiple versions of the uniform you look your best in and that complements the life you love living.
---
With all of that said, look for TSLL's Spring Shopping Guide to be available on the blog on Wednesday March 1st where I will shop more than 70 items that are available in the new spring collections and items worth investing in so you will have and wear them for years to come. Ranging from low-mid (J.Crew, Madewell) to mid-range luxury (Theory, Vince, L.K. Bennett, etc.) to a few luxury finds (Net-a-Porter designers for example). As always, you can peruse TSLL's Boutique/Shop where I have shopped and keep updated timeless items for all seasons. On that page - find it in the drop-down menu under SHOP - Capsule Wardrobe - you will also see the past Spring and Fall Shopping Guides shared most recently on the blog.
SIMILAR POST/EPISODES YOU MIGHT ENOY
Petit Plaisir
~The Creative Act: A Way of Being by Rick Rubin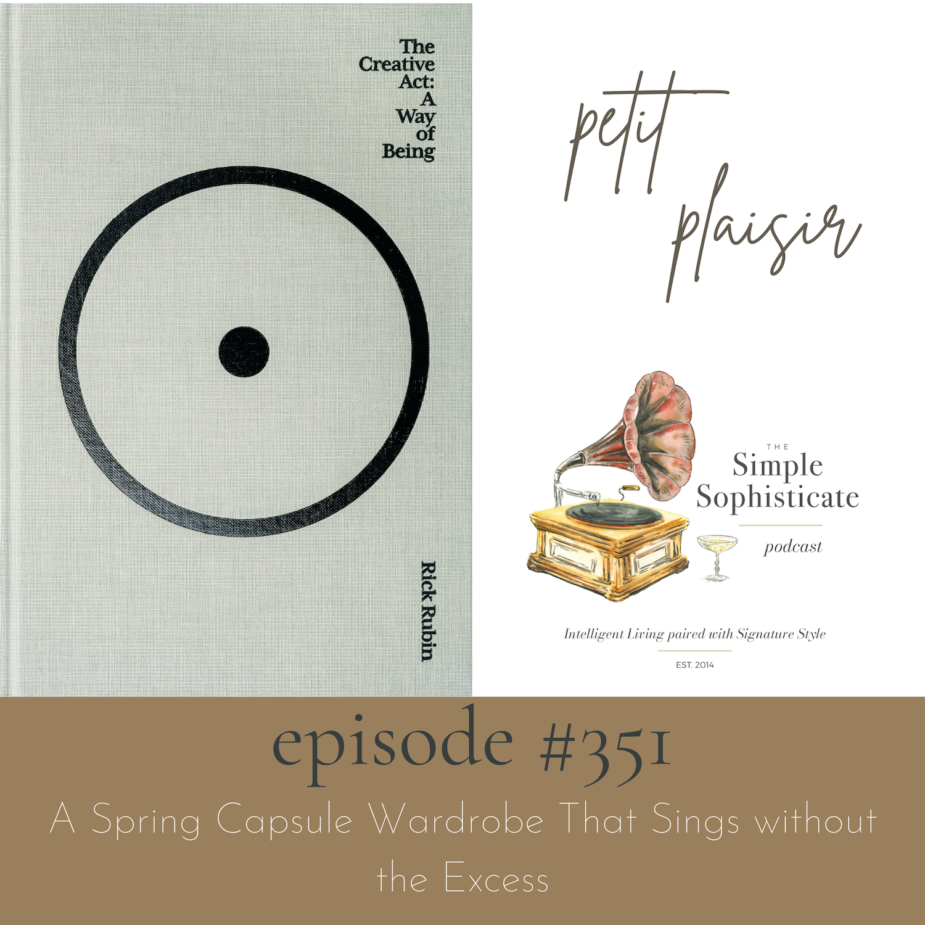 Listen to the Previous Podcast Episode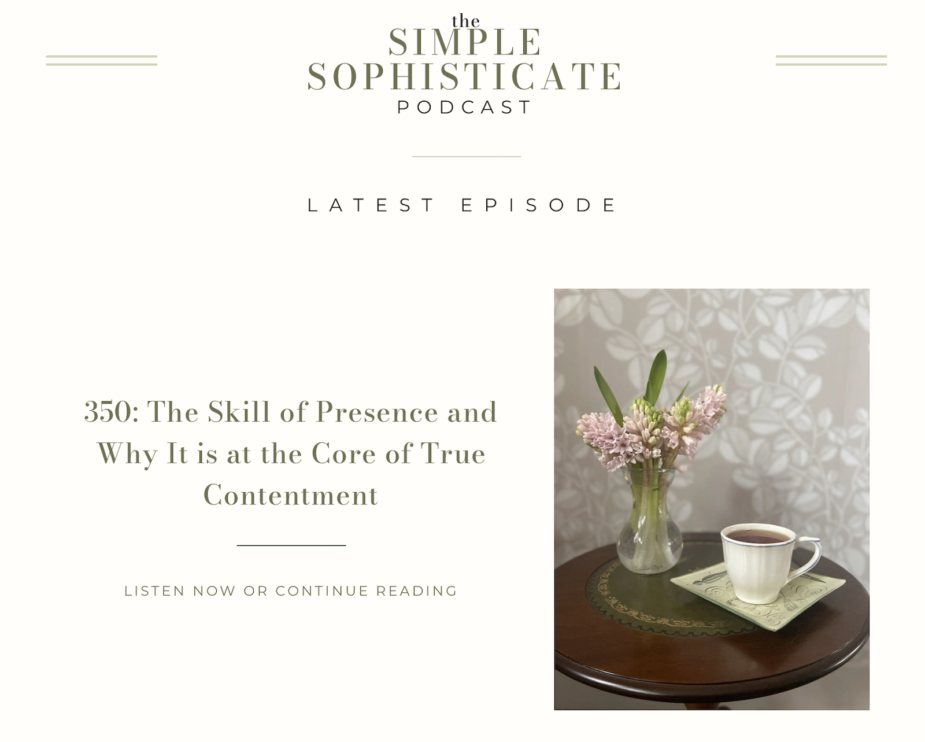 ---