Tue, 28 February 2023
352: How to Experience more Aha Moments in Your Life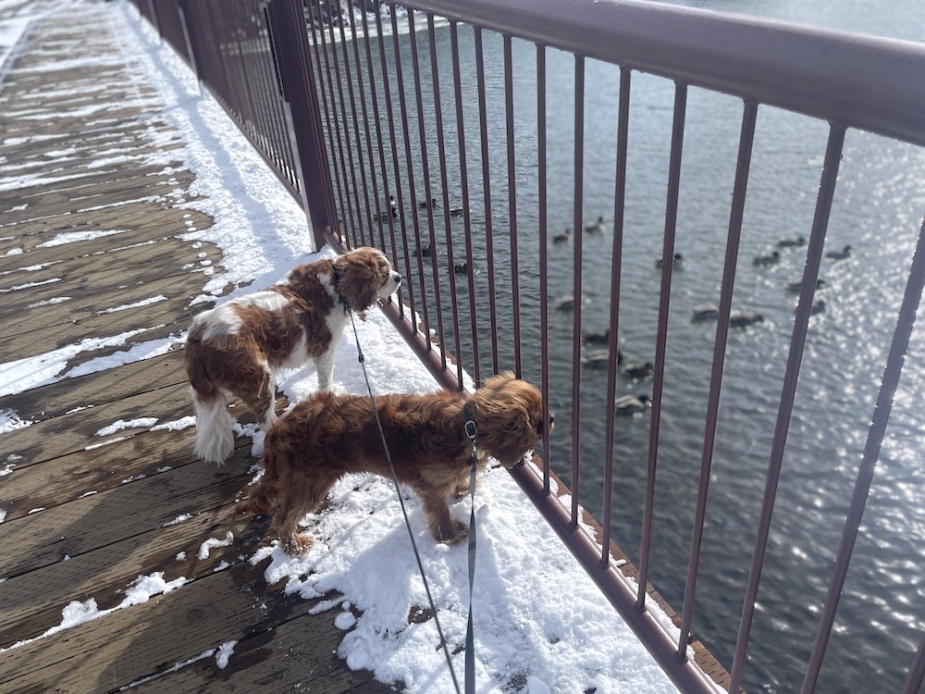 "It's not a matter of luck or magic. This is simply how your brain works. So take a break every now and then, and let your brain do what it does best."—Michael Hyatt & Megan Hyatt Miller, authors of Mind Your Mindset: The science that shows success starts with your thinking
One of the Beatles most (of many) famous songs came to Paul McCartney simply upon waking up in the morning. As he did, at the age of 21, he was humming a tune that initially he titled "Scrambled Eggs", is better known as "Yesterday" (source).
The founder of Ikea, Ingvar Kampard, came up with the concept that lays at the foundation of the now internationally recognized company - "modular furniture makes home decor more accessible", when while working at a furniture store, a customer who had purchased items for their home could not fit it into their car and had to disassemble the legs from the table in order to drive it home (source).
And if you ever wanted to thank the person who made it easy and fuss-free to have your caffeine boost in the morning, thank German Melitta Bentz who, tired of "percolators prone to over-brewing coffee, espresso-type machines leaving grounds in the drink, and linen bag filters being tiresome to clean" came up with the drip coffee machine using "blotting paper from her son's school notebook". Patented in 1908, her grandchildren continue to head the "Melitta Group KG with some 3,300 employees in 50 companies" all for a simple idea that no one had thought so simple before: patented under the title "Filter Top Device Lined with Filter Paper"(source).
Aha Moments can pertain to any number of areas of our world and lives. Yes, they may prompt us to come up with a promising business idea, much like Sara Blakely and Spanx, but more often, aha moments are seemingly out-of-nowhere discoveries that pop up in our minds that give us clarity, insight and/or direction about something that speaks to our true self. Webster's dictionary underscores and elongates the enumeration of what we are gifted with in such moments: a moment of sudden realization, inspiration, insight, recognition, or comprehension.
And I don't know about you, but these moments, these Aha Moments with a capital "A" and "M", are a thrill to experience. The dopamine no doubt floods our minds and the joy and lightness in our step feels spontaneous. We figured it out! What ever the "It" might be. Who wouldn't want more of these moments? And the exciting news I want to share with you today is that you can cultivate an environment - i.e. your daily life - to do just that.
In a new book Mind Your Mindset, authors and husband and wife Michael Hyatt and Megan Hyatt Miller share neuro-science and psychology research that demonstrates the power of the stories we tell ourselves and accept. Mind you, not all the stories we tell ourselves are constructive, least of all always accurate, and so for a portion of the book, they examine and reveal how to change the stories in our mind to live a more fulfilling journey of discovery and success. Which brings us to Aha Moments.
In order to change the stories that are limiting us from realizing our full potential and experiencing all that life can be when we gather up our courage to engage fully and with our true selves, we have to rewire our neurons, and without getting too complicated, we have to start thinking new thoughts.
The authors go on to explain that while oversimplified, the brain does have a division of left and right (even though, not physically divided as each communicates with the other, which is how Aha Moments can occur). Explained as the left side being the executive network side which guides our conscious self, "it thinks about what you tell it to"; the right side is the default network side which "loves novelty and creativity and operates largely in your subconscious". Understanding this construction and function of the brain is crucial to enabling more Aha Moments to be a part of our daily life. Why?
"To find creative solutions to your problems you need to get this second part of your brain [the default network] into action. This vast network of slower-firing neurons is highly adaptable. It can be endlessly reconfigured to provide new thought and connections. Sure, this takes longer than using conscious thought [executive network], but it's highly effective." —Mind Your Mindset
Which leads us to revealing the answer to the question: How to experience more Aha Moments in your life. Let's take a look at the list below.
1.Consciously choose to not be physically 'working' all the time.
Often work is only deemed as work if we can see something changing physically - so physical labor, cooking, cleaning, drawing, writing, correcting papers, etc. However, even Leonardo da Vinci took regular moments, even days to not be physically working on The Last Supper, but that didn't mean he wasn't working. His mind was busily meandering, not necessarily being directed by his left brain, but giving space and time to just meander about all that he held in his subconscious, letting his right side of the brain gradually discover connections that on the surface might seem completely disparate.
---
2. Make time for tasks unrelated to the 'problem' and somewhat quotidian, give you full attention to what you are doing - in other words, mono-task
From walking, to cooking, to eating a meal to savor, gardening, any task that requires your full attention that you can let yourself get lost in and thoroughly enjoy, but is unrelated to the dilemma or question you are trying to answer, engage in it regularly. Seemingly out of nowhere, ideas will arise, but not if we force them to, and while not every time, you are giving your subconscious space to move about because your left side of the brain is taking a break.
---
3. Exercise vigorously (I will let you define what vigorous is)
The reason I include the adverb vigorously is because when you are fully engaged with your workout - a long run, a cycling class, a yoga class, climbing a wall, swimming at a swift pace - your mind is held in the present moment which actually lets your subconscious dance about, yep, wander and meander seemingly aimlessly, but what it (your subconscious) is actually doing is very helpful. You just need to give it space to do that work and the time to connect any dots that you, your conscious mind, cannot see or understand.
---
4. Take a nap
I was going to include this idea in #2, but it is quite different in the sense of being conscience. Similar to a good night's sleep, taking a nap. You will wake up with sharper ideas and a clear mind.
On the topic of a good, deep sleep (at least 7-hours), such a regular health habit is vital to being able to experience Aha Moments. As we know while we sleep, our brain is 'cleaned' of toxins, certain thoughts are moved to long-term memory while others are swept away or taken deeper into the subconscious as deemed unnecessary for the conscious tasks we regularly tend to. There are many people, myself included, who go to sleep at night with a question about a particular situation and wake up with ideas anew for best approaching it, OR go to sleep with a worry and wake up having completely forgotten about it because the mind, based on our past experience and habits, deems it unimportant. Phew!
---
5. Prioritize Play
In 2017 after reading Alex Soojung-Kim Pang's book Rest: Get More Done by Doing Less I was inspired to write episode #137 of the podcast and disspell the idea that we must always be 'doing' in order to live a fulfilling and even, dare I say, productive and successful life. What Pang points out, along with so much more is that rest need not be sitting on the sofa (although it can). Rest includes giving our mind (in this case, our left-side) a break and letting ourselves play, have fun, and return to many activities that we enjoyed as a child. In Dr. Mike Rucker's recent book The Fun Habit, he concludes, "If you want a twist of fate, start twisting. Choosing fun every day in small, seemingly superficial ways can, over time, lead to new patterns of behavior—new and better choices."
---
6. Enjoy a 'Lazy' Weekend or Day Regularly
One of the direct points addressed in Mind Your Mindset regarding stories is what or how we should live, and all of the ideas, in any culture, are rooted in stories we accept. So often the image is presented, at least it was to my generation in our youth by our parents and grandparents that sitting in front of the 'boob-tube' was akin to being lazy. Now don't worry, I am not advocating for plopping ourselves down regularly for hours and days and weeks on end mindlessly watching whatever, but sometimes, we need time to sit down on the sofa and just rest. To physically not move and peruse magazines, books, newspapers, watch something or having something on in the background, listen to podcasts endlessly, the latter two we may not really be paying attention to, but it creates an environment urging us to just be still.
And when we are still, when we rest, when we are idle physically with no directive for our mind to attend to or a task to complete, the right side of the brain becomes quite happy and starts to make connections or attempts to make connections to see what might be possible.
The authors in Mind Your Mindset suggest if you are trying to figure something out, you can point your mind in the direction you wish it to figure out, but then you let go. Let go and go about relaxing and toodling about with no objective in mind and what you are enabling is something quite constructive. So long as you do this regularly, your mind will begin to offer you ideas that seem initially as if they came out of nowhere, but you and I know differently. :)
---
Last but not least!
7. Feed your mind with a diverse serving of ideas and experiences
The only way, unique and awesome Aha Moments can come to the forefront of your conscious mind is if you continue to remain curious about life. Since you were a child, you have been exposed to a vast breadth of ideas, objects, experiences, people and information. As an adult you have agency to choose to continue to explore new ideas, to deepen your learning, to see new places, experience new cultures, food and anything that is not part of what you already know (or think you know).
By choosing to feed your mind with constructive nourishment, even if you don't know what you will do with the 'food' you receive, your subconscious holds on to these moments, and that is what it is dancing about with as you engage with each of the previous six ideas shared above.
Which also means, mind what you feed your mind. Be conscientious about what you are exposed to, the information that swirls about, the words that are used, the attitudes, energy, etc. All of this will determine the quality of your life, and when you then make space to exercise your right-side of the brain, beautiful and what may have once seemed impossible discoveries will be made, and your life will change.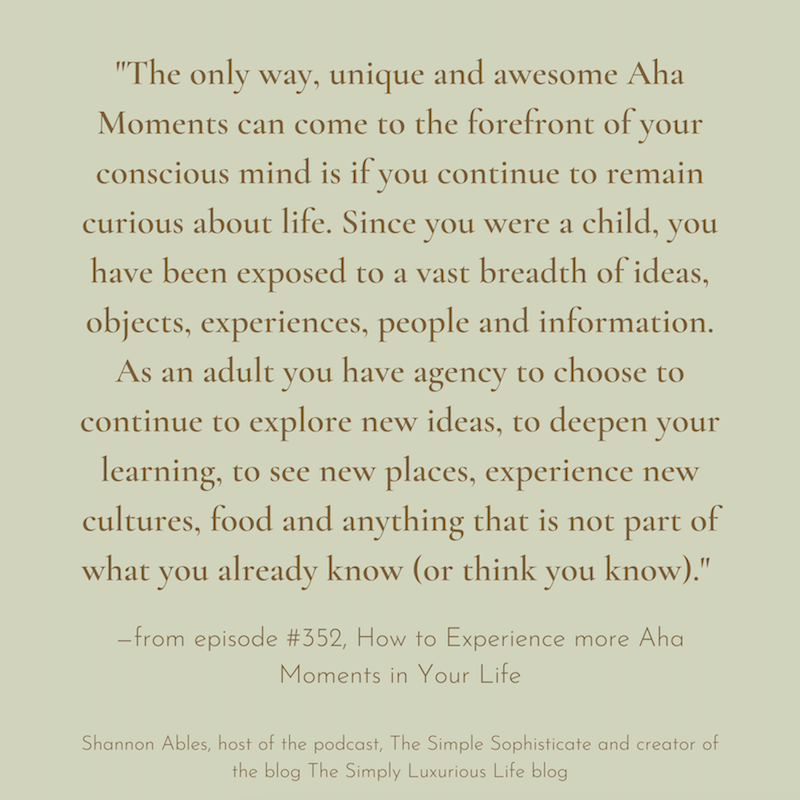 Wishing you many Aha Moments in your near and distant future.
Petit Plaisir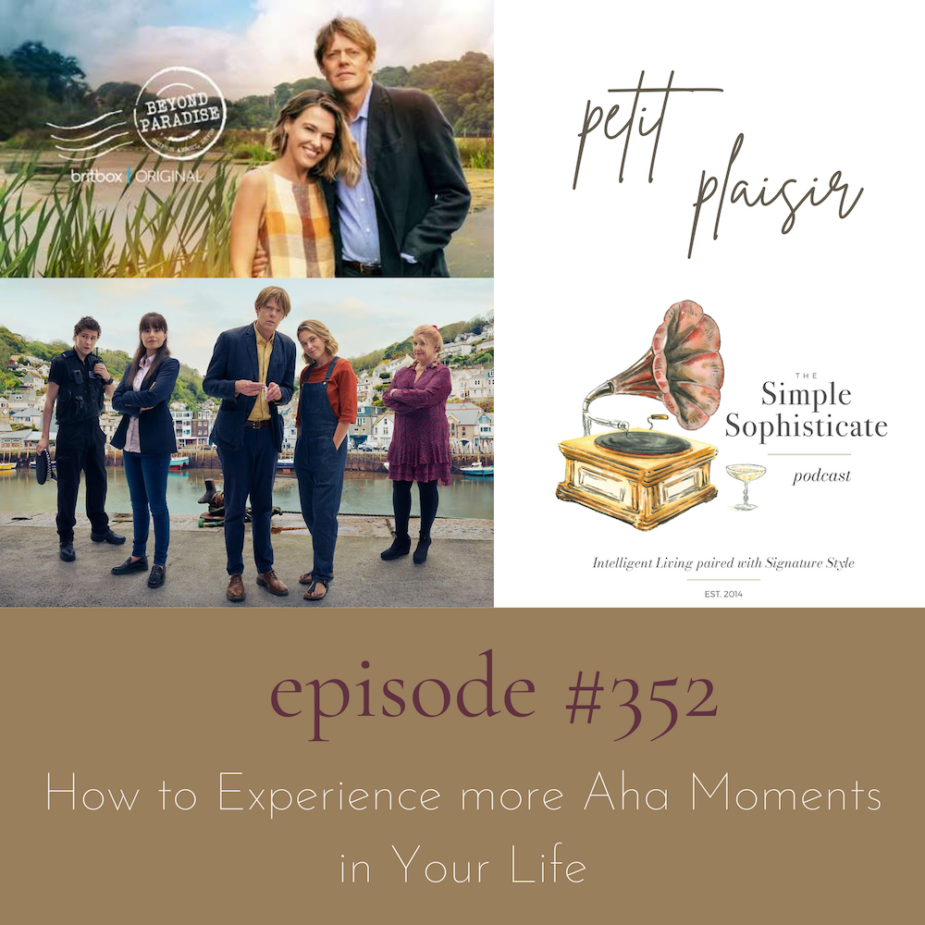 ---