Dec 21, 2019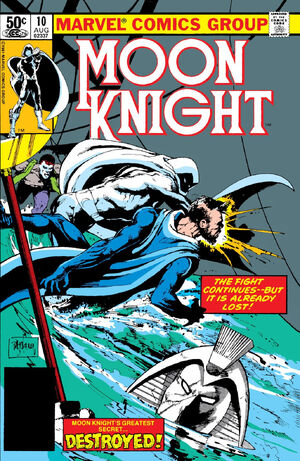 EPISODE 126:
High Priest Rey wastes no time by giving you more than you bargained for!
Two (well, maybe one and a half) reviews this episode, plus another chapter in our ongoing serial saga - THE HUNT FOR KHONSHU'S GOLDEN SCEPTRE!
First off, Rey looks at the new comic, CONAN: SERPENT WAR #2, which sees Moon Knight mixing it with Robert E. Howards' band of barbaric and swashbuckling protagonists. It's a very quick, overview as Rey is on his own for this one...but thoughts are dropped and a fuller review will follow once the High Priests are all available;
Next up, we get more info into the missing Sceptre...our Man on the Streets scours the dives for any information he can get....will Tommy find another relic? Or something more?...Tune in!
Finally, we listen to the Moon, and heed it's call -
PHASE OF THE MOON: WANING CRESCENT
LUNAR-PICK CLASSIC RUN REVIEW
MOON KNIGHT VOL. 1, ISSUE #10
Released August 1981
Written by Doug Moench
Art by Bill Sienkiewicz
Special guest Knol 'Loony Toonz' Tate joins me for this one - it's a fun re-read and a fun discussion on what we both thought worked - and didn't work - for the issue!
MOON RATING (out of phases of the Moon):
Knol: 🌖 - 6.9/10, Solid Round Boi
Rey: 🌖 - 6.5/10, Getting smol Moon
SHOW NOTES:
WHERE TO HEAR US:
DROP US A LINE:
OFFICIAL ITK MERCHANDISE - BUY HERE!
CREDITS:
Music Written, Performed and generously provided by Deleter:
ITK Logo Graphic Design by The High Priests of Khonshu
ITK Graphic Design produced and assisted by Randolph Benoit:
https://twitter.com/randolphbenoit
https://www.youtube.com/randolphbenoit
Proud Member of The Collective
The music for this episode contains excerpts from various songs and music copyrighted by Deleter and Brian Warshaw. The music agreed for use on Into the Knight - A Moon Knight Podcast is licensed under an Attribution License;